It's time to embark on another epic adventure in the gripping, The Wonderful Attic series for young readers, illustrated by Arena Illustration's Joe Lillington.
It seems like just a blink of an eye since books 1 and 2 in the Le Grenier Merveilleux series published and now, we get to celebrate books 3 and 4!
Joe was commissioned by the French branch of Editions Milan to illustrate these time-travelling historical fiction stories for children called Le Grenier Merveilleux or The Wonderful Attic, written by Mim. Each book prominently features Joe's colourful and engaging illustrations, perfectly capturing the drama and intrigue that unfolds.
This series is perfect for the curious who like to learn (a little) and have fun (a lot). Readers will discover fabulous destinies and get to know the inspirational figures who have changed the course of history and moved humanity forward, each in their own way (the fight against racism, defence of the rights of women, great discoveries...)
In book three, Edward and the Miracle Discovery, we re-join protagonists Tiago and Llias as they visit their friend Mr. Lucien to discover more mysterious objects and unusual inventions in his attic. There they venture through the portal and end up in rural Gloucestershire in the late 18th Century, where they meet Edward Jenner, scientific pioneer, and the great mind behind the vaccination against smallpox. Jenner's early experiments included medicine, horticulture and the natural world. Then in 1796, he carried out the world's first controlled vaccination against smallpox and soon after, established a free vaccination clinic in the 'Temple of Vaccinia', a rustic hut in his peaceful garden.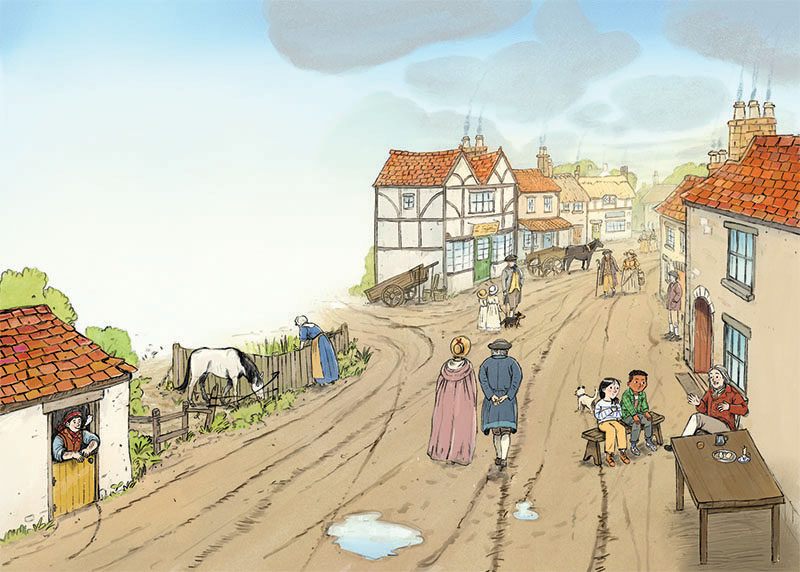 In book 4, Ruby and the School for All, Lilas and Tiago meet Ruby Bridges, the first African American child to attend an all-white school in Louisiana in the USA in 1960. Bridges was born during the Civil Rights Movement and the New Orleans school desegragation crisis when many white people in the southern states were extremely resistant to schools becoming integrated. On her first day at school, Ruby and her mother were escorted to the previously all-white William Frantz Elementary School by four federal marshals and they continued to escort Bridges in the following days after that for the rest of the year and every day on her way to school she would be threatened by people as white parents protested and boycotted the school. Eventually the protests subsided but that was the start of Ruby Bridges' mission to promote tolerance, respect and appreciation of all differences and she has been an active Civil Rights Campaigner ever since. Ruby became the subject of the famous painting by Norman Rockwell, The Problem We All Live With.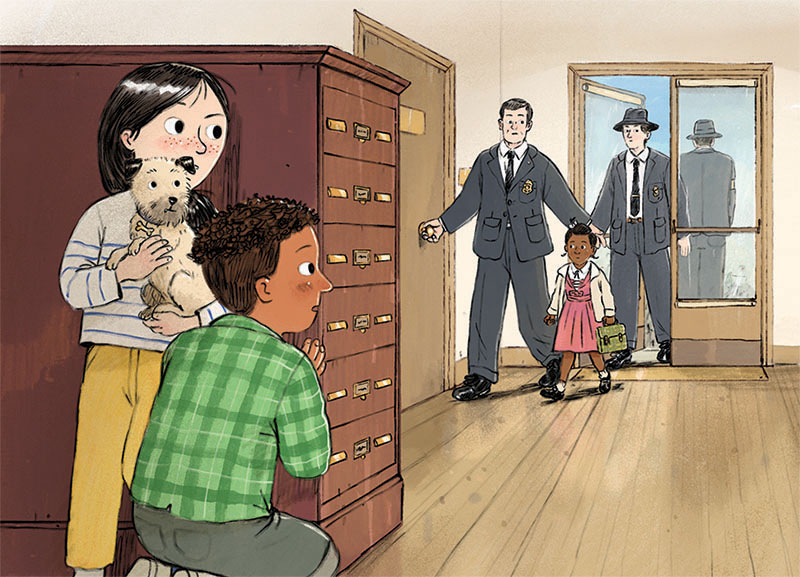 Joe has an incredible talent for creating realistic and approachable characterisations perfectly complimented by his incredible attention to detail and historical accuracy. Joe created the illustrative pieces for this project digitally using Procreate, which he has developed a special set of bespoke brushes for.
Here are a few words from Joe about his work on this project;

"These were a really fun project to work on, they are a really nice length and format, mixing chapter book style text and full colour illustration.
It's been nice to revisit the same two main characters, Lilas and Tiago, across a series which is something I haven't been able to do before, it lets me really get a sense of their personalities and have fun with the dynamic between them. It's also a nice challenge putting the characters in new situations and environments for each different book.

My process for the books is the same as how I usually work. I use Procreate from the start of the project to the finish, for this series I created a specific brush for the line which I've used across the whole series and I think gives coherent feel to the illustrations." – Joe Lillington
You can find Joe on Instagram, he also has a special account dedicated to his brush sets on Procreate which you can find HERE. Please take a moment to visit Joe's incredible online portfolio and if you are interested in working with Joe please email us at info@arenaillustration.com
If you are not yet subscribed to our newsletter yet don't miss a beat and subscribe!