Calling all Sprout fans! We have the perfect Christmas book for you! The Grumpus and his Dastardly, Dreadful Christmas Plan by Alex T Smith
Published by Macmillan Children's Books – OUT NOW!
"Gorgeous to read with the children leading up to the big day, this is a future festive classic"
Woman and Home Christmas
Get ready for stupid sparkly, twinkly, jingly-jangly, crinkly-wrapped-with-a-shiny-bow-Christmas with The Grumpus! Giddy with Christmas cheer we eagerly unwrap Alex T Smith's latest seasonal triumph. The Grumpus 'and his dastardly, dreadful plan'.
This hilarious, share together story is smattered with eye-catching page details, luxurious full-page illustrations, enchanting chapter openers and lavish title page embellishments perfectly peppering this wonderful alternative seasonal tale. An illustrated chapter book which little readers will truly remember, cherish, and request for many years to come. The Grumpus is the festive pre-Christmas treat we have all longed for with echoes of Grimm and a sprinkling of every Christmas movie you've ever loved The Grumpus is the anti-hero we were rooting for all along.
Warning This Book Contains:
Monster sized Y fronts which have seen better days! (Perhaps something to add to your Christmas list Theodore!)
Armpit scratching…with a fork
Unseasonably grumpy moods
Unruly eyebrows
Hooting and trumpeting nonsense
Grumbling and huffing….and tutting
SPROUTS! … (and lack of spouts)
Silly Christmas
TOO MANY RABBITS
"The Grumpus is essentially my riff on A Christmas Carol- a mean and unhappy character is changed over the course of three acts to understand the spirit of Christmas. But I hope readers will take more from The Grumpus than just that. I wanted with this book to consider how people (or in this case Grumpuses!) can change if only they are treated without judgement. How kindness and gentleness can open a door (seemingly locked) to friendship and understanding, and that the magic of Christmas can melt even the most frozen heart.
The book is also about how far some people will go for a bag of sprouts" Alex T. Smith
There is a small selection of our most favourite illustrations, over on Alex's portfolio, we hope you love them as much as we do! Or at least 100 x more than The Grumpus might!
Aside from owning what is potentially THE most enviable Christmas jumper in the entire history of children's literature, the Grumpus really is (a reluctant) delight. Purchase a copy HERE or add it to your Christmas wish list immediately then, slip into your best cosy jumper and share this brilliant, beguiling life affirming, festive tale with your best beloveds.
Alex is based in Coventry where he lives with a tribe of small canines, and a flock of muddlesome chickens. He works both digitally and in pen and ink and his masterful wordsmithery is much sought after. Alex's best-selling multi-award-winning books have really set a standard for modern children's Literature and without question Alex is one of this generations most talented word weavers and a true master of humour and storytelling
If you would like to learn how to draw your own adorable Furball ...look no further.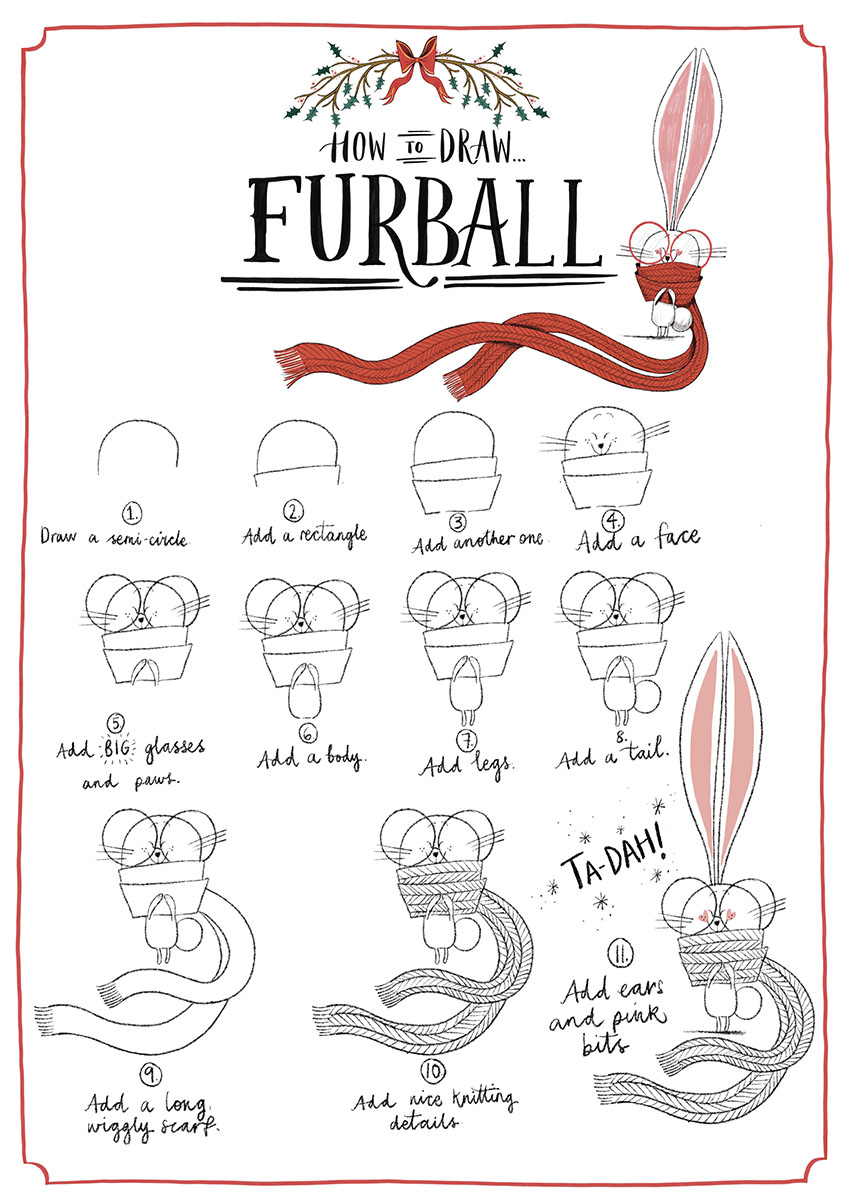 You can find Alex T Smith on Twitter! Of view his marvellous online portfolio HERE
With thanks to Clare Hall-Craggs and Alex T Smith and everyone at Macmillan Children's Books for all their hard work!
PS you must always eat at least ONE sprout every Christmas… just to stay on the 'nice' list of course.