Alex T. Smith refreshes the classic Nutcracker story with his own twist for a new audience with his brand new countdown to Christmas book told in twenty four and a half chapters.
Set to be another Christmas classic from our very own King of Christmas Books, we
interviewed Alex about his new book, published by Macmillan Children's Books. He tells us all about the making of his new book.
I absolutely love the story of The Nutcracker but having seen the ballet countless times, I always think goes a bit bonkers after Clara and the Nutcracker flee through the snow. It works beautifully on stage but I knew that for the story to make sense as a book and to also work as a Countdown To Christmas book where you read on chapter a night, I'd have to make the story a bit more solid and exciting and intriguing. Particularly the second half. It needed a bit more danger and peril!
Working out how to do this was great fun! I knew I wanted to make more of the Mouse King because I love a villain (particularly a really silly, not -the-sharpest-cheddar-on-the-cheeseboard type like my Mouse King, The Great Gorgonzola) and I also wanted to explore sibling relationships too. I decided that Clara's little brother, Fritz, would come along for the adventure to see how that addition could alter the original story.
When I have an idea for a book it comes all together at once, the words, the pictures, the book itself and how I want the reader to feel when they have it in their hands. I knew that I wanted to set this in a different historical time period, I wanted to bring it forward in time so that it stood apart from the ballet. Once I settle on a time I really throw myself into researching the period.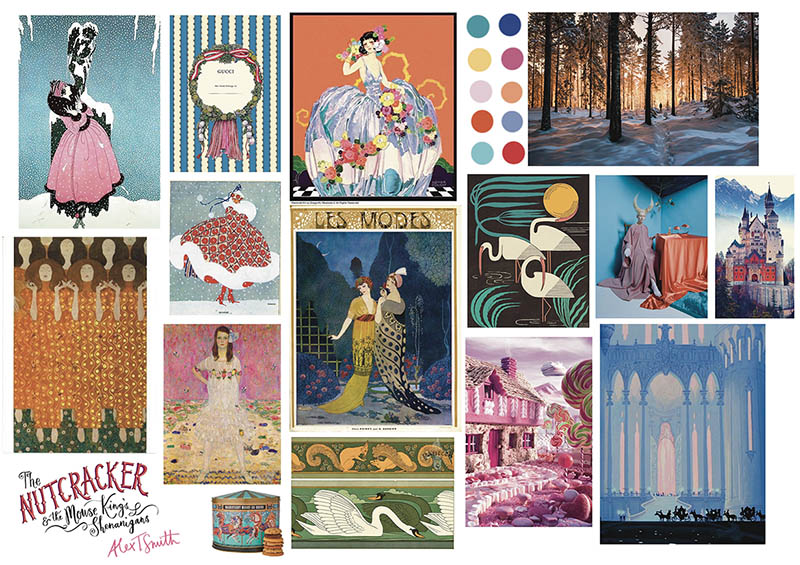 I put together moodboards, this is really fun but it also has another function - it allows me to have something visual to look at whilst I'm writing the book, and it gives me something to show my designer and my publisher. I can reference a colour or a pattern or a feeling of something on the moodboard and I think it all helps keep my vision for the book on track throughout the process of making a book.
I love creating characters. I'm really fascinated by people the things that make them really unique. I always try to make my characters unique too and try to really imagine them as real people or how they might appear in a film. I also love challenging expectations.
In the ballet the character of the Sugar Plum Fairy is always presented by a very glamorous female dancer, so I thought what if I did the opposite? My Sugar Plum Fairy is small and round and male with a towering, pink, candy floss hairstyle. My other favourite character to create was Queen Victoria Sponge - the ruler of Tea Town. She's really bossy and imperious but also fierce and kind and not shy about walloping foes over the head with giant spoons.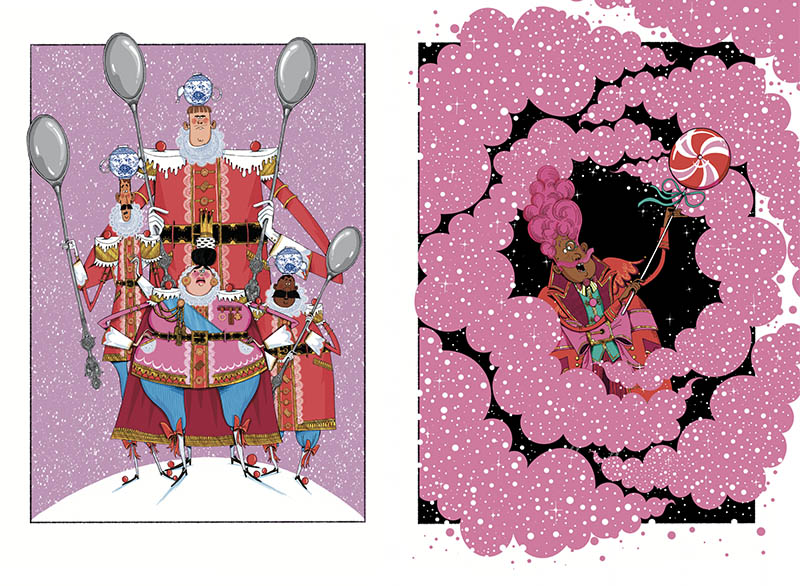 I've seen quite a few different versions of The Nutcracker ballet on stage, traditional and reimagined and the costumes are always a highlight for me. As a teenager I worked at a theatre costume and set department and got to work alongside lots of amazing designers, through them I realised the importance of costume and how you can add an extra layer to a story. My book is set in about 1919 - just before the roaring 20s. It was a time when glamour was slinking back in and people were really ready for light and sparkles and fun. I really enjoyed using the rich bold jewel colours for Clara and Fritz's adventure. My favourite colour is pink so I use that as often as I can.
I love the lead up to Christmas when the shops start to be filled with decorations and jars and boxes of delicious Christmassy things. One of my own traditions is to hunker down by the light of the Christmas tree and watch one of my favourite films - Meet Me In St Louis. It's not strictly a Christmas movie as it takes place over a year, but the ending is set at Christmas and it's just LOVELY. (The colours of the sets and costumes inspired The Nutcracker too)
One of my other favourite things to do over Christmas is to do nothing. I like those empty days between Christmas and New Year. I might go for a cold winter walk until my nose turns pink, but more often than not I just lounge about by the fire in my pyjamas, surrounded by dogs reading my new Christmas books and napping.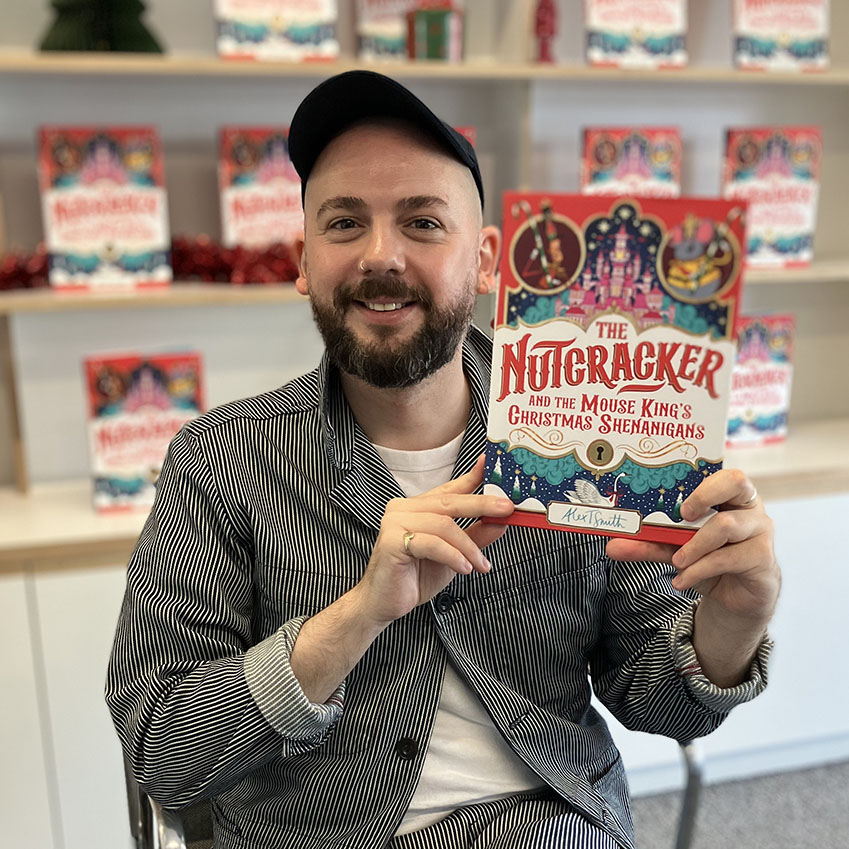 Alex will be touring all over the UK signing books and appearing to over 2000 children in a virtual multi school event.
You can see more of the gorgeous illustrations from the book over on Alex's Portfolio
Keep up-to-date with Arena Illustration's talented artists by subscribing to our weekly news