Get your skates on! There's a newly illustrated Alex T Smith collaboration and it's a miraculous festive treat.
A sparkling middle-grade debut by Natasha Hastings. When faced with danger the greatest MAGIC is friendship.
It is arguably NEVER too early to get into the festive spirit and we have just the thing for you. The Miraculous Sweetmakers The Frost Fair Illustrated by our own National Treasure Alex T. Smith is the perfect action packed yule tide adventure.
Appearing on the shelves of bookshops nationwide this month we couldn't be more thrilled to share this with you. Publishing with Harper Collins this lavish fiction title has all the hallmarks of both a bestseller and a future Christmas classic.
It's a cold winter during the Great Frost of 1683. Thomasina and Anne are the best of friends, one running her father's sweet shop and the other the apprentice at the family apothecary – together they sell their goods on the frozen River Thames. When a family tragedy turns Thomasina's world upside down, she is drawn to a mysterious conjuror and the enchanted frost fair.
But soon the world of Father Winter threatens to claim everything she holds dear. Will they be able to solve the magical mysteries that surround them?
This amazing and captivating, curl-up-on-the-sofa debut about a magical frost fair and the lasting power of friendship truly is the sweetest of sweet treats to welcome in the pre-Christmas festivities!
Natasha wrote most of The Frost Fair on the bus to and from work, which would pass by the River Thames every day and leave her spellbound.
A renowned Christmas fanatic Alex was of course the natural choice of illustrator for this book, with chapter details and spot illustrations throughout Alex's illustrative embellishments really give this rip roaring read a true sprinkling of magic.
Check out out more of the magical illustrations for the book over on Alex's portfolio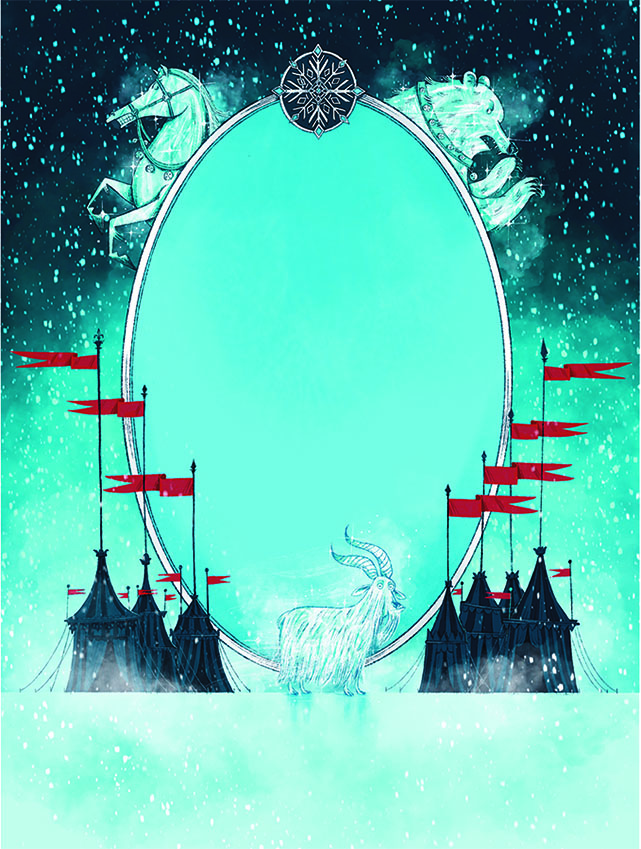 You can buy a copy of The Miraculous Sweetmakers Frost Fair HERE (Also available in ebook and audio formats)
For much festive frivolity please follow Alex T Smith on Twitter.