Ahead of the launch of his new book about BEING ALIVE, Neal Layton kindly agreed to star in our latest Artist Spotlight!
You work with some amazing authors - Cressida Cowell, Michael Rosen, Andy Stanton… and we really enjoyed your recent collaboration with James Carter, A Ticket to Kalamazoo, published by Otter Barry Books. Which was your favourite poem to illustrate and why?
Thanks, they were all fun to draw - the bouncing beats of James' words are infectious and I wanted my drawing to reflect that! I think my favourite was Hug Day. I began by drawing lots of different people hugging, but if it felt too complicated, so I then I hit upon the idea of a single child hugging a fluffy dog, summarising the poem neatly. We have two white fluffy white dogs in our house, who are very nice to cuddle, so I modelled the drawing on them.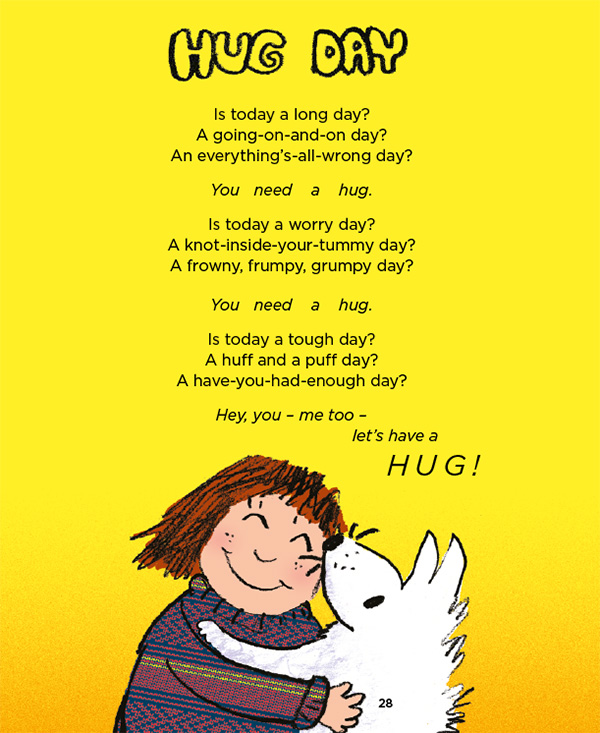 Your hilarious comic illustrative style is so appealing to young audiences and provides the perfect enticement to get budding readers into book. Did you enjoy comics as a child? What were your favourite comic strips / characters?
As a youngster I loved the Beano but also Beezer, Dandy, Whizzer and Chips - there were so many good ones pre-internet and photoshop. I think it was the combination of anarchic humour and direct drawing style - all done in ink - that appealed to me. I began to notice the different artists styles with David Sutherland's Bash Street Kids and Dennis The Menace becoming firm favourites. Another favourite was Oor Wullie especially for the phonetic language. I grew up in the south of England, but my mum was Scottish…
Do you find inspiration from the area in which you live? And do you still find time to sketch for pleasure?
I tend to draw imaginatively… but mixing it with the real world so the place I live does creep into my books. I used the view from my studio window in the Story of Stars and the terraced street I used to live on has appeared in my Tony Spears books - with an added spaceship exploding from the roof! Southsea beach also cameos in Stanley's Stick and Danny McGee Drinks the Sea.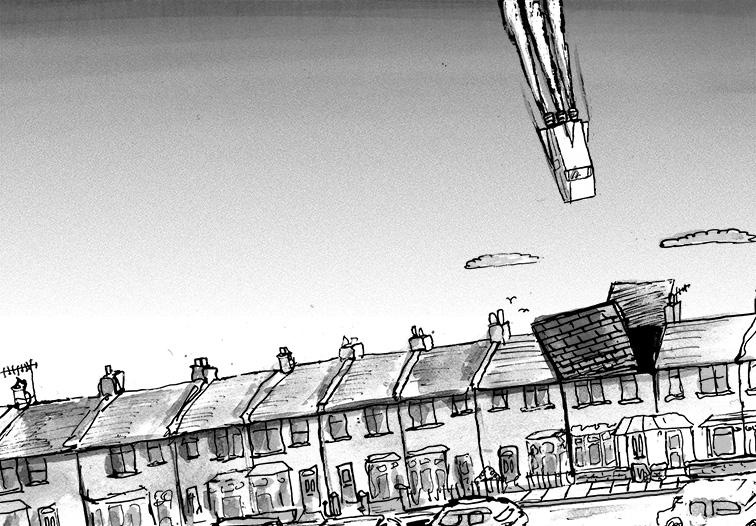 Do you have any special collections / things in your work space which inspire you?
Books- I have a LOT of books, especially old and unusual books. I have a collection of old natural world encyclopaedias, some dating back to 1876. I also have lots of Childrens books from 1940's, 50's and 60's.
Do you have a favourite recent page in one of your sketch books which you can share with us?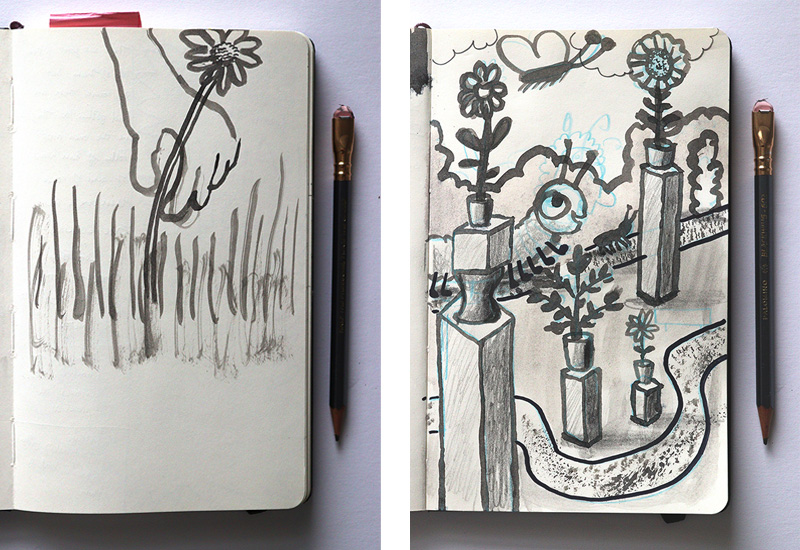 Illustrators often reference bicycles and horses as things which they dread seeing on a brief, is there anything which causes a sense of dread when challenged to draw it?
Yes it's easy to write scenes or ideas in words, which are tricky to draw - I once had to draw the Big Bang! But the hardest part for me as an illustrator is how to convey the 'intent' of the author. I want my work to help draw that out for the reader and enhance the reading experience to a deeper level, like the way lighting, or music helps cue audience reaction to narrative in a theatre. A Ticket to Kalamazoo was a good example of this - where James' poems were self contained - with carefully chosen words, and distilled purpose. I was very careful to make sure my lines and colours complemented, counterpointed and fortified! For some poems this was easy, others took more time to find a visual approach that would work.
You've recently been out on the road back to real life events, what's the funniest / strangest question a young fan has asked you?
Can you beat box? I was in front of a whole school assembly, with a microphone in my hand, so I gave it a go– and it turns out I can beat box reasonably well!
Can you give us three easy tips to help conserve the environment around us?
Number one would be buy less stuff - and only buy stuff you really need, second hand if possible.
AND if you do want to buy something look at its packaging… is it recyclable? The thing you want to buy, what will happen to it when you don't need it anymore? Can it be passed on? Can it be recycled? Making less waste is a brilliant way of helping the environment.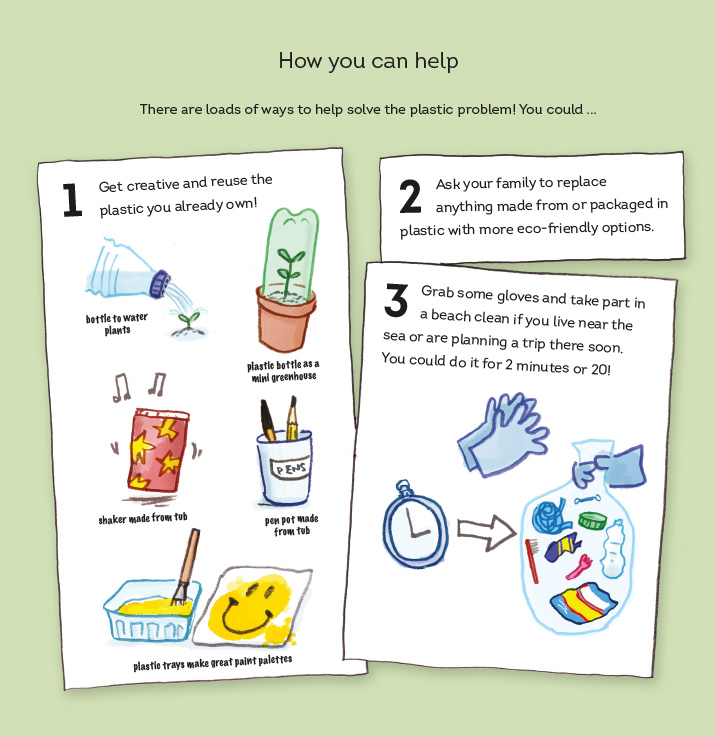 Another tip would be to look at the natural world.. immerse yourself in it. Whether its bugs under a log, or listening to birds singing in trees - being closer to the natural world helps us care about it - and makes us happy too!
If you are lucky enough to have garden try making a wild patch for animals and insects. In our last house we made a tiny 'pond' from a plastic fishing crate that washed up on the beach. We ended up with pond skaters, water snails, tadpoles and then frogs… it became a mini ecosystem.
What are you working on next?
I'm working on a a book about BUGS with James Carter called BOING! which is a mixture of poetry and fun mini-beast facts due for publication next year.
I'm also writing 2 books both of which I'm really excited about. I can't give spoilers, because I haven't finished them… but they are a mix of silly and serious. I've also got a new book coming out called The Big Story of Being Alive which is all about how cool and amazing I think BEING ALIVE is.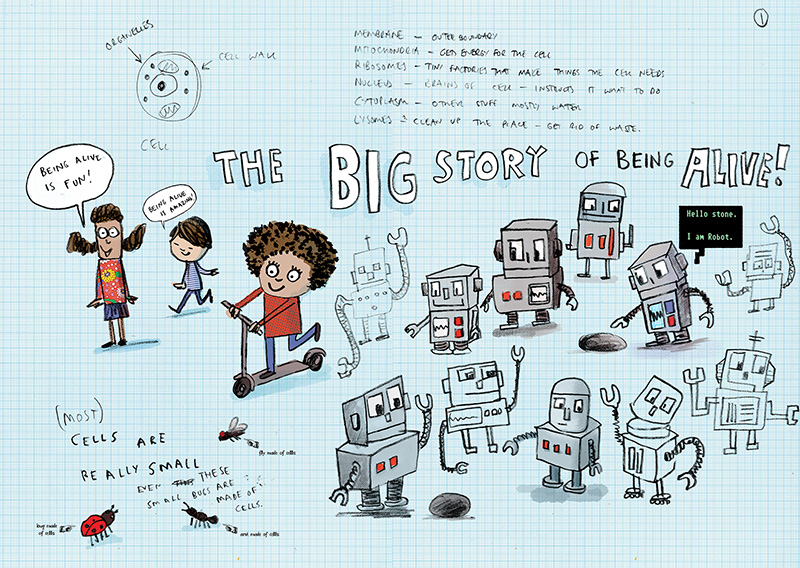 Thanks to Neal for answering all of our questions and watch out for our news article about his new book, The Big Story of Being Alive - COMING SOON! You can see more of Neal's amazing work on his online portfolio.