Following on from the phenomenal success of Neal Layton's previous environmental titles with Wren and Rook, A World Full of Wildlife explores the Web of Life. This new picture book shines a spotlight on some concerning issues facing our planet.
Every animal and plant on earth forms an important part of the eco system but living things are disappearing all over the world, and it's a big problem. In A World Full of Wildlife, Neal introduces the concept of biodiversity to younger readers, explaining what it is, why it's so important, and how the actions of humans are hurting it. But he's also FULL of ideas for how you can help! From building a bug hotel to growing flowers on a windowsill and eating more organic food, A World Full of Wildlife will get young readers excited about how they can make a difference to keep the web of life bursting with energy.
This book was inspired by David Attenborough, who said: "No one will protect what they don't care about, and no one will care about what they have never experienced." Neal spent a lot of time researching for this book and he also had the help of some experts: Eco Urban Ranger, Dr Sara A Collins and Andy Ames of Hampshire & Isle of Wight Wildlife Trust.
Take a look inside A World Full of Wildlife.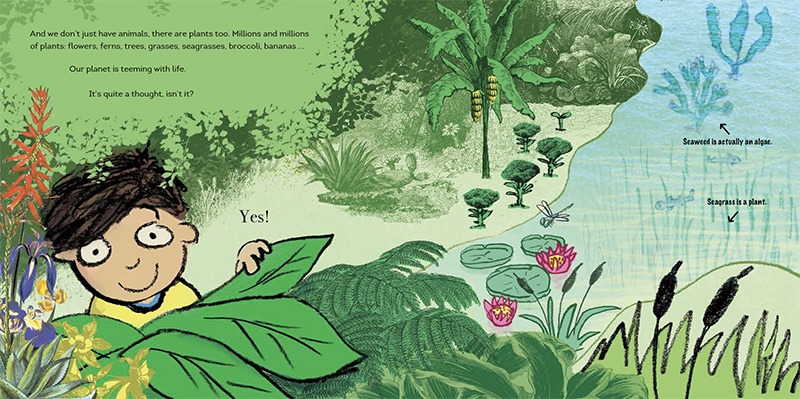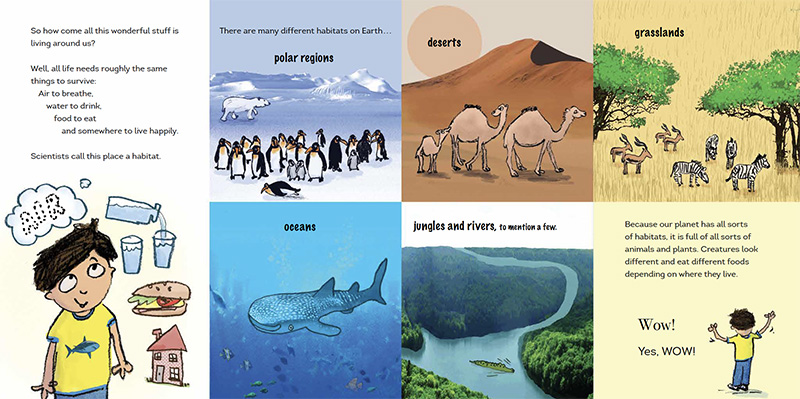 Neal's passion for diversity and conservation along with his trademark comic line illustrations make him the perfect partner for a myriad of publishing projects. In this series the approachable characters and vivid colour palette create huge 'grab and read' appeal for young readers, what better way to communicate such impactful messages than to make them accessible and utterly engaging. Take a look at his other picture books: A Climate in Chaos and A Planet Full of Plastic.
"Layton's illustrations are sophisticated, loose and dynamic, using bold colours and photo-collaged elements to good effect. He can transport us to a variety of locations and landscape types using humour and upbeat mark making. He can capture the essence of a creature without it having to be perfectly rendered... The content is backed up by scientific research and data from those who understand the natural world. At no time do Layton's words appear preachy or extreme in the face of this crisis. He has provided us with the tools for gentle activism and it is up to us to do the right thing."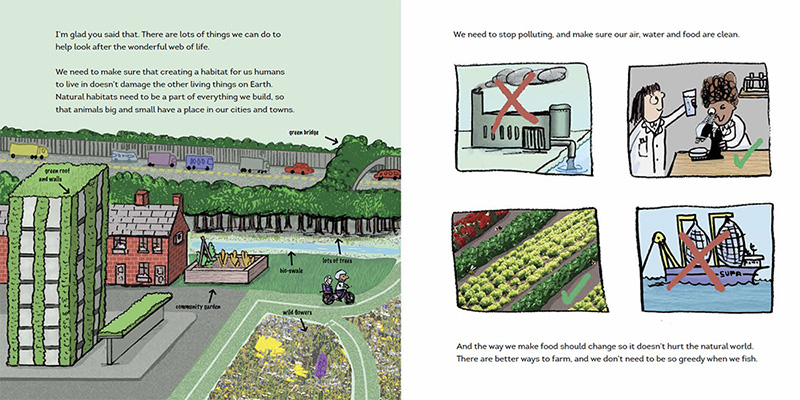 A World Full of Wildlife is available to buy in hardback - you can order your very own copy HERE or purchase a copy at your local independent book shop.
You can find Neal on Twitter and Instagram and you can also view his fabulous online portfolio over on our website. For more information regarding working with Neal please email info@arenaillustration.com