Totally absurd and hilarious, The Blunders is
a laugh-out-loud tale of the most blundering and lovable family in history from this best-selling team!
The Blunders hits the shelves this month, featuring Adam's amazing humour-filled artwork which leaps from the page.
Meet the Blunders: Bertie, Betsy, their children, Brutus and Bunny, along with their beloved grandma Old Lady Blunder, and their pet ostrich, Cedric. An ostrich is not a sensible pet, but then the Blunders are not sensible people. The Blunders are the most blundersome family in the blundering history of blunderdom. This family of upper-class twits live in a crumbing stately home named Blunder Hall. When their home comes under threat, they must embark on a series of comic misadventures to save it.
Award-winning illustrator Adam is based on the south coast with his wife and cat Murray. With an exceptional talent for character design and world building, Adam has worked on a multitude of projects from wordless picture books to highly illustrated fiction titles. His gift for bringing characters to life with humour and charm is unparalleled and with The Blunders he has really gone to town creating these eccentric characters, spotlighting the very best of David's storytelling. Adam said:
"
I had so much fun illustrating these hilarious characters and their madcap schemes. It made me laugh out loud

".
Published by Harper Collins Children's books, you can order your copy of The Blunders HERE. See more of Adam's fabulous illustrations for this book HERE.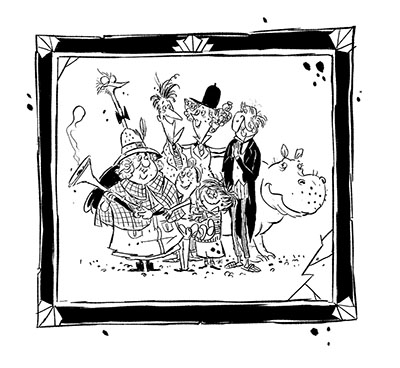 Keep your eyes peeled for Adam's brand new illustrated fiction series Murray and Bun launching in February 2024 (more news coming SOON!)
You can find Adam on Instagram, or you can view his amazing portfolio online HERE.
Keep up-to-date with Arena Illustration's talented artists by subscribing to our weekly news.