With glorious illustrations adorning each page this underwater extravaganza beautifully showcases Adam's faultless talent for creating engaging, inviting, adventure-filled stories for budding bookworms. Filled with comical detail and wide eyed characters this chortle-worthy book complimenting Adam's already flourishing picture book catalogue will make a worthy addition to any home, school or library.
The Day Fin Flooded the World is a hilarious and fantastical cautionary tale of how forgetting to do one small thing can have very big consequences. Fin is extremely forgetful – he wears slippers to school and comes home without his trousers. So it's no surprise when he leaves the tap running... until it floods the world! Who will be outraged, and who will be overjoyed? Find out in this hilarious picture book that children and parents alike can relate to – if they can remember.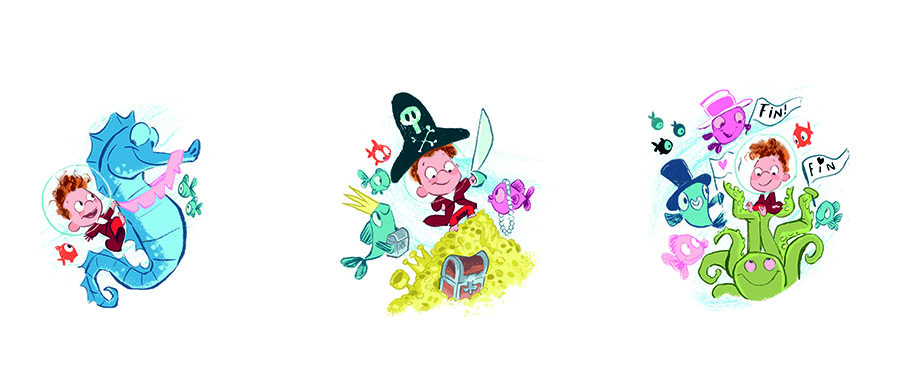 Adam said, "I LOVE swimming in the sea and bobbing about underwater so it was high time I wrote a story set beneath the waves. The Day Fin Flooded the World is a BIG story that starts with a TINY moment of forgetfulness. Before Fin knows it, the world is underwater and someone is knocking on his door. This is a story about consequence, responsibility and doing the right thing. And fish. Lots of fish. I can't wait to share it with everyone!"
Libby Hamilton, the books editor said, "Adam is an incredible talent, and he's joined the Andersen list with his best picture book yet – kids will never forget what happens when you forget to turn off your tap!"
Andersen Press are thrilled to welcome award-winning illustrator Adam Stower to their picture book list, The Day Fin Flooded The World will be released in July in hardback, with six translation deals already confirmed, including publishers in China, Russia and South Korea.
Adam Stower is the award-winning creator of the King Coo series, as well as many picture books, most recently he has started a picture book collaboration with David Walliams, with their book Little Monsters riding high on the best-seller charts in late 2020.
You can find Adam on Instagram and Twitter for sneak peeks at more of the artworks from this book and other projects or view his fabulous online portfolio HERE. For more information regarding working with Adam please email info@arenaillustration.com