The world's leading kids' entertainment industry event, MIPJunior takes place in Cannes, France and 13th October 2018 sees the World Premiere TV Screening of "Gigantosaurus"
"Gigantosaurus" is based on the bestselling book by author/illustrator Jonny Duddle, published by Templar. The full-CGI comedy action series brings preschool viewers along on the adventures of four young dinosaur friends as they explore their prehistoric world and the mystery of Gigantosaurus, the biggest, fiercest dinosaur of them all. "Gigantosaurus" will be launched on Disney Junior worldwide in early 2019, and will then air on major broadcast networks such as France Télévisions and Germany's Super RTL, plus Netflix.
Pierre Sissmann, Chairman and CEO of Cyber Group Studios, says: "It is a privilege for us to have "Gigantosaurus" selected this year as the MIPJunior World Premiere TV Screening. It is a tribute to Jonny Duddle's creations and to our artists at Cyber Group Studios who have done marvelous work in recreating a full Jurassic environment with our four little dinosaur heroes, living great preschool adventures together with Gigantosaurus, the biggest dinosaur of all."
"This new production from Cyber Group Studios for Disney Junior illustrates the high-quality production coming out of the creative French animation industry, and will be an exciting exclusive premiere for the MIPJunior audience ahead of its broadcast early next year," said Lucy Smith, Director of MIPJunior.
Gigantosaurus, a new full CGI animated series directed by Olivier Lelardoux, Senior Vice-President Studio & Associate Producer of Cyber Group Studios.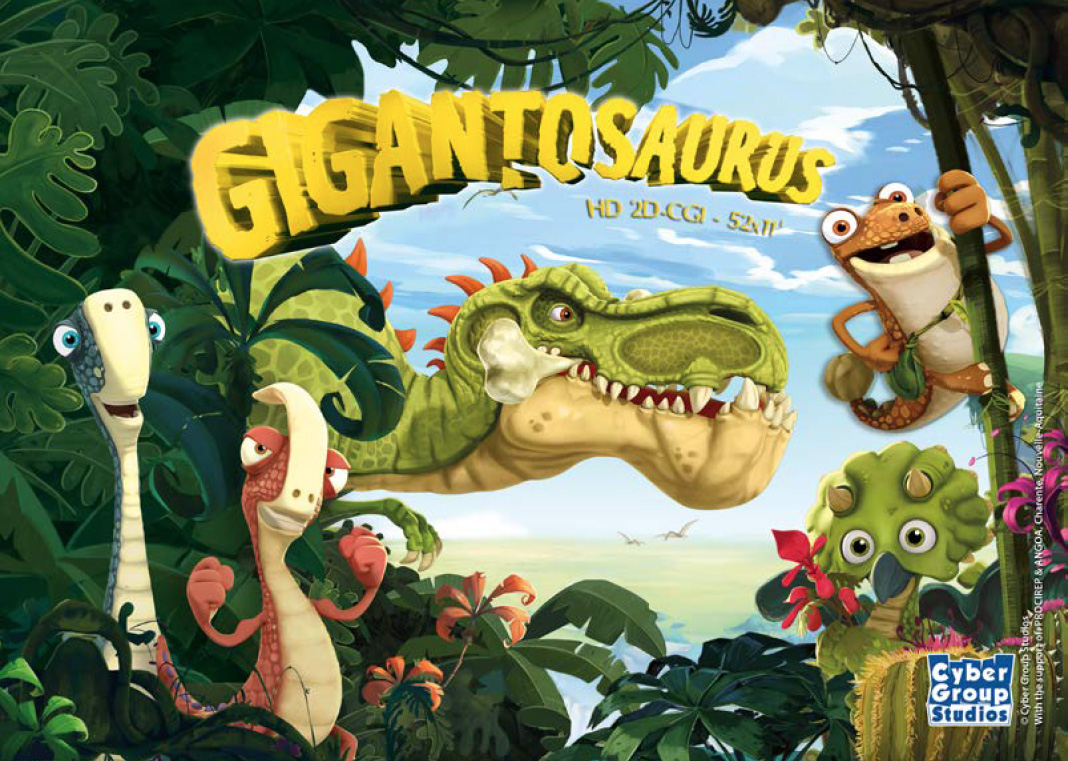 Lisa Edwards, Publishing Director at Templar, said: "It's been a delight to see the animations based on Jonny's artwork take shape. Jonny has worked closely with the team in Paris and the finished footage has truly brought the world of Gigantosaurus to life. We look forward to bringing Jonny's world to a whole new audience."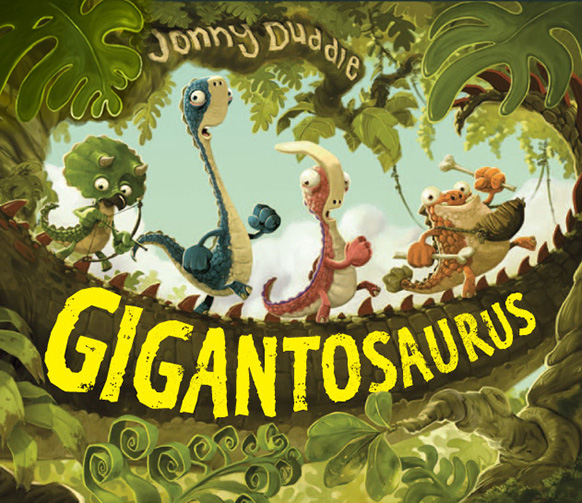 The original book was a one off picture book, so to expand on the world he created Jonny was asked to produce extra key character designs to populate the animation world. Working in the studio in Paris, Jonny originated the designs which the talented concept artists and animators at Cyber Group worked up into their 3D animated form.
Here's an exclusive preview of some of those character sketches…
Giant bee and Horseshoe crab with original characters for scale.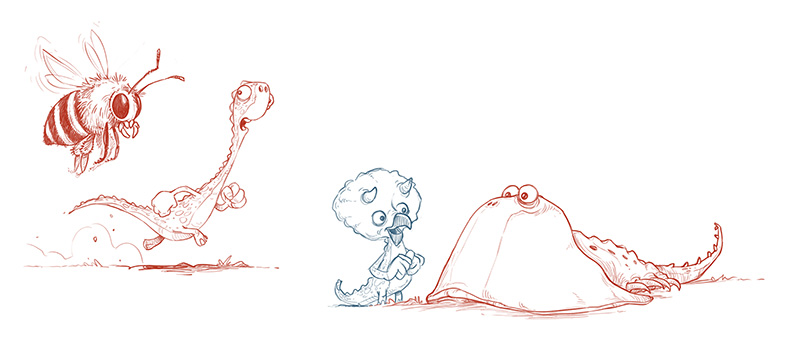 Carnivorous plant huge enough to swallow one of our four heroes. It won't have eyes, or a tongue but should have expressive attitude.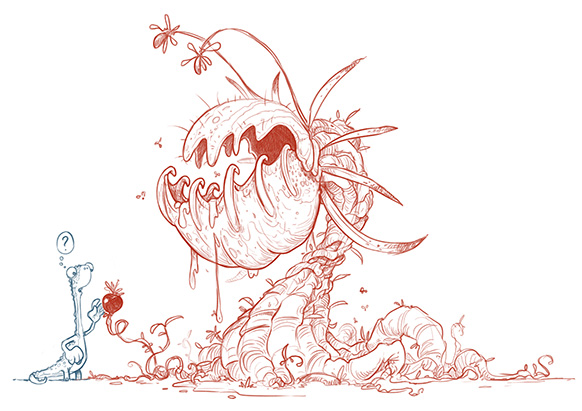 Mor and Cror – Raptors; teenage bully brothers nasty and cowardly.

Dilo a Dilophosaure. A taxing prankster. Whenever he laughs his frill spreads out, and Mazu warns him: it'll get stuck somewhere and he'll lose it.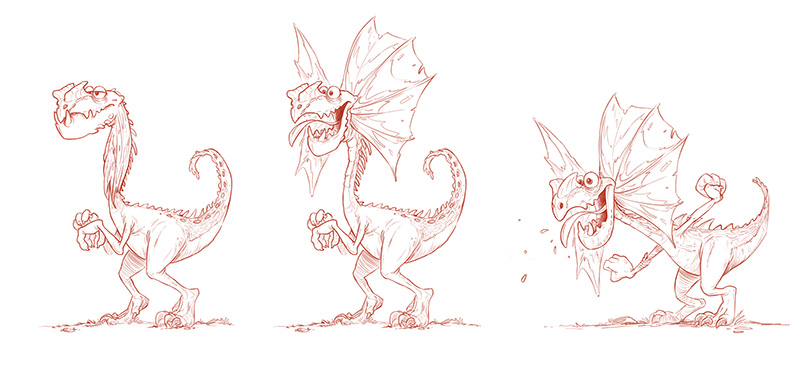 Archie the Archeopteryx a good guy, a bit of a nerd, kind of nervous, a voice of reason for the 4 heroes.
Ignatus is a Compsognathus he has huge personality, a very deep voice, and he is an adult, older than our heroes. He is incredibly vexed to be the smallest dino around!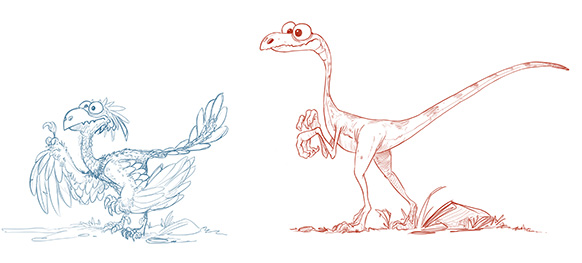 Templar Publishing, is part of Bonnier Publishing, is delighted to announce that Paris-based producer and distributor Cyber Group Studios is to bring a new animated series of Jonny Duddle's Gigantosaurus to Disney Junior Worldwide in 2019.
About Cyber Group Studios – Cyber Group Studios is a French independent, multi-award-winning company which develops, produces and distributes its own and third-party television and film productions and brands. The company focuses on content with strong global appeal targeted particularly to kids and families, namely with 3D CGI and 2D HD-animated productions (TV series and movies). Its mission is to bring audiences the best quality entertainment produced by top creative talent and to develop breakthrough technologies to enhance its productions. After opening a new Studio in Tourcoing (Haut-de-France), the company has opened new offices in Los Angeles.
Website : www.cybergroupstudios.com, Instagram (@CyberGroupStudios), Twitter (@CyberGroupSDs) and Facebook (Cyber Group Studios).