We are delighted to announce that The Spy Who Loved School Dinners has WON the Blue Peter Book Awards for Best Story Book, written by Pamela Butchart and illustrated by Thomas Flintham.
CONGRATULATIONS!!! to Pamela and Thomas who pick up their awards from the UK's Children's Laureate, Malorie Blackman in a special edition of CBBC's Blue Peter later today.
Thomas Flintham was on the shortlist last year for Marvellous Maths with Jonathan Litten, this year he'll be the proud owner of a Blue Peter badge to wear and a trophy to display in his studio.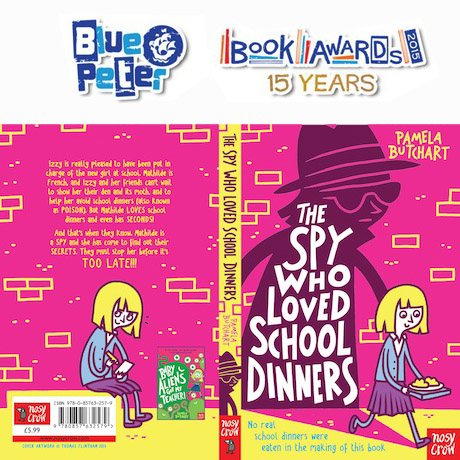 200 children from 10 schools across the UK read the shortlisted books and voted for their favourites. The two winning books were announced on World Book Day on 5 March 2015.
The enormously popular Blue Peter Book Awards, which are managed by Booktrust, celebrate the best authors, most creative illustrators and the greatest reads for children.
The competition was fierce for the Best Story and The Spy Who Loved School Dinners was nominated alongside, Boy in the Tower by Polly Ho-Yen and Goth Girl and the Fete Worse Than Death by Chris Riddell. The Best Book with Facts prize was won by The Silly Book of Side-Splitting Stuff written by Andy Seed and illustrated by Scott Garrett and the other nominees were Animalium written by Jenny Broom and illustrated by Katie Scott and Corpse Talk: Season 1 by Adam Murphy. Congratulations to all the wonderful writers and illustrators for their work.
The Spy Who Loved School Dinners is the second book By Pamela Butchart in the series about Izzy following on from Baby Aliens Got My Teacher, recently shortlisted for the Red House Book Awards, and you can read more about the illustration process in Thomas's questions on the Booktrust website.