Dark Shepherd
Fred Gambino's new collection of concept art, illustrations, speed paintings, book covers and sketches hits the bookstores this week. The Art of Fred Gambino – Dark Shepherd, published by Titan Books is more than just a collection of commissioned work, it also unveils a personal science fiction film screenplay that he's spent the last few years developing. Titan's quality production really shows off Fred's talent for creating epic and atmospheric out-of-this-world environments and space hardware.
Out of This World
Fred's last retrospective book of artwork, Ground Zero, published fifteen years ago, showcased his acrylic and oil paintings mainly for publishing. But a lot has changed since then and he's learned to adapt to new technology and his extensive knowledge of all types of software has led to him work in the film and games industries all over the world. Fred was concept artist for the films Jimmy Neutron: Boy Genius and The Ant Bully, both directed by John A. Davis who has written about his experience working with Fred in the foreword to the book:
"His imagery is immersive – a prime ingredient for cinematic storytelling… It became clear that Fred had more to offer than wonderful design – he was really tuned-in to the storytelling… Fred visualised exciting camera shots for our action scenes, created final production designs, and did beautiful matte paintings."
Panoramic Alien Landscapes
The Art of Fred Gambino contains an extensive range of character and environmental designs that Fred produced for various film projects including Escape from Planet Earth and Firebreather. Fan's of the Battletech and MechWarrior series will love the chapter devoted to Fred's collection of covers which introduced him to working with 3D modelling software. The book also shows his amazing panoramic alien landscapes for Templar's Alienology and includes the 3D model he created for the interactive space station app and the key frames for the animation he went on to develop for the Alienology website.
We're delighted to read some glowing reviews of The Art of Fred Gambino – Dark Shepherd including Susan Omand's in TheCultDen blog:
"…it is his fantasy artwork where Gambino's artistic flair really shines through, especially if he has been given a more free rein to do them with. I already mentioned the cover image of the book, the magnitude of the spaceship being beautifully illustrated by the spaceman floating at some distance from it. It takes a lot of talent to be able to portray such vastness in a 2 dimensional image.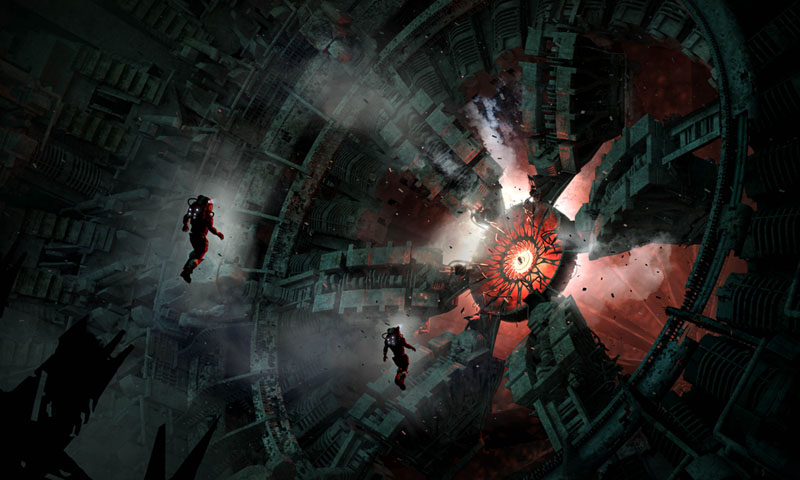 And Andrew Girdwood's review on GeekNative:
"Should you buy it? Without question fans of Gambino, those who'll recognise his style – and I'm thinking of Battletech fans and F1 Race Star players – will certainly be at the front of the queue. Anyone looking to learn about concept art, I think, will benefit from the book too and that's due to the portfolio of excellence and all the insight shared. Everyone else may well enjoy a fantastically presented art tome, something to let guests flick through while you finish off cooking dinner or while the rest of weekend's roleplayers turn up."
One imaginative Fellow!
At the heart of The Art of Fred Gambino – Dark Shepherd, is Fred's passion for science fiction, storytelling and exploring the endless possibilities of his imagination. Indeed, John A. Davis puts it most eloquently in his foreword:
" Here in these pages you can see Fred's talents as designer and storyteller on full display. The images excite the viewer to want to 'go there and see that', to witness the story unfold. It is immersive. So what does it take to hold such sway over an audience? First and foremost, it takes a great imagination. Fred Gambino is one imaginative fellow!"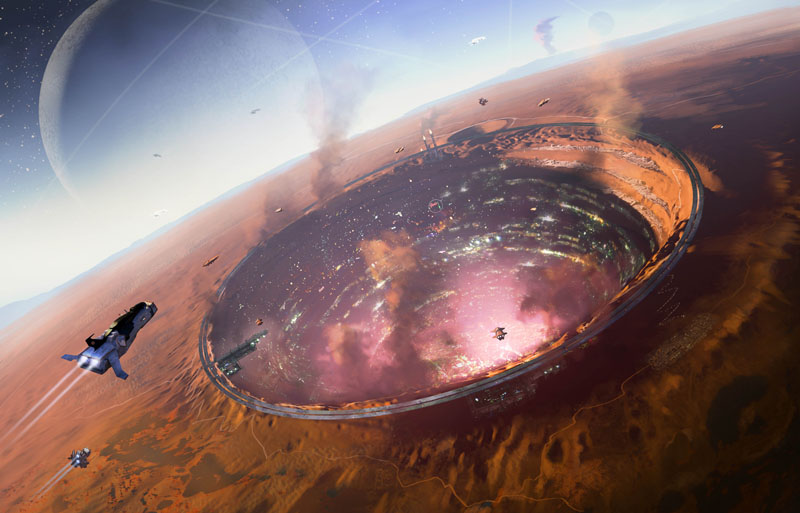 Fred worked as concept artist on the new Marvel feature film Guardians of the Galaxy, out now in cinemas and you can read our interview with Fred Gambino here. He will be signing The Art of Fred Gambino – Dark Shepherd at Forbidden Planet on 13th August from 6 pm and at Loncon 3 on Thursday 15th August at 4.30pm.