It's time to hop into your gaming chair and get ready to level-up with Super Rabbit Boy, in Thomas Flintham's latest Press Start adventure in Super Rabbit Boy Vs Super Rabbit Boss, the fourth book in the series published by Nosy Crow in the UK this month.
This series has gone from strength to strength, providing fun, quick reads for even the most reluctant of readers. The bright, gaming style illustrations and accessible comic book format have proven to be the secret recipe for books for 5+ year olds. With an animated series created by Cyber Group Studios on the horizon and a whole host of digital content planned we are excited to see Thomas Flintham's Super Rabbit Boy popping up all over the place in the coming months.
Hold onto your seats, here's a bit more about Super Rabbit Boy Vs Super Rabbit Boss, published by Nosy Crow.
Sunny's favourite game is Super Rabbit Boy, where his carrot-loving friend must thwart all the plots the evil King Viking of Boom Boom Mountain comes up with. Rather than clean his room, Sunny plays for just 10 more minutes.
Oh no! On his way to foil King Viking's latest evil plan, Super Rabbit Boy is sucked into opposite land. In this world, the good guys are bad, and the bad guys are good. And the worst bad guy of all is Super Rabbit Boss! What?! Can Super Rabbit Boy work with his new robot friends to save Good King Viking and make it back to his world? Or will Super Rabbit Boss get him first? You'll have to read and find out...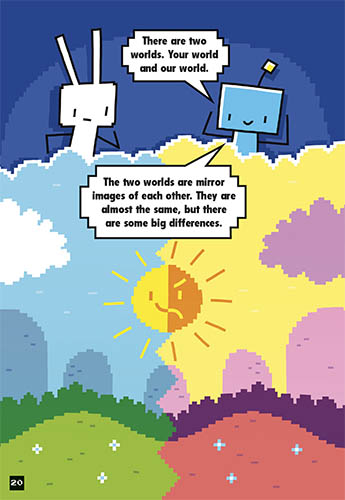 The fourth in a full-colour series of graphic novels about - and for - kids who love gaming! Join Sunny as he and Super Rabbit Boy take on the world, one move at a time!
You can get a sneak peek at the action-packed PRESS START! animated teaser with title music by visiting the Cyber Group Studios website – HERE

Thomas was recently interviewed about Press Start by Just Imagine's Nikki Gamble on the Book Channel where she talks all things graphic novels with Tom and fellow authors Jerry Craft and Sylvie Kantorov. You can watch the whole episode on this link
We've prepared an extract of Thomas's interview where you can find out all about how he creates his books, his influences and how he illustrates Press Start using his huge tablet drawing Supper Rabbit Boy with his pixellated lines by hand with a digital pen.
Thomas is based on the south coast and loves disappearing into an imaginary world. He is a keen gamer and loves cartoons, mazes, and puzzles.
Not managed to catch-up with all of our Super Rabbit Boy news pieces, you can find them HERE, don't forget to sign up to our newsletter!
You can find Thomas on Instagram where he posts all sorts of fun content including animations, process work, sneak peeks and cover reveals, alongside heaps more, or you can take a moment to look at his fabulous online portfolio HERE.
For information regarding working with Thomas please email info@arenaillustration.com