This week, we continue our theme of highlighting the importance of personal practice for a sustainable creative career.
We shine the Arena spotlight on multi-talented book artist, Marie-Alice Harel.
Marie-Alice originally pursued a career in Geosciences for which she has earned a PhD. Her research took her from France to Edinburgh where she now lives. By 2016 the world of illustration beckoned, and she became a full-time artist and illustrator.
As a new talent, Marie-Alice won the prestigious 2019 Book Illustration Prize organised by the House of Illustration in association with The Folio Society for her stunning illustrations and book binding for Howl's Moving Castle by Diana Wynne Jones. It was shortly after this that we welcomed her to Arena. Following the success with her edition becoming a best-seller, Marie-Alice went on to illustrate the other two books in the trilogy, Castle in The Air and House of Many Ways. The Folio Society then invited her to illustrate a magical new edition of The Neverending Story by Michael Ende, to mark their 75th anniversary.
It was Marie-Alice's love of research and attention to detail that led her to her first love, creating her own books and Art Books. She immerses herself in her personal projects, often travelling to far flung places where she writes, sketches and takes photographs for inspiration.
Her limited edition artist books include elements that are hand-made and hand-bound and all beautifully packaged. The perfect example is The Book of Anetzar where she added gold ink by hand and the concertina book is bound with shot cotton, vintage Japanese silk and silk thread.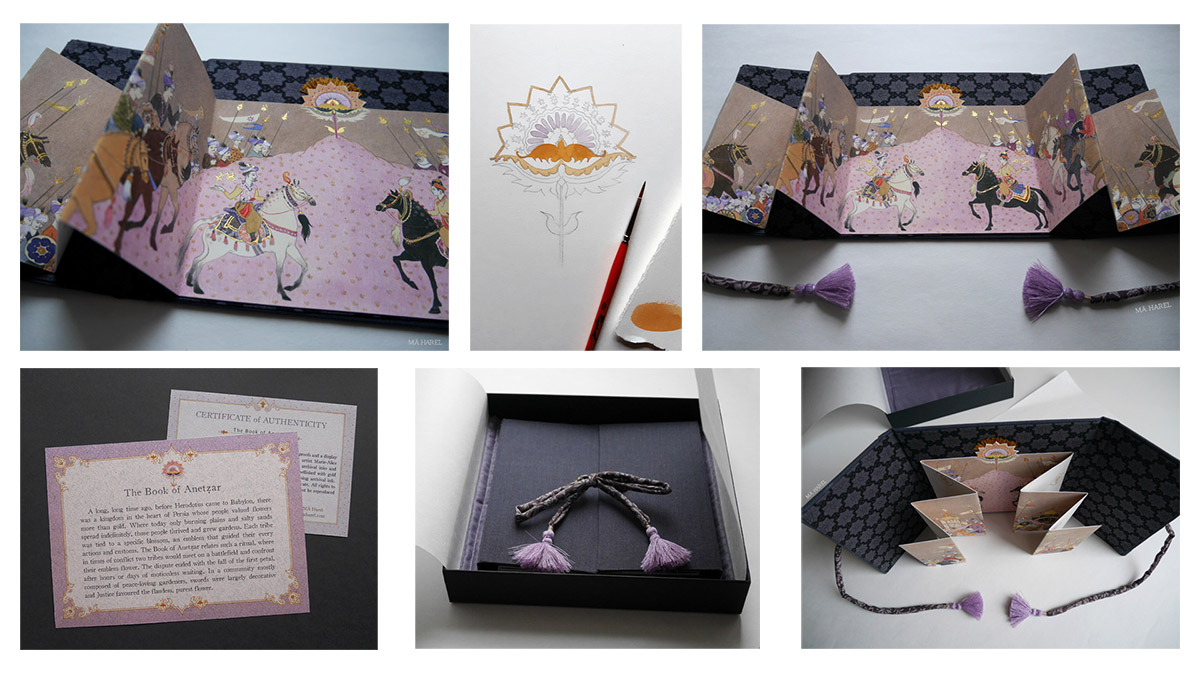 Her most recent piece, the self-published book, Bird People, started out as a collection of portraits of bird people that she drew in her sketchbooks as an exercise to reconnect with her love of drawing and to relax at the end of the day. It turned into more than 80 illustrations and Marie-Alice successfully published this beautiful book by crowd-funding the project through Kickstarter.
She says, "This book... is a wish to learn to fly, to step out of my skin and see the world from a new angle. It is a love letter to the act of drawing, where every line can be the beginning of a story."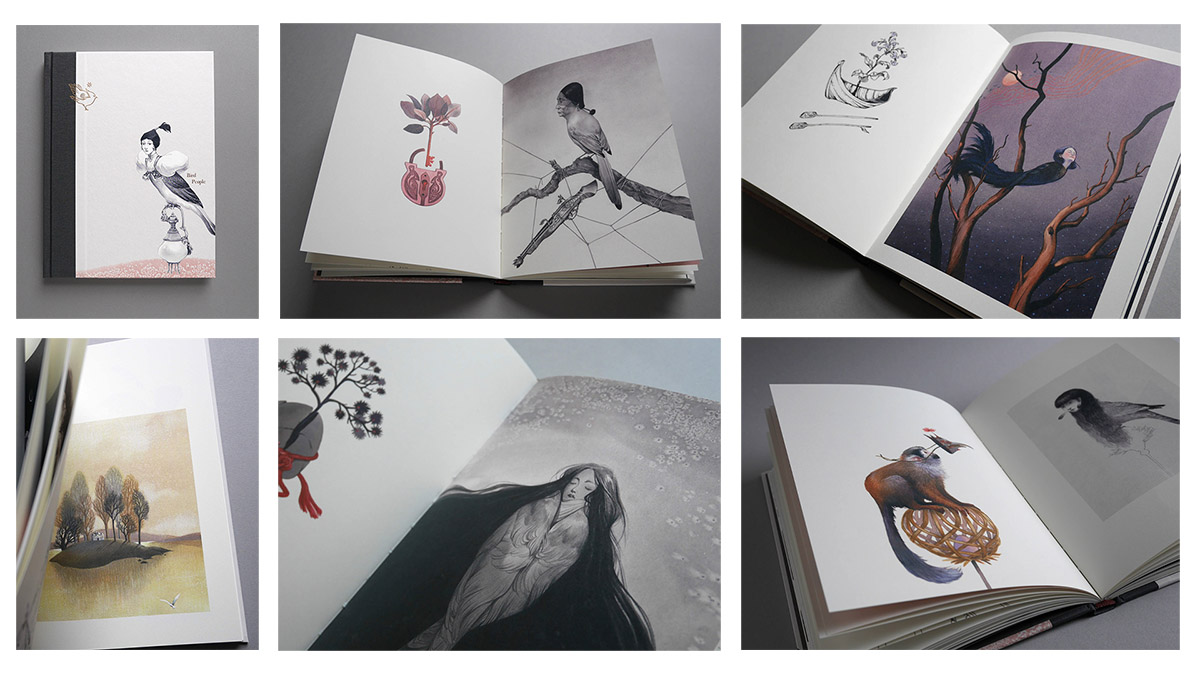 With a highly enthusiastic fanbase Marie-Alice creates a varied and eclectic range of pieces, from badges, bespoke stationery and prints to the occasional sale of original artwork - all available on her Etsy shop. She also shows her work in galleries and Artist Markets in the UK and internationally.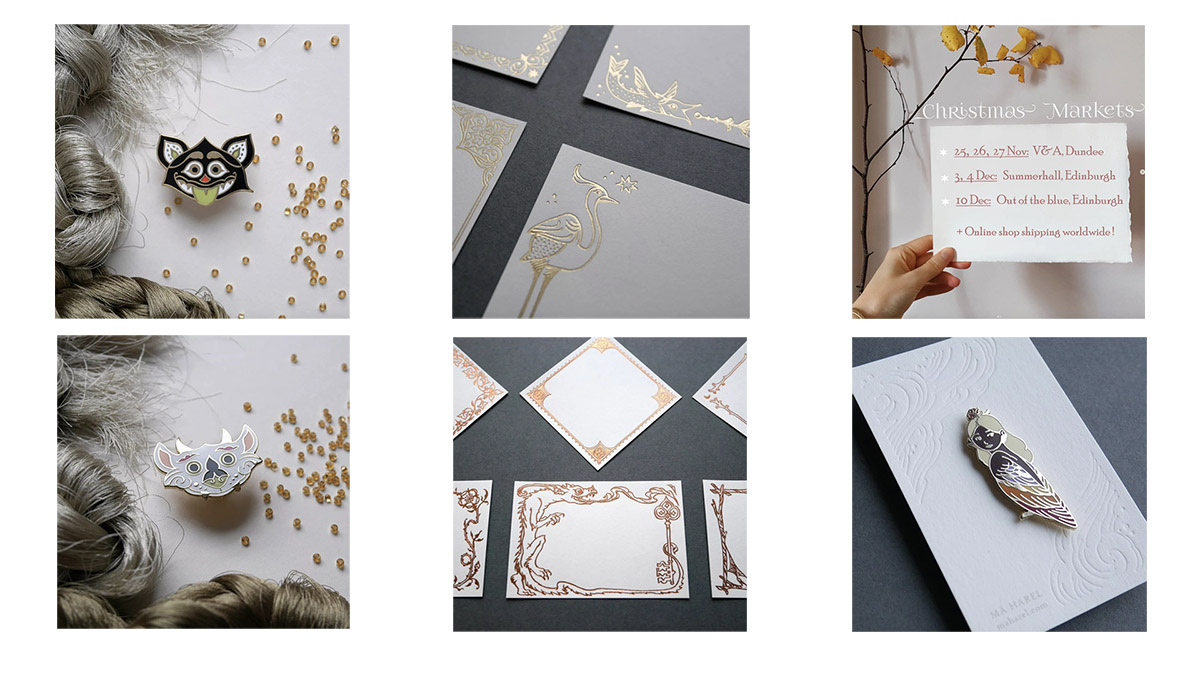 Marie-Alice's personal projects have opened up different avenues for her commercial work and writing and self-publishing gives her more creative control.
Her upward trajectory continues as in 2022 she was a finalist in the British Book Design and Production Award for her book Hortari . We can't wait to see where her work takes her next and we will be sure to share all Marie-Alice's new projects with you as soon as we can.
You can find Marie-Alice Harel on Instagram, you can also view her exquisite online portfolio HERE.
For more information regarding collaborations please email info@arenaillustration.com
Don't forget to sign up to our newsletter and follow us on Twitter, Instagram, LinkedIn and Facebook.