It is with great pleasure that we present to you a delightful and insightful Q & A with Arena illustrator and designer Richard Johnson and reveal his new picture book collaboration with Children's Laureate Joseph Coelho.
Our Tower provides a magical insight into the lives of a group of children who find more than they bargain for when they venture outside their urban tower block.
We hope you enjoy finding out more about Richard's inspirations and design process.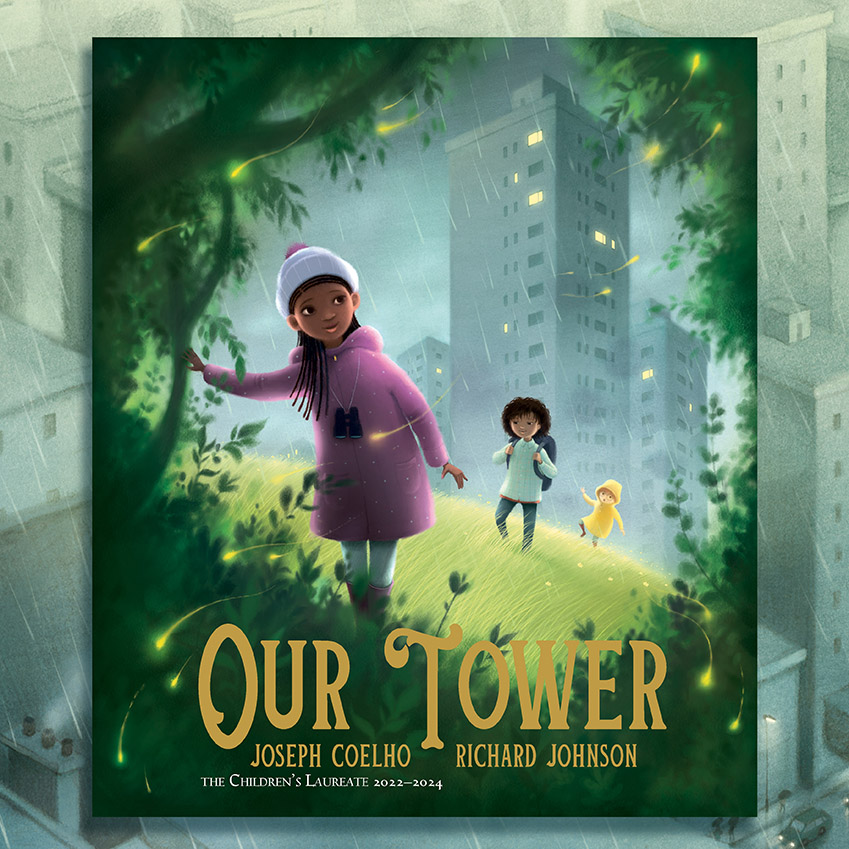 Congratulations on your fantastic work collaborating with Joseph Coelho on Our Tower, it's simply stunning!
Thanks! It was an absolute honour to work with the magnificent Joseph Coelho, the newly appointed Children's Laureate. I feel so lucky to be able to work on this project. When I was sent the manuscript I instantly fell in love with Joseph's words, and the imagery just started flowing through my mind. It's a poem about urban and rural spaces, and a celebration of inner-city communities and tower-block living, so I really loved the tensions and relationships between these two seemingly opposite worlds.
The characters in Our Tower are completely believable, is character design something you are interested in?
It was really important that I tried to create an inclusive and diverse group of children in the story, but also that this didn't define them as individuals. I wanted the children to tell their own story, that might not necessarily be in the text. So, the way they move, and their individual characteristics were essential to cultivate. The girl has binoculars, she is the leader and is always looking to the future. The small boy has a magnifying glass so is always a little bit behind, closely inspecting something. The middle boy, we called 'Little Joe'—another wink to Joseph—he always carries a notebook, and is drawing and taking notes!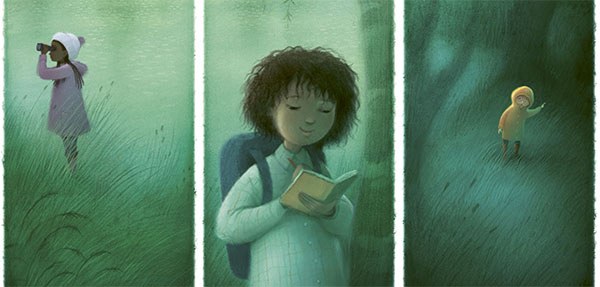 I've always enjoyed coming up with characters and imaginary creatures, so the tree-man from 'Our Tower' was a gift!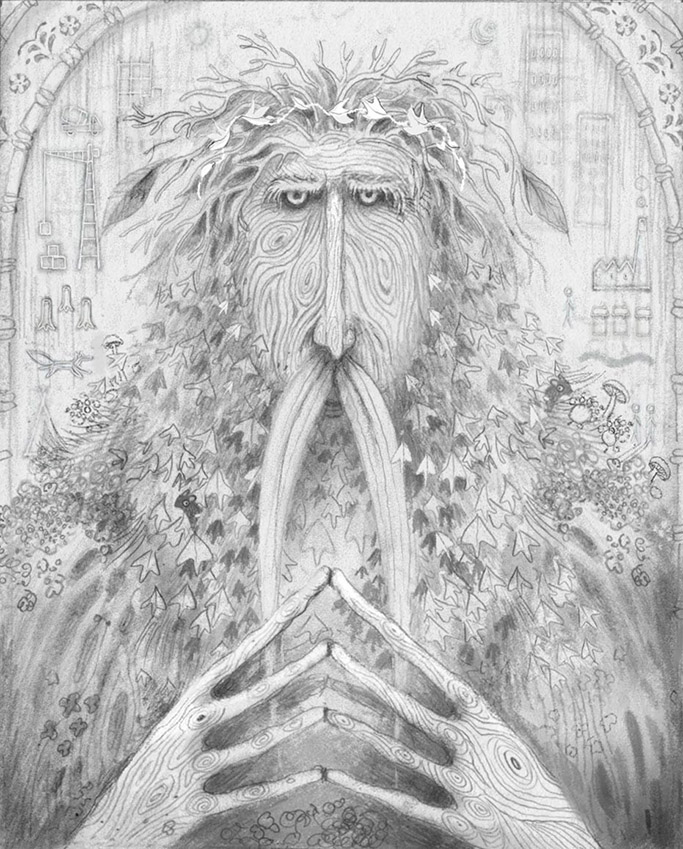 Quarto, the publisher, were fantastic to work with and really let me have fun with the project! We're currently organising an exhibition of the work, which will be held at The Discover Children's Story Centre in London, later this year.
Do you have any formative memories of books or illustrations which first inspired you to become an illustrator?
I was lucky to have several Richard Scarry books when I was very young. I loved looking at all the details in the busy scenes, but I really remember 'Good Night, Little Bear' because of its humour. I enjoyed the joke that was created between the written story—usually told by my father—of the little bear who is hiding, and the pictures which clearly showed him quietly sitting on the shoulders of his own feigning father.
I was also really influenced by Raymond Briggs' The Snowman and John Burningham's Granpa. Both stories are poignant, humorous and tragic in equal measure, but they taught me how drawing could work in sequence to deliver a narrative, with and without words. The books were turned into animated films. As a child, my sister would watch them endlessly on VHS, and I would be tasked with rewinding the tapes at the end of each viewing! As I began to study illustration more closely, I really loved the work of American illustrators like Lane Smith—I'd often try to figure out how he made his illustrations.
I initially studied fine art at University, so was heavily influenced by narrative painters. But I soon realised that what I really wanted to do was tell stories and communicate ideas, so my shift to visual communication was an easy one. I think my influences sort of blend these two worlds, between storytelling and sometimes darker, more theatrical, atmospheric imagery.
Can you explain your technique or the materials and equipment you use?
Starting with really quick doodles, I'll work in my sketchbook, digital scanning the better ideas, I'll print them out, rework and refine them.

I enjoy using a combination of physical traditional materials and digital techniques, so I'll often paint or pencil things and then digitally colour them. You can see a recent example of this process on my Instagram, which demonstrates the development of my cover for 'Birdsong', written by the amazing Katya Balen. I tend to use Photoshop, with custom brushes, and my Wacom tablet, which is definitely my favourite essential tool.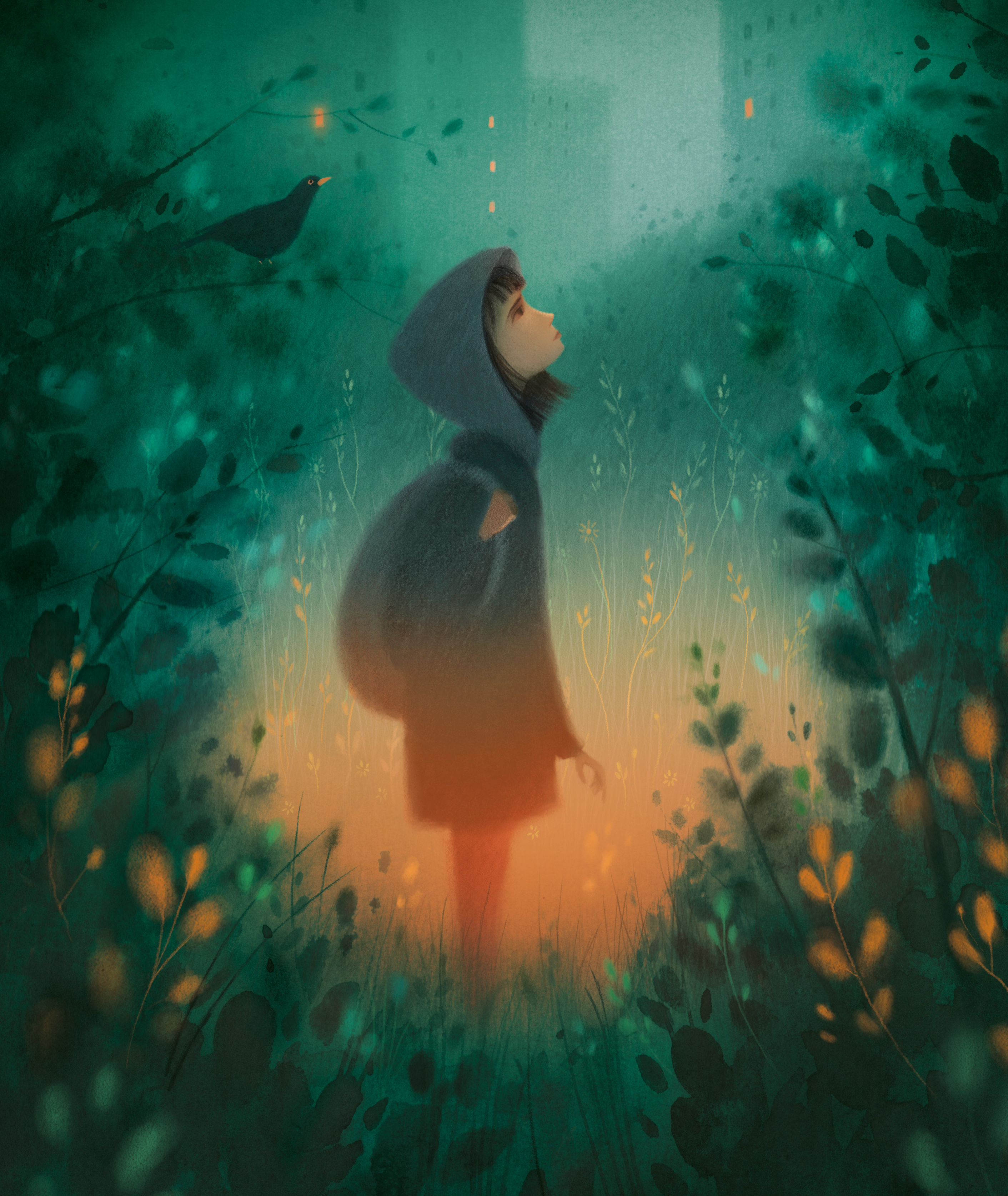 Do you have a piece of advice for newly graduated illustrators?
I think the best students are always the ones who try to originate a personal way of working. Of course, tutors will always speak about the importance of drawing. But I think it's also important for students to try to develop their own voice, in terms of what they want to say, their ideas and individual personality. I guess a lesson I learnt (perhaps a little too slowly!) is that it's okay to try different things, new ways of working, or to explore different contexts—so don't typecast yourself too quickly!
Do you use sketching as a form of relaxation? Do you have any sketch books which we could have a peek inside?
Yes, when I get a chance to relax. I love being outdoors, partly because I spend so many hours indoors, but I really enjoy walking and exploring new locations with my wife. Sitting outside and doing some quick drawing or watercolour sketching, it's nice to just look and enjoy a place, to forget everything else. Here are some of my sketchbooks, made on location. The photo bottom left shows an extremely cold winter afternoon in the Cotswolds, in the middle, in the summer and on the right a painting made of the 'Bathing House', situated on the Northumbrian coastline, which we had the pleasure of visiting at Easter.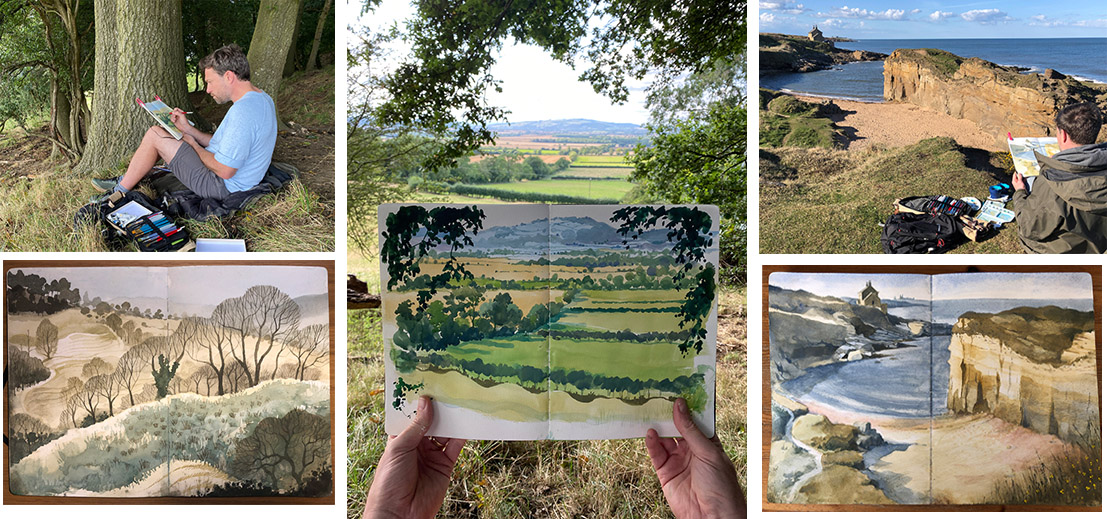 Do you have a story that you would love to illustrate?
I'm really interested in developing stories for slightly older children. I like anything that is dark and atmospheric, so I'm always drawn to tales that are unconventional. I'm also really interested in wordless storytelling, film and gaming worlds— so I'm keen to see how new formats might influence the way illustration can be used in this way. In the future, it would be great to visually explore more complex themes, such as migration and displacement. I think illustration is a powerful tool, showing the world in new ways, and should be continued to be promoted for children in schools as a means of developing oracy and literacy.
What are you working on at the moment?
I'm currently working on a picture book written by Ross Montgomery, another awesome author. It's a story about a very old monster who lives on his own and is probably a bit lonely. Again, I was drawn to it because the narrative is little bit sad—as well as being really fun and quirky!
We're in the middle of moving house, so most of my books and studio is in a state of being boxed up. Here's a picture of my current set-up, you can see my equipment and a few inspirations around me, including a David Hockney landscape, a print by Henning Wagenbreth, a Hayao Miayazaki 'Totoro' figurine, a Gustav Klimt landscape, Chris Ware's 'Building Stories' and Brecht Evens' 'Panther'. Oh, and there's an advanced copy of 'Our Tower' sitting in front of me!
For more information regarding working with Richard please email info@arenaillustration.com