Get ready to have a ball with Spike Gerrell's latest Football School edition!
It's time to polish your football boots and leap off the subs bench for the latest glittering offering from the team behind the Football School series illustrated by Spike Gerrell. The best-selling Football School series has gone from strength to strength appealing to footie super fans and those new to the game. Football School: The Greatest Ever Quiz Book certainly doesn't disappoint, featuring over 300 questions on players, clubs matches and more. Spike's trademark cartoon style lends itself perfectly to this fun filled offering for young readers with instant jump off the shelf appeal.
Spike has certainly hit the back of the net with his illustrations for this book, with caricatures, spot illustrations and chapter headers featuring on each page. Spikes bold comical line drawings have made this series instantly recognisable and his fresh and adaptable approach means he is the go-to artist for translating complex information into easy to absorb age appropriate visuals.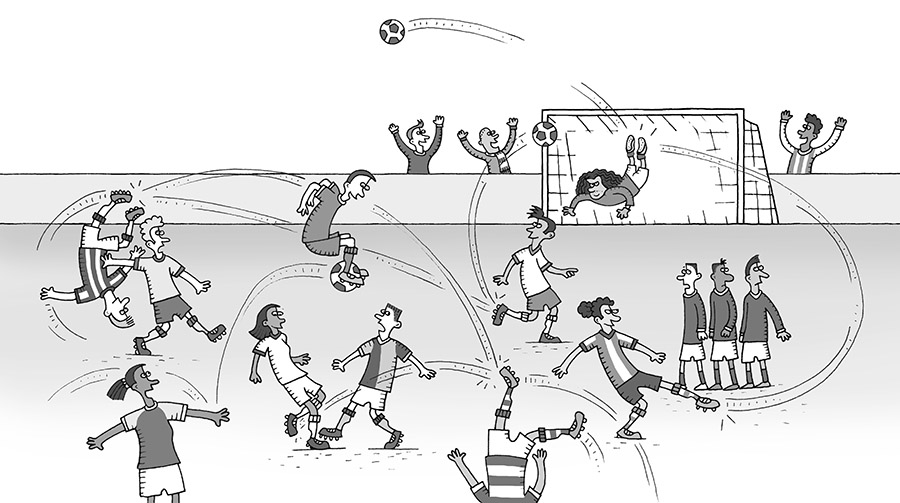 Football School The Greatest Ever Quiz Book is written by Alex Bellos and Ben Lyttleton and illustrated by Spike Gerrell is published by Walker Books on the 2nd June, you can grab a copy HERE
You can find Spike and his wonderful world of illustration on Instagram and Twitter, please take a moment to ponder his fantastic online portfolio HERE, for more information regarding collaborating with Spike please email info@arenaillustration.com