Photo above features Alex T. Smith, Flavia Z. Drago, Dapo Adeola, Joseph Coelho and Daishu Ma
Last week we attended the launch for Ten-Word Tiny Tales (published by Walker Books) hosted by CLPE, we were thrilled to celebrate this brilliant book with Waterstone's Children's Laureate Joseph Coelho along with a few of the contributing illustrators including our very own, Alex T. Smith, and of course the lovely team at CLPE.
Ten-Word Tiny Tales is a compendium featuring twenty brilliantly illustrated tiny tales, each only ten words long and includes artwork from: Alex T. Smith * Camilla Sucre * Chuck Groenink * Daishu Ma * Dapo Adeola * Dena Seiferling * Flavia Z. Drago * Freya Hartas * Helen Stephens * Julia Sarda * Katie May Green * Karl James Mountford * Maja Kastelic * Mariachiara Di Giorgio * Nahid Kazemi * Raissa Figueroa * Reggie Brown * Shaun Tan * Thea Lu * Yas Imamura * Yoko Tanaka

"The tales in this compendium are tiny - they are only ten words long! But in your imagination they will settle - and, like seeds, they will grow..."
Is it possible to spin a tale using just ten words? It most certainly is! In this unique and magnificent compendium designed to spark the imagination, Joseph Coelho brings us stories of underwater worlds, demon hamsters, bears in outer space, and portals to places unknown ... all in just ten words! Each tale has been paired with one of the finest illustrators working today – and, together, the words and pictures will create a space for creativity as young readers imagine how the story might unravel. They might even be inspired to pen a ten-word tiny tale of their own!

Prefaced with a note from Joseph Coelho and with two creative writing challenges at the back, this is the perfect gift for all those ready to unleash their imaginations. You can pen a ten-word tale of your own and for inspiration, visit Tiny Tale Generator.
Congratulations to all the brilliantly talented illustrators who took part in this collaboration including Alex T. Smith. He was given these ten words: "My splintered oars are lost as my boat speeds onwards." His only brief was to let his imagination run wild and this is what he came up with...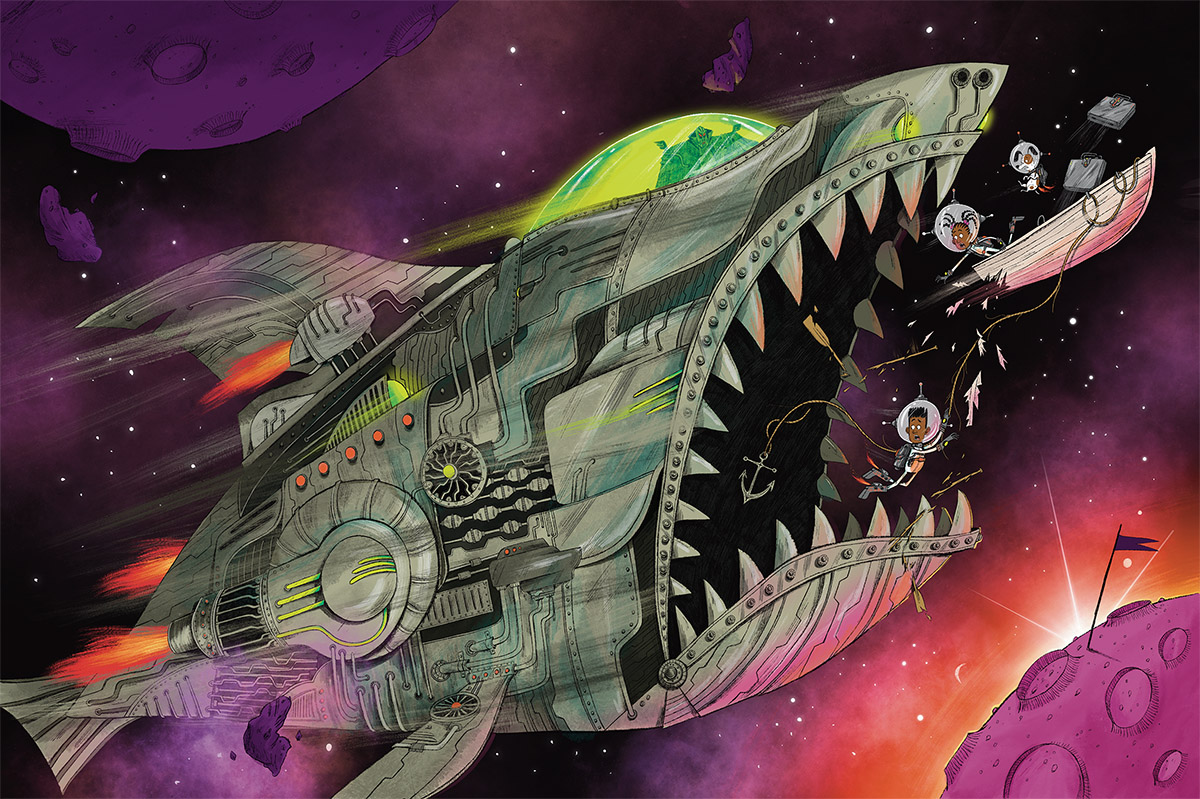 This is a really special book, you can grab a copy of it HERE or at your local bookshop or library.
You can view Alex's dazzling online portfolio HERE and don't forget to subscribe to our newsletter to receive regular news updates about our artists.
Front cover illustration © Mariachiara Di Giorgio