Scholastic commissioned Euan Cook to illustrate these dramatic new look covers for their blockbusting My Story series of fictional diaries based on key moments in history.
Each title in the My Story series sweeps the reader up in the tumult of history bringing the past closer, capturing all the scariest moments in realistic children's voices. This is an exciting way for school children to explore curriculum-linked, must-know historical facts bringing them closer to the dark days of the Black Death, the muddy trenches of the Great War, the terrifying bombs of the Blitz and the sinking of the Titanic etc.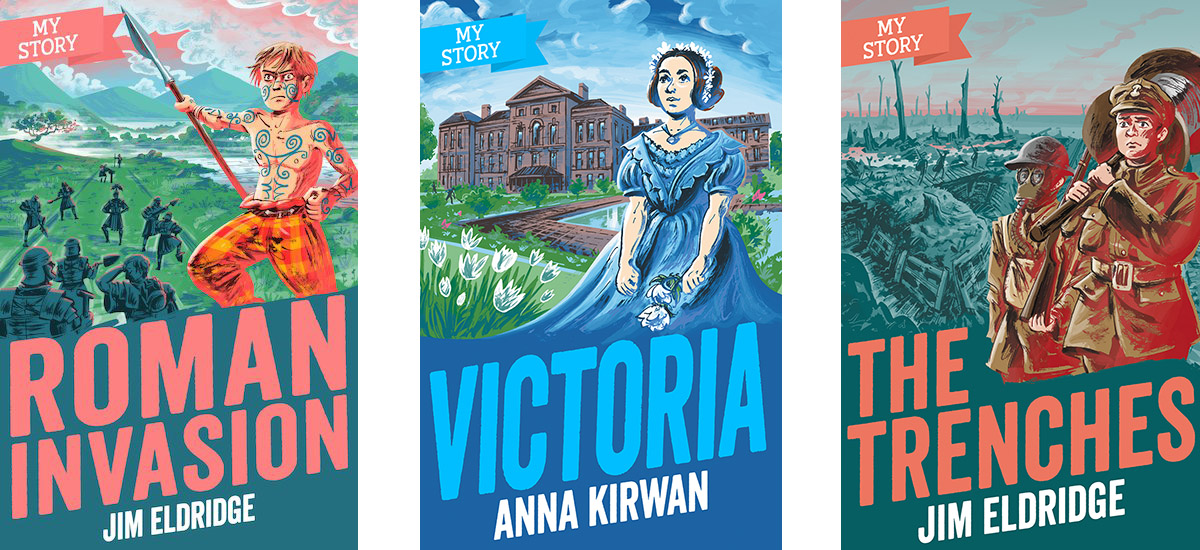 My Story: Roman Invasion - It's AD 84 when Bran, a prince of the Carvetii tribe, is captured by the Romans.'He is not a child!' said my mother defiantly. 'Bran is a prince, raised to be a warrior like his father!' A legion of soldiers is marching east, to build a military road. It's hostile country, and Bran is to go with them as a hostage to ensure the legion's safety … but no one is safe in newly conquered Britain.
My Story: Victoria - It's 1829, and young Princess Victoria's life is full of constraints. Brought up hidden from the world and protected even from walking downstairs alone, the ten-year-old princess decides to write a secret diary about life at Kensington Palace. But little does she know that she is about to make a startling discovery. Closer to the throne than she ever imagined, My Story: Victoria spans a fascinating year in the life of a future queen.
My Story: The Trenches - It's 1917 and Billy Stevens is a telegraph operator stationed near Ypres. The Great War has been raging for three years when Billy finds himself taking part in the deadly Big Push forward. But he is shocked to discover that the bullets of his fellow soldiers aren't just aimed at the enemy…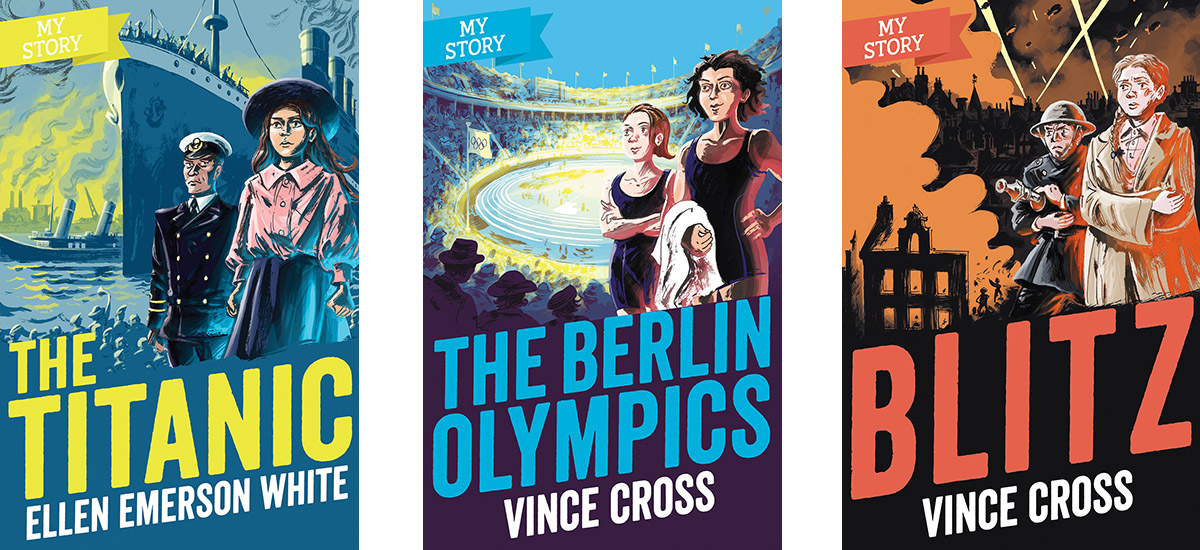 My Story: The Titanic - This is the thrilling story of a young orphan on board the most famous sinking ship. Margaret Anne dreams of leaving the orphanage behind, and she can hardly believe her luck when she is chosen to accompany wealthy Mrs Carstairs aboard the great Titanic. But when the passengers are woken on a freezing night in April 1912, she finds herself caught up in an unimaginable nightmare. With the Titanic sinking fast, she must fight for survival.
My Story: The Berlin Olympics - It's 1936, the year the Olympics took place in Nazi Germany. London-born Eleanor Rhys Davies's dream comes true when she is selected to represent Britain as a swimmer. But Berlin under Hitler can be a hostile place, and Eleanor is witness to the murmurings that will finally erupt into WWII.
My Story: Blitz - This is a thrilling wartime tale about two siblings evacuated to Wales. It's 1940, and with London under fire Edie and her little brother are evacuated to Wales. Miles from home and missing her family, Edie is determined to be strong, but when life in the countryside proves tougher than in the capital she is torn between obeying her parents and protecting her brother.
Euan has illustrated over ten My Story covers to date, with more titles to be published soon. You can see more from the series over on his portfolio HERE.
You can find Euan on Twitter and you can also view his fabulous online portfolio over on our website. For more information regarding working with Euan please email info@arenaillustration.com