Alex T. Smith Awards News
We are over the moon and ever so proud of Alex T. Smith who celebrates a clutch of awards announcements.
The Queen's Knickers Award
With undergarments firmly deployed we are thrilled to announce that Mr. Penguin and the Catastrophic Cruise published by Hachette Children's Books has been declared Runner Up in the Society of Authors The Queen's Knickers Award. This annual prize, generously funded by author Nicholas Allan, is awarded to an outstanding children's original illustrated book for ages 0 - 7. It recognises books that strike a quirky, new note and grab the attention of a child, whether this be in the form of curiosity, amusement, horror or excitement.
In this, the third Mr. Penguin adventure we find Mr. Penguin boarding a luxury cruise ship. He doesn't like water, and he can't swim, but his friend Colin is performing with the Ladies Choir on board - and anyway, Mr. Penguin feels like a rest after some busy Adventuring. What's more, fishfinger sandwiches are apparently available twenty-four hours a day. Heaven!

But despite the glamorous film stars and party atmosphere, Mr. Penguin can't help but feel that something shifty is happening on board. And when he befriends a young stowaway with a mystery of her own to solve, he soon finds that Adventures are lying in wait after all.
We think you'll agree Mr. Penguin is a worthy runner up in this prestigious award. Thank you to all involved in judging this award. This is Alex's special Queens Knickers pin badge which will take pride of place next to his Blue Peter Badges!
Read more about the project Mr. Penguin and the Catastrophic Cruise HERE.
The Alligator's Mouth Award
And from one Regal adventure to another as Claude at the Palace, also published by Hachette Children's Books, makes the shortlist of one of our favourite Indy book prizes, The Alligator's Mouth Award.
Claude and Sir Bobblysock just happen to wander accidentally into the royal palace on a very special day indeed – the Queen's birthday! Unfortunately, the royal nanny, Nanny Stern-Bloomers, has had to take herself off for a lie-down and there's no one to make sure the royal children stay neat and tidy for the big party. But . . . Claude and Sir Bobblysock could step in to babysit, couldn't they? After all, princes and princesses are always on their best behaviour.
With its familiar trademark black, white and red illustrations throughout and hilarious laugh out loud moments, this special regal story is already a huge hit with readers of all ages.
This is the 10th title in the series and celebrates 10 years of Claude. The Claude brand continues to go from strength to strength and from page to small screen, in no small part to Alex's passion for Claude and his never-ending hard work. You can buy a copy of Claude at the Palace HERE and watch Alex read an excerpt from his book below.
Congratulations Alex!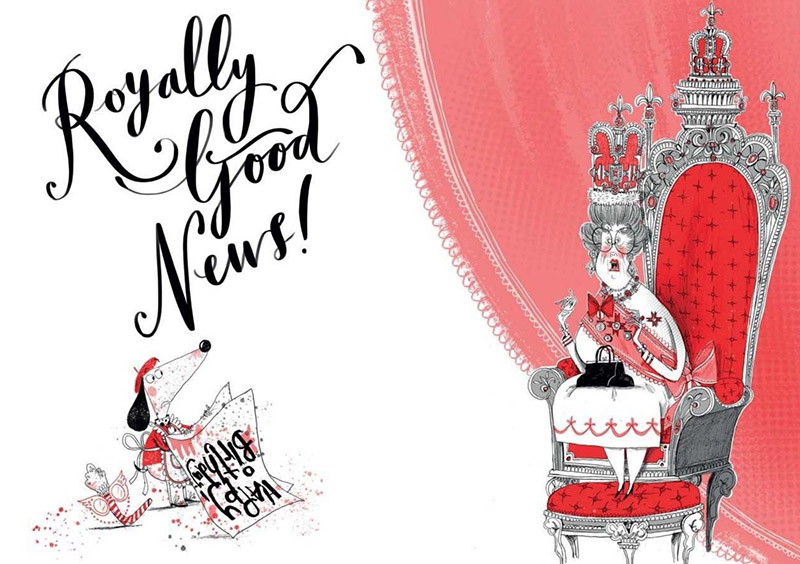 You can find Alex occasionally on Twitter or view his online portfolio on our website HERE
For more information regarding working with Alex please email info@arenaillustration.com, we really rather think he should probably have his own TV show!