We are pleased to announce the long awaited publication of The Pirates of Scurvy Sands (Starring The Jolley-Rogers) by Jonny Duddle. Published by Templar on 8th February 2018. This story has been waiting to be told for many a year and is a companion to the best-selling Waterstones prize winning picture book The Pirates Next Door (Starring the Jolley-Rogers).
The special edition hardback has a treasure map on the reverse of the dust cover to explore Scurvy Sands and it's hidden treasure.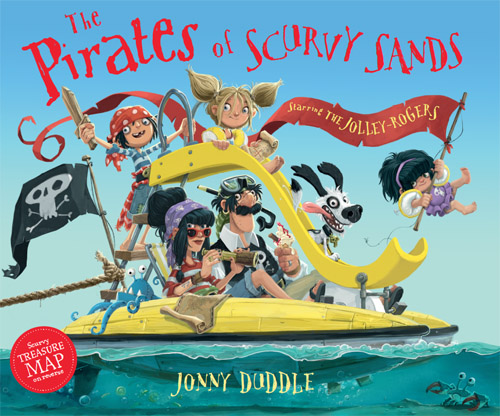 Scurvy Sands is a holiday camp with a difference, it's run by pirates and is exclusively for… PIRATES. If you're not a pirate you shouldn't be there. When Jim Lad asks Matilda to go on holiday with his family, the Jolley-Rogers, she accepts. Leaving her own seaside town of Dull on Sea she travels on a voyage across the sea to the holiday island of Scurvy Sands.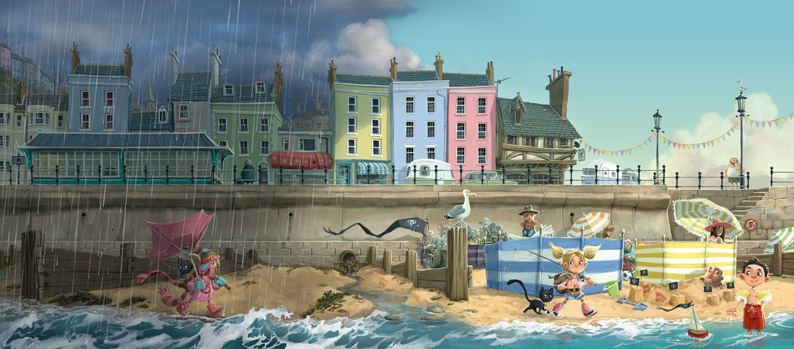 But she doesn't receive a warm welcome, at the Cruncher Club the other children aren't too pleased, she won't pass the pirate test.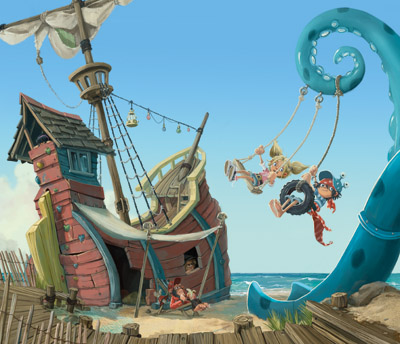 Barnacle Bob, the lifeguard spots her too when she's out on the pedalo with the Jolley Rogers, maybe she's a mermaid? Can she wield a cutlass? Her teeth are too clean, her hair smells too nice, she's a bad example, the pirates complain and she'll have to take the pirate test to prove herself.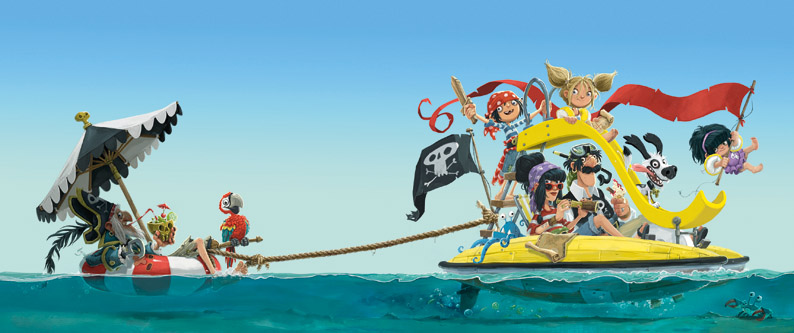 But Matilda had a plan to win over the doubting pirates looking closely at the portrait of Mad Jack McMuddle – the pirate "Who always got lost and was never quite sure of which oceans he'd crossed. 'Cause his map-reading skills went often awry, he'd a compass tattooed above his left eye."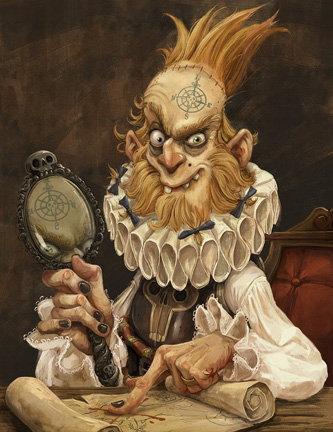 Cleverly reading Mad Jack's map with a mirror, Matilda and Jim Lad set off to find his buried treasure. At dawn the friends discovered a massive hoard and Matilda re-distributed Mad Jack's wealth among the pirates, winning friends before she sailed back home with her pirate family friends.