[one_third]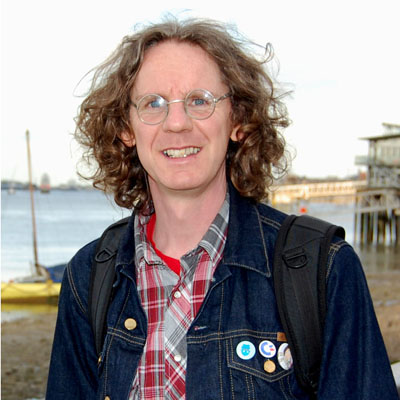 [/one_third]
[two_third_last]
With over fifty illustrated books under his belt, titles that have been translated into eighteen different languages and collaborations with Michael Rosen and Cressida Cowell, award-winning Neal Layton still manages to fit some interesting hobbies into his busy life as a children's book illustrator. We look at the man behind the "zany and inventive mixed-media illustrations"(Publishers Weekly).
The characters Emily Brown and Stanley from your collaborative picture books with Cressida Cowell, have taken centre stage. How did it feel to see your illustrations brought to life as a magnificent theatre production?
It's a wonderful feeling! The Tall Stories theatre company have done an amazing job of capturing the characters as puppets and live action too. I'd made artworks for them to incorporate into their stage design, so I had a vague idea of what it might look like, but it was a remarkable experience seeing Emily Brown and The Thing 'actually come alive'. The actress who plays Emily Brown even has an Emily Brown haircut!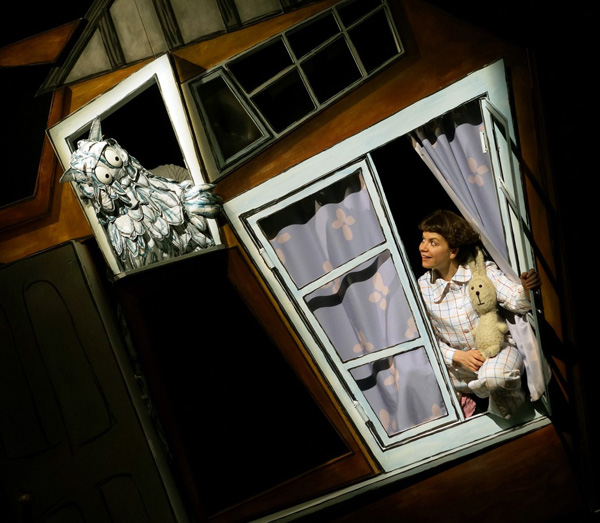 You are somewhat of an extreme sports fanatic, often seen darting about the place on your skateboard…
I love skateboarding, I've done it since the 80's. I don't do the dangerous stuff anymore, but now both my daughters have scooters I can keep up with them!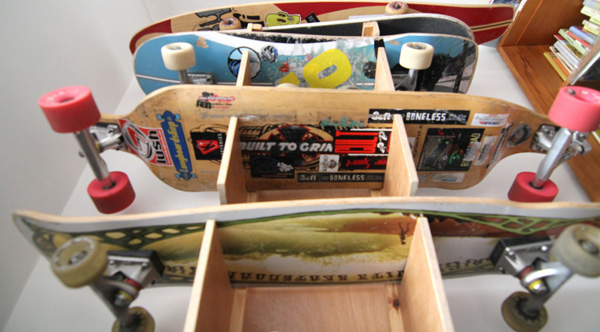 …What else do you enjoy doing in your spare time and do you still find time to sketch and create art for pleasure?
I also love music and have built several electronic synthesisers – and yes I always have a sketchbook or three on the go… Here's a peek…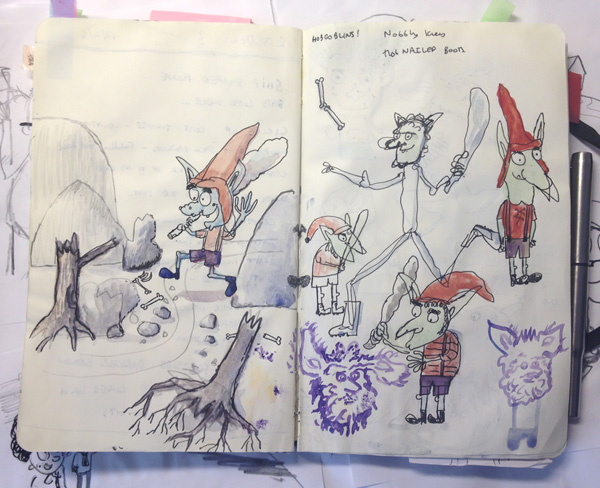 You recently experimented with your late Grandpa's antique drawing instruments. If you could fill a pencil tin with three 'Tools of the Trade' what will you pick?
I like to use lots of different media in my artworks but three things I could never do without are:
A range of pencils in different weights. It sounds a bit boring but I think pencils are one of the best inventions ever! I can't imagine anyone ever designing anything better.
Ink…
…and something to dip in it. Nibs, big small old, new, sticks, sponges, whatever! The possibilities are endless…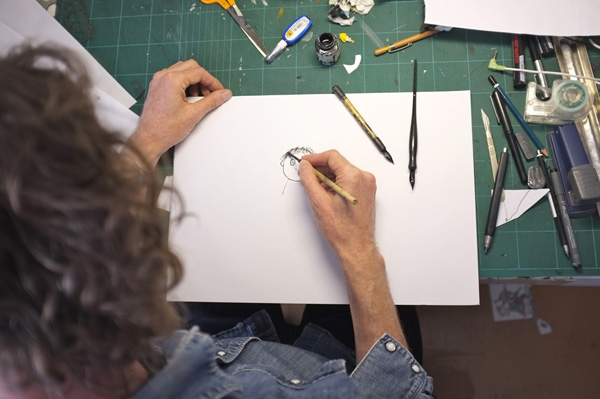 How has your work changed over the years with the introduction of more digital elements?
I've been involving computers in my books since about 2000. Working digitally is great, but I see it more as just a type of media, which can be used to broaden my mark making palette if necessary. In my latest book for Bloomsbury I didn't use them at all…
Can you tell us about the last exhibition you went to see?
The Royal Academy Summer show with my wife Sadie Tierney's lithograph prominently displayed in room 1. Proud husband moment!
The world of professional children's illustration is a world away from the nurturing environment many students experience at Art College. What advice would you give new graduates embarking on a career in illustration?
Starting out as an illustrator can be a daunting experience, but one of the best things you can do is keep in touch with your peers, and share stories and experiences – this is so much easier with things like twitter. And listen to your inner you, trust in it. If you do that you'll end up drawing like you and no-one else, and immediately your work will be unique.
If you could own one artwork (money no object) which would you choose?
My walls are pretty full at the moment, but if I could have a new house with empty walls I'd choose anything by Jean-Michel Basquiat. There is such a direct immediacy to his work. Having one in my house would be extremely inspiring, and humbling…
What are you working on at the moment and can we have a sneak peek at what's on your drawing board?
At the moment I'm working on at least three books. Monster by Michael Rosen, for Bloomsbury, which is hilarious. All the artwork was hand painted and delivered the old fashioned way, and the research drawings for it were done in my daughter's school, so it got a big thumbs up from her.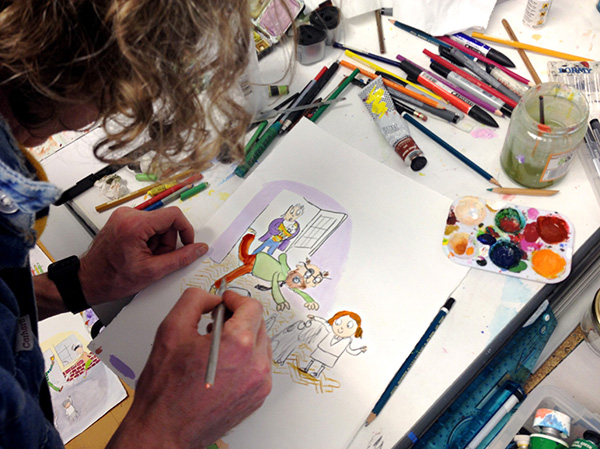 I'm also halfway through a picture book for Walker Books with a tree as the central character and a word count that has gone from about 500 to 50. And a series of longer chapter books for Hodder Children's Books involving spaceships and telepathic bunny rabbits. What a crazy world children's books is– I love it!
You live by the sea – does the environment around you inspire and influence your work?
It's a great feeling to know the sea is nearby, just a short walk from my studio. Quite often I'll go for a jog there early in the morning. All that sky and sea gives space for me to think, and (hopefully) get ideas. Quite often I'll come up with a design solution down there without even thinking about it.
You can explore more of the wacky world of Neal Layton on his website.
[/two_third_last]