Tomislav Tomić lives with his family in Croatia. He graduated from the Academy of Fine Art in Zagreb. He has always loved making picture books and already had work published when he was in high school. Tomislav creates exquisite and intensely detailed pen and ink drawings, allowing readers to look inside a host of magical places. In the Wizarding Almanac, readers can visit his incredible views of The Burrow, Number Twelve, Grimmauld Place and Dumbledore's Office.
Why did you choose to take part in this project and what about it is most exciting for you?
I was very excited when I was offered to be part of the Wizarding Almanac project and that is the kind of project you cannot say "no" to.
I must say I was slightly afraid in the beginning because the book wasn't completely defined so I wasn't sure how much work would be needed.
It was very exciting to wait for the new briefs for the illustration spreads every week or two and see how the book grows and magically reveals itself.
What are your memories of first reading the Harry Potter stories?
My first encounter with Harry Potter stories was while I was in college, so I tried to read the first book but it seemed a bit too much like young adult fiction and I was more into searching for different kinds of books at the time. Later I started to illustrate books, and most of these books were young adult fiction and I started to pay more attention to that kind of literature. I found the Harry Potter books more and more interesting after giving them a second chance.
Who are your favourite Harry Potter characters?
I think one of my favourite characters from the Harry Potter books is Hagrid, he is always there to help and is surrounded by all kinds of fantastic beasts. I also like Fred and George Weasley with their magical pranks.
How did you become an illustrator? Have any other artists or illustrators particularly inspired you and your journey?
When I was at college, I was offered to illustrate some books and after a while I started to get more and more commissions.
It wasn't planned, it kind of happened so I started to pay more attention to books and illustrations and noticed that I need to improve my work a lot and learn about it.
I stared, hypnotised at illustrations by Arthur Rackham, Edmund Dulac, Aubrey Beardsley, Alan Lee and engravings and etchings of Albrecht Dürer, Pieter Bruegel, Rembrandt and Dušan Kállay.
I tried to learn as much as I could from these and a lot of other artists and I still have a lot to learn.
How did you approach illustrating your sections of the book? Was illustrating the wizarding world difficult?
Some of the sections of the book were easy to illustrate but some had a lot of things that needed to be shown in a small space so most of the problems were that these elements don't look too tiny when printed in the book.
Some of the magical items and characters needed to be shown in the same way by all the illustrators in the book so sometimes we had to wait for the approved looks on certain elements of illustrations.
In the end it was a lot of fun and not too difficult.
Bloomsbury have already shared your Incredible Werewolves and Time-Turners pages to readers worldwide as a preview for the publication in October 2023. Please could you tell us a little bit about the making of this piece of artwork?
I like this spread a lot, it looks interesting with blue colours on the left page and golden feel on the right page. I think that decorative borders with moon phases give a magical touch to these two pages and remind me of some old mystical books. It was challenging to include all the scenes that needed to be shown inside the time-turning hourglass.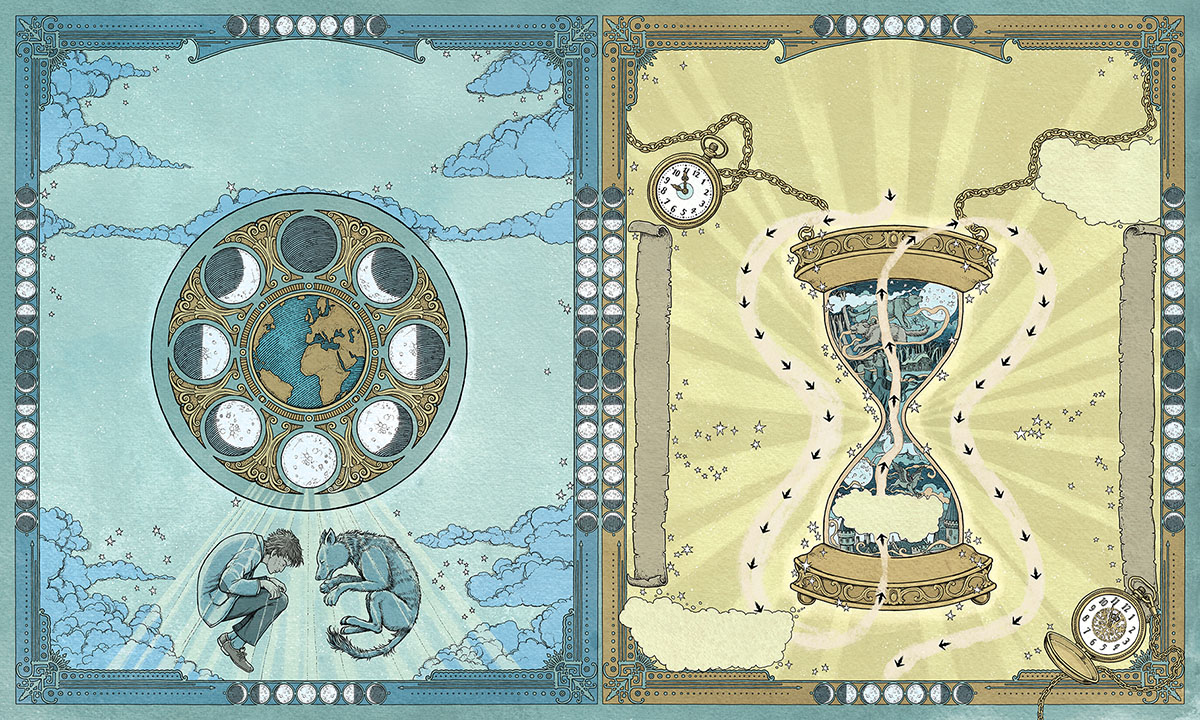 Aside from the Werewolves and Time-Turners artwork, what was your favourite spread to illustrate, and why?
I think that my favourite illustration is The Burrow. The Weasleys' house is one totally crazy building to draw and I really like to draw strange looking architecture. Also, there were a lot of details and characters to include on this spread, I hope that readers will enjoy it as much as I did while making it.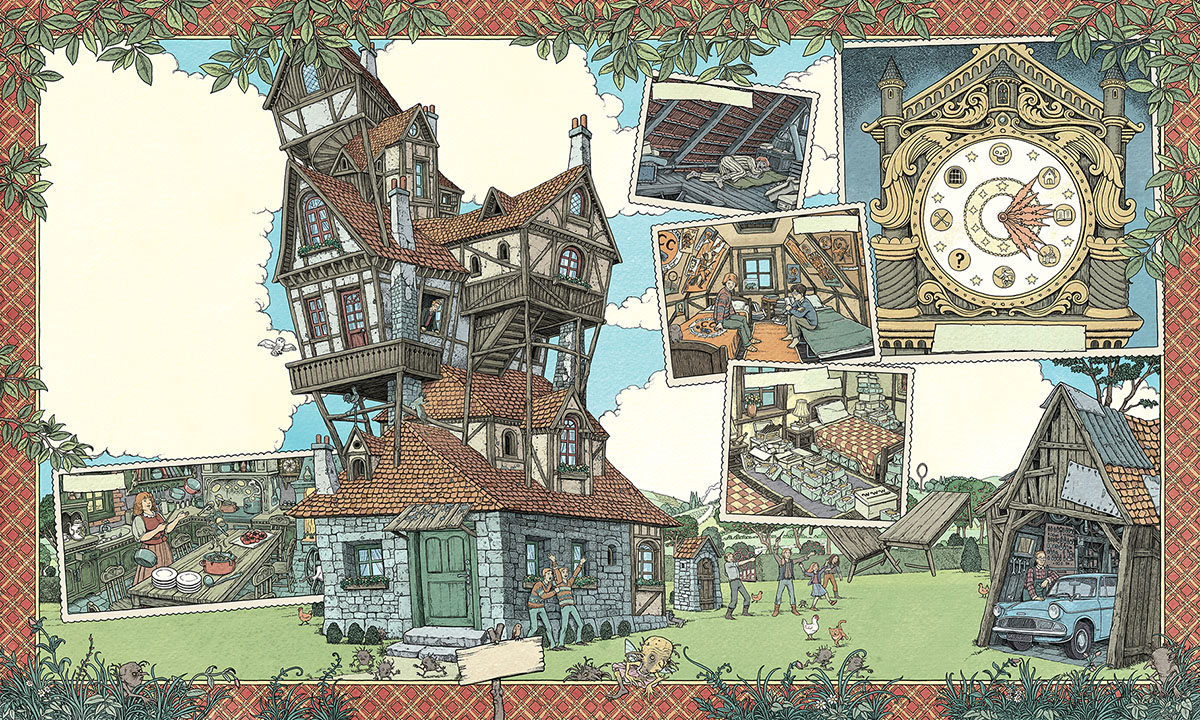 What is your Hogwarts house?
I was interviewed by local Ministry of Magic members (HP fun club here in Croatia) after I worked on inside illustrations for Hogwarts Library books a few years ago. After checking my answers, they told me that my Hogwarts house is Hufflepuff. I agree with that.
You can see more of Tomislav Tomić's work over on his online portfolio.
Keep up-to-date with Arena Illustration's talented artists by subscribing to our weekly news.