Levi Pinfold has been drawing from his imagination for as long as he can remember. He has published many acclaimed books, and is a winner of the prestigious CILIP Kate Greenaway Medal. Born in the Forest of Dean, he now lives in northern New South Wales, Australia. In the Wizarding Almanac, readers can seek out Levi's Knight Bus as it bumps along through the London fog, explore the house common rooms and peer into the thorns and thickets of his Forbidden Forest.
Why did you choose to take part in this project and what about it is most exciting for you?
Like so many others, Hogwarts is a great escape for me. To be given the chance to disappear into the Forbidden Forest for a few weeks was hugely exciting.
What are your memories of first reading the Harry Potter stories?
I was a bit late to the party. I must have been fifteen or sixteen, and newly returned to the UK after a couple of years in Australia with my family. It was an actual sunny summer, and we were in limbo between houses, so we were spending a few weeks camping before moving into a rental place. I borrowed the first four books from my brother's partner because I was getting bored with Dostoevsky's The Idiot, and I read them in quick succession, lying on my back in a tent. It was perfect.
Who are your favourite Harry Potter characters?
Hermione, Hagrid and Dumbledore.
How did you become an illustrator? Have any other artists or illustrators particularly inspired you and your journey?
I think anyone who has ever loved a fictional character or place so much that they felt compelled to draw it can rightfully call themselves an illustrator, so I'd say I became an illustrator when I first drew the Stay-Puft marshmallow man when I was three! As a young person, I found my way back to illustration through borrowing comics from the graphic novels section of the library. I borrowed a couple of Sandman collected editions and the artists in those really inspired me to try and give illustration a shot, particularly Dave McKean and Michael Zulli. I started reading deeper into myths and legends and fairy tales after that, rediscovering Alan Lee and Brian Froud along the way. And that was that.
How did you approach illustrating your sections of the book? Was illustrating the wizarding world difficult?
I think the most difficult piece for me was the Knight Bus. It would be fair to say that it was pretty far out of my comfort zone! I had been given this wonderful brief with all sorts of amazing details and I really struggled to cram them all in. I tried to think of the spreads as a kind of contemporary Book of Hours, so I put on my Monk cap to try to make it work. Eventually, with lots of dedication and hours, a solution finds its way out of the fog of possibilities.
Bloomsbury have already shared your stunning Patronus spread to readers worldwide as a preview for the publication in October 2023. Please could you tell us a little bit about the making of this piece of artwork?
The text layout for this was already underway, so I had the pleasure of hunting down reference and making those animals seem as full of character and beautiful as I could. I roughed the whole thing out digitally with a large brush to fit around the text that was already in place, then once all the basic shapes were in and flowing nicely together, I gradually refined the details with a thinner and thinner brush. I'm always tempted to go down to tiny brush sizes and zoom all the way in. I love the strange quietness of drypoint etchings from the Middle Ages, and I'm always going after that feeling, but time isn't always on your side.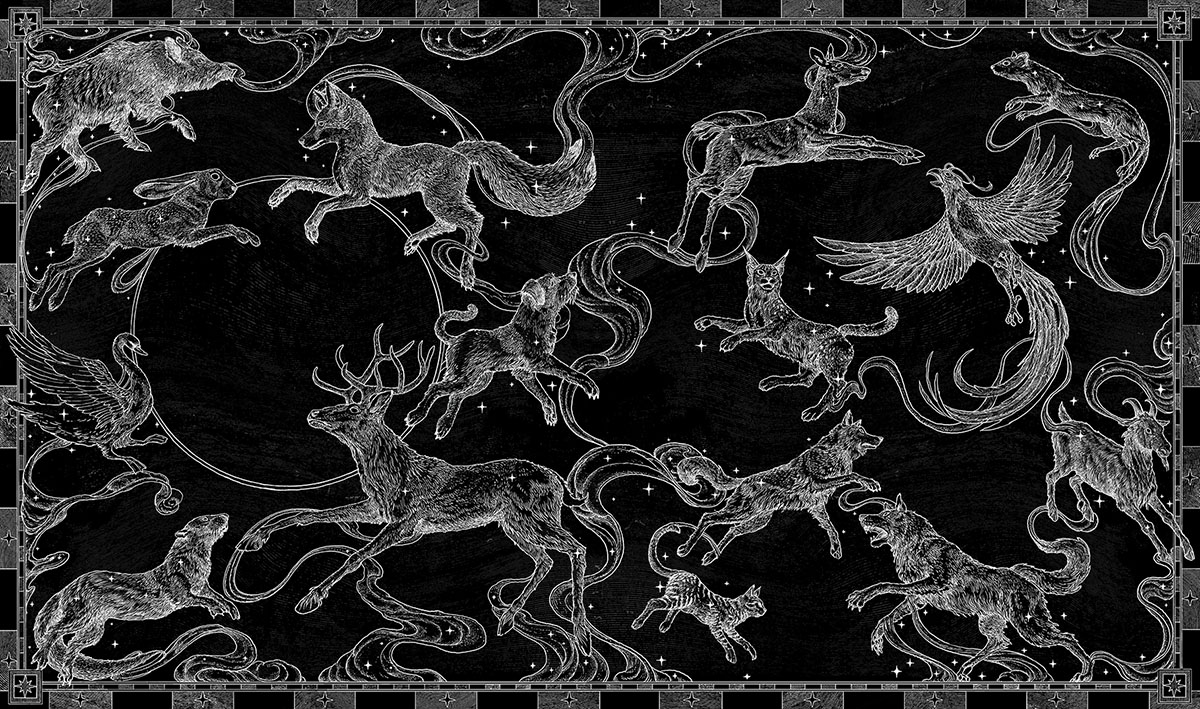 Aside from the Patronus artwork, what was your favourite spread to illustrate, and why?
The Forbidden Forest. My early years were spent in the Forest of Dean and some of my earliest memories are in and amongst trees. I love the woods. For me it was like going for a very long walk and catching a glimpse of all the creatures you always imagine could be around the next bend in the path.

What is your Hogwarts house?
I'm pretty sure I'm a Gryffenclawpuffian. Every time I do the test I get a different result!
You can see more of Levi Pinfold's work over on his online portfolio.
Keep up-to-date with Arena Illustration's talented artists by subscribing to our weekly news.