Get ready for a tonne of mischief and mayhem in this month's Monster Fun - HALLOWEEN SPOOKTACULAR featuring Chris Garbutt's 'too hot to handle' Hell's Angel comic strip AND a Halloween poster!
As the nights draw in and we get set for Halloween we thought we should take a moment to re-introduce you to the spookiest comic around. Monster Fun is a FANGtastic monthly comic which will have your little monsters howling with laughter. Bursting with tall tales, ghoulish oddballs and hell-arious laugh-out-loud gags Monster Fun is perfect for readers of any age!
For this month's HALLOWEEN SPOOKTACULAR edition, Chris created the pull-out Monster Fun Office Halloween Party poster celebrating all the wonderful characters from inside this special bumper issue.
We are delighted that Chris Garbutt has become regular contributor to this legendary comic with his devilishly good comic strip Hell's Angel which he writes and illustrates. Helly is a young demon girl who has an angelic heart of gold but her innocent do-gooding approach to life is a constant source of bewilderment and annoyance to her fellow demons, who's dastardly deeds she is constantly, and inadvertently, ruining! She's an almost unstoppable beam of sunshine - BUT!.. Her happy, do-gooding intentions have inadvertently horrific outcomes!
Here's a sneak peek of Chris' Hell's Angel comic strip for Halloween where Helly takes 'Big D' on his first ever Halloween Trick-or-Treating adventure...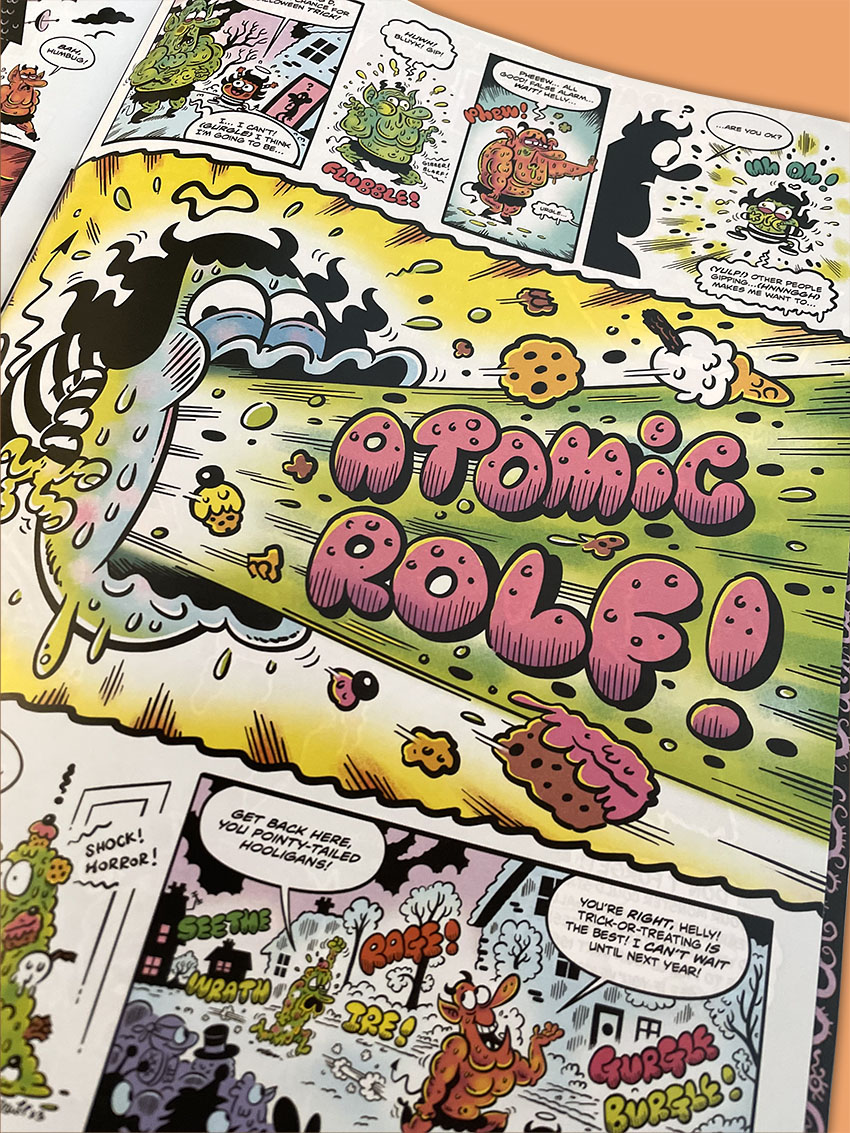 You can see the whole strip, plus more from the series of Hell's Angel over on Chris Garbutt's portfolio. Find out about his creative process, passion for world building, character design and the inspiration behind this terrifyingly funny character in this spooktacular Monster Fun interview with Chris HERE.
Visit the Monster Fun website to subscribe to the comic, for previews, sneak peeks, and heaps of fun, free activities! You can also keep up to date with all the latest news by following them on X
Chris is on Instagram and you can view his amazing online portfolio by clicking HERE. Keep up-to-date with Arena Illustration's talented artists by subscribing to our weekly news.