The award for BEST IN SHOW goes to Around the World in 80 Dogs written and illustrated by Kristyna Litten a fabulous new compendium of all things canine.
Whether you are a dog person or not, it is almost impossible not to have your socks charmed off by this fabulous new exploration of dogs by Kristyna Litten. This visually stunning collection showcases some of the most well-known breeds and lesser-known breeds of dogs from around the world. Segmented into categories including heroic canines who played important roles in warfare and exploration, to fascinating facts about the way in which different breeds have adapted to their surroundings and those who have broken world records! What is the oldest breed of dog? Can dogs sniff out illnesses? Which breed has six toes?
This beautifully designed book includes a stunning central gatefold that opens out to reveal all 80 dog breeds and where they come from, this book is a visual celebration of the huge variety of dogs found across the world. Focus spreads explore subjects such as the canine family, dogs' superpower sense of smell, and how dogs became man's best friend. Illustrated throughout,this book will have young fact finders and puppy fans enthralled from start to finish. Fascinating and visually arresting this brilliant and engaging non-fiction book will be a welcome addition to any home or library.
Kristyna said,
"It is no secret that I have been bonkers about dogs all my life. I could talk about dogs forever, and I'm always the one hanging out with the dog at a party. So I'm so excited that my book AROUND THE WORLD IN 80 DOGS is out now"
Here is just a small selection of our favourite 20 dogs, such a magnificent selection of handsome beasts as featured on Kristyna's Instagram, follow her for more beautiful illustrations.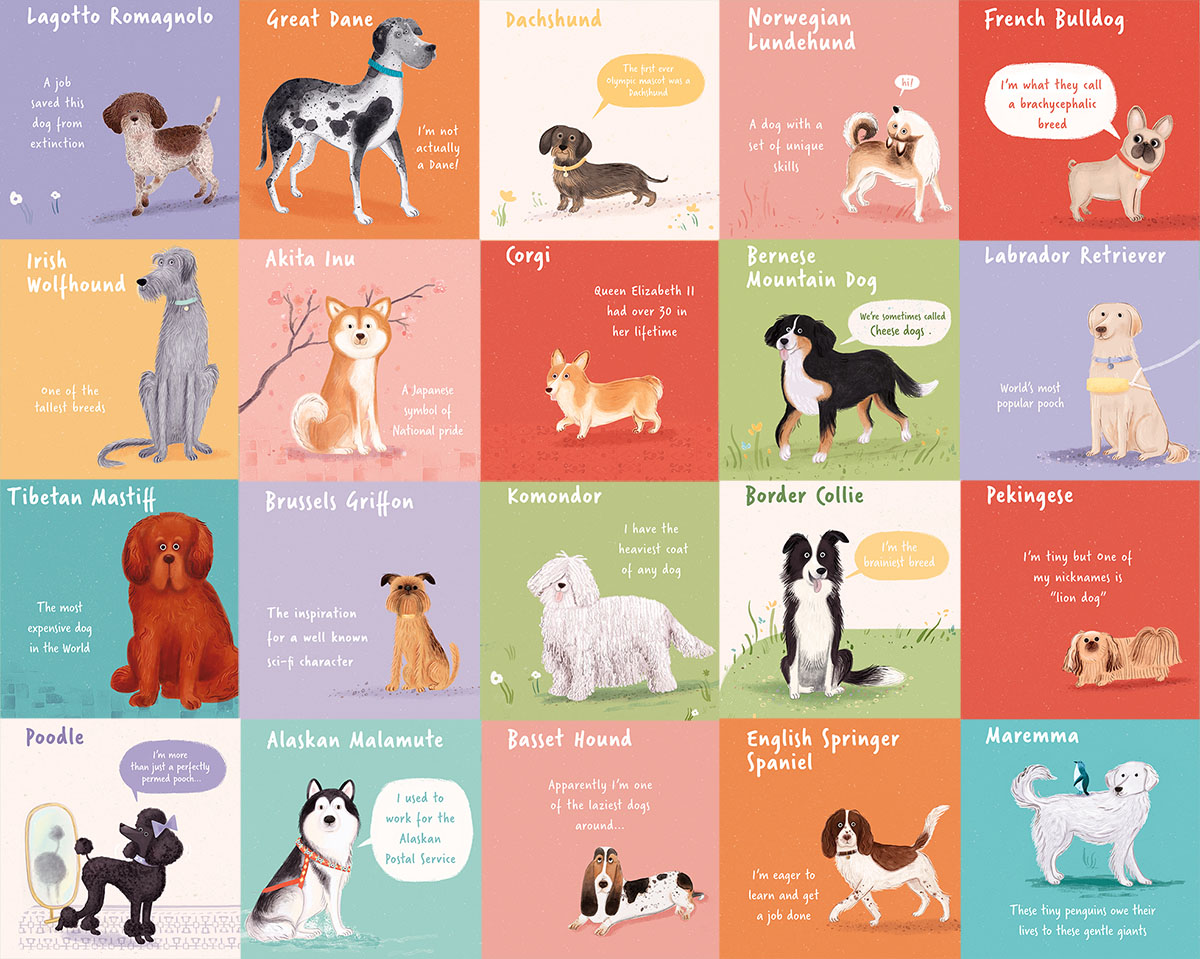 Around the World in 80 Dogs is published by Welbeck Publishing - You can order a copy HERE
You can see more of the gorgeous artwork from the book HERE
For more information regarding collaborating with Kristyna please email info@arenaillustration.com
Keep up-to-date with Arena Illustration's talented artists by subscribing to our weekly news.