TV remote controls at the ready as Thomas Flintham's Super Rabbit Boy leaps onto the small screen.
Get Ready to put down your books and gaming controllers and pick up your TV remote controls because our favourite furry digital superhero Super Rabbit Boy is going to hit the small screen. In association with Cyber Group Studios Peacock and NBC Universal.
Cyber Group Studios, producer and distributor of animated series for children and families worldwide, has partnered with Peacock, a video streaming service, to bring "Press Start!," its new CG-animated comedy adventure series for children ages 5-7, to U.S. audiences. Now in production, "Press Start!" is based on the Scholastic book series of the same name. The series is expected to begin streaming on Peacock in 2023.
"We are very excited to be working with Peacock, a leading streaming service, to introduce 'Press Start!' to U.S. audiences," says Pierre Sissmann, chairman and chief executive officer, Cyber Group Studios. "With our state-of-the-art production facilities and partnerships with such best-in-class companies as Peacock and Scholastic, we're proud to bring exceptional and innovative content to children and families around the world."
We are thrilled to announce that in Autumn 2023 Thomas Flintham's best-selling illustrated fiction series Press Start! which has sold more than two million copies in the US since its first title was published by Scholastic in 2017, is due to touch down streaming in homes across the USA.
This comedy-adventure for five-to-seven-year-olds revolves around a pair of siblings, Sunny and his sister Rue, whose mysterious game controller gives them the ability to enter the exciting, fast-paced world of the "24 KARAT QUEST" video game. Athletic, brave and funny, Super Rabbit Boy is the hero of this fantastical Game-World. When the siblings end up able to play IN the game, their life is flipped upside down. Across the animated series, every episode takes place in Sunny and Rue's "real" world home and in Super Rabbit Boy's "game" world.
The animation treatment of our favourite pixelated pals is second to none, combining reality, gaming and the bright vivid landscapes depicted in the books to perfection.
Keep your eyes peeled on our social media channels for more sneak peeks and reveals. Grab copies of these fantastic early reader adventures HERE.
We featured the latest book in the series Super Cheat Codes and Secret Modes on our news article here
We also have more exciting news, Nosy Crow will be the official UK publisher of the Press Start series creating a new fan base on our doorstep.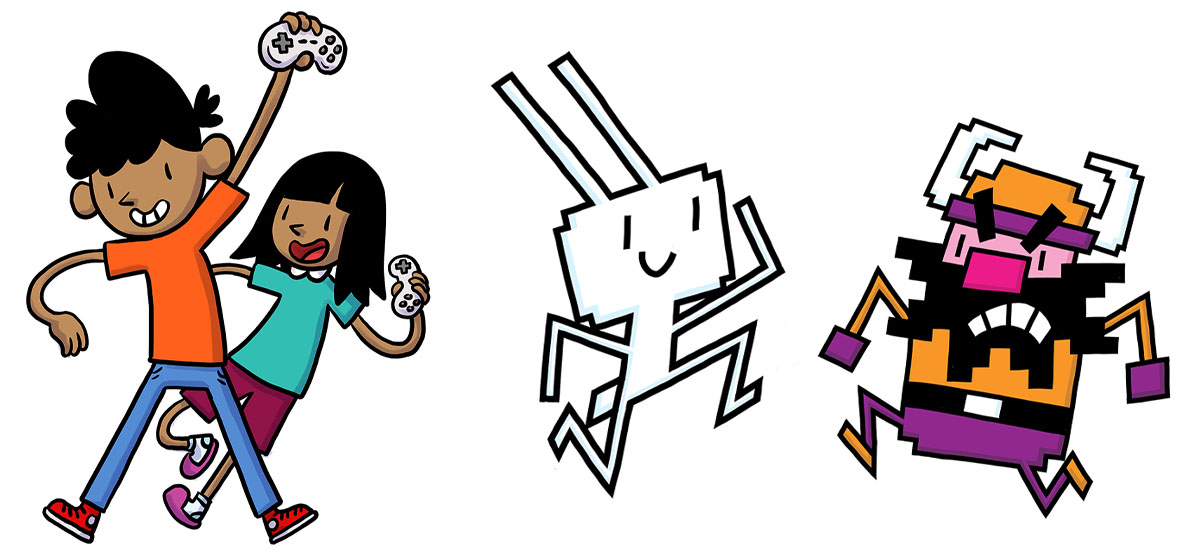 You can follow Thomas on Instagram and Twitter, you can also view his online portfolio on our website HERE.