Prepare to be chilled by the latest gorgeously evocative wartime ghost story by Dan Smith with stunning atmospheric cover illustration by Matthew Land.
Nisha's War is an adventure full of grief, guilt, forgiveness and belonging. In haunting hues of blue Matthew's beguiling wrap-around cover illustration instantly draws the reader in to this enchanting thriller. Under the silvery light of the moon, we witness war planes swooping and sky diving, a solitary ghostly figure and a mysterious rickety treehouse, all the elements needed to entice even the most reluctant of readers.
Set in 1942 Nisha has escaped the terror of the Japanese invasion of Singapore. Missing the heat of home in Malaya, her grandmother's house in the North of England seems especially cold and grey. Even the villagers are suspicious of a girl with brown skin who they can see is only half English.
One night, a boy beckons to Nisha from the treehouse she is forbidden from playing in. Or at least, she thinks he's a boy. And for lonely Nisha, the chance of finding a friend is worth almost anything ...
Nisha's War is published by Chicken House, read an extract by clicking HERE or grab a copy of the book HERE.
Matthew is influenced by heroes from the golden age of British book illustration, including Arthur Rackham, Beatrix Potter and William Heath Robinson. He utilizes ink linework and watercolour and a touch of digital tweaking to breathe life into his unusual characters.
We asked Matthew about his creative process and working on Nisha's War.
Tell us a bit about the process of creating the cover for Nisha's War from brief to publication?
Chicken House has an especially helpful and clear way of briefing a project so from the very beginning, I was given a great amount of guidance and support. The time, setting and themes of the book really appealed to me and although I didn't have a finished manuscript to read, I had a strong idea of what the cover was going to look like, I just had to somehow get that down onto the page, and make it pretty!
Which part of the creative process do you enjoy the most?
I enjoy the very middle of the process, when I've completed all of the sketches and rough drafts and I'm given the good-to-go from the design team and I'm allowed to spread out a big sheet of the thicker, smoother, more expensive paper and get working on the artwork.
My least favourite part is the moment when you've scanned everything in and it's looking all flat and not really at all how it looked on the page and in your head, and you wonder how any amount of Photoshopping is going to possibly resurrect the thing you've been working on for days.
How has working in a bookshop shaped or driven your illustration career?
Working in a bookshop has certainly complimented my illustration work, it's given me an extensive overview of the entire market as well as affording me the opportunity to spot trends and follow the careers of illustrators I admire. It has also given me an insight into the big driving sales and marketing engines of the publishing industry, reinforcing the fact that a book has to sell itself to keep its position on the shelves.
Which classic children's story would you most like to illustrate?
I'm going to be extremely greedy here and say I would love to illustrate The Chronicles of Narnia by C.S. Lewis, The Borrowers by Mary Norton and I Capture the Castle by Dodie Smith. A great deal of my inspiration comes from classic stories and a duvet-cacoon of nostalgia.
Do you have time to sketch for pleasure?
I do try to make time, although there are periods in the year where my job in a bookshop does demand more of my attention. However, sometimes having a little break helps to recharge my enthusiasm for sketching, it gives me time to mull the ideas over in my head whilst looking forward to being able to get them on to paper.
You are so incredibly talented at character observation, do you find yourself spotting real life characters and tranforming them into illustrations?
Ha, thanks *pull the neck jumper up over my head* I'm not sure really... I do like watching people although I can't fully decide really where the ideas come from, I mostly work on a sketch until the character is all of a sudden there. I like people, which is also one of the main reasons I'm not the best a being a full-time illustrator, I'm not good at spending so much time in my own head!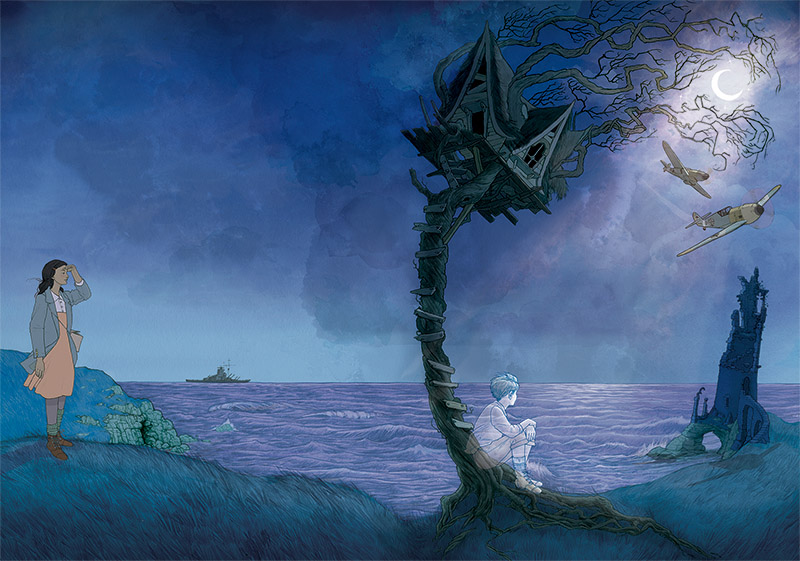 You can find Matthew on Instagram and Twitter where you will find all manner of treats, sneak peeks, animations, insider previews and delightful musings. You can view his stunning newly updated online portfolio over on our website.
For more information regarding collaborating with Matthew please email info@arenaillustration.com