Celebrating the publication of a brand new Winston adventure told in twenty four and a half chapters to read every day leading up to Christmas Day, with each chapter featuring a festive activity to share, drawn from Christmas traditions from all around the world. This is a globe-crossing Christmas adventure story that celebrates family, friendship, braveness and following your heart.
It was five days until Christmas and a stand of winter magic was spiralling and twisting through the air. It was like an invisible ribbon that snaked and criss-crossed across the world, wrapping itself around each of the creatures in a neat bow, tying them together. It was pulling them into a new snow-covered Christmas adventure.
Winston is humming along to a tune he recognises but what is it called? Suddenly there is a whoosh! and he finds himself swirling about in his memories. In his minds eye he is a tiny mouseling again tucked up in his little matchbox bed. Everything is blurry but he can smell frost and gingerbread in the air and something else he can't quite put his finger on. There is a rustling sound and then he hears a sweet voice, it's singing a lullaby in a strange language but Winston understands it and he realises it's the voice of his mother.
Meet our cast of characters, some new friends and some old who help our little Winston find his mysterious missing mouse and be back home in time to spend Christmas with Oliver and his new family.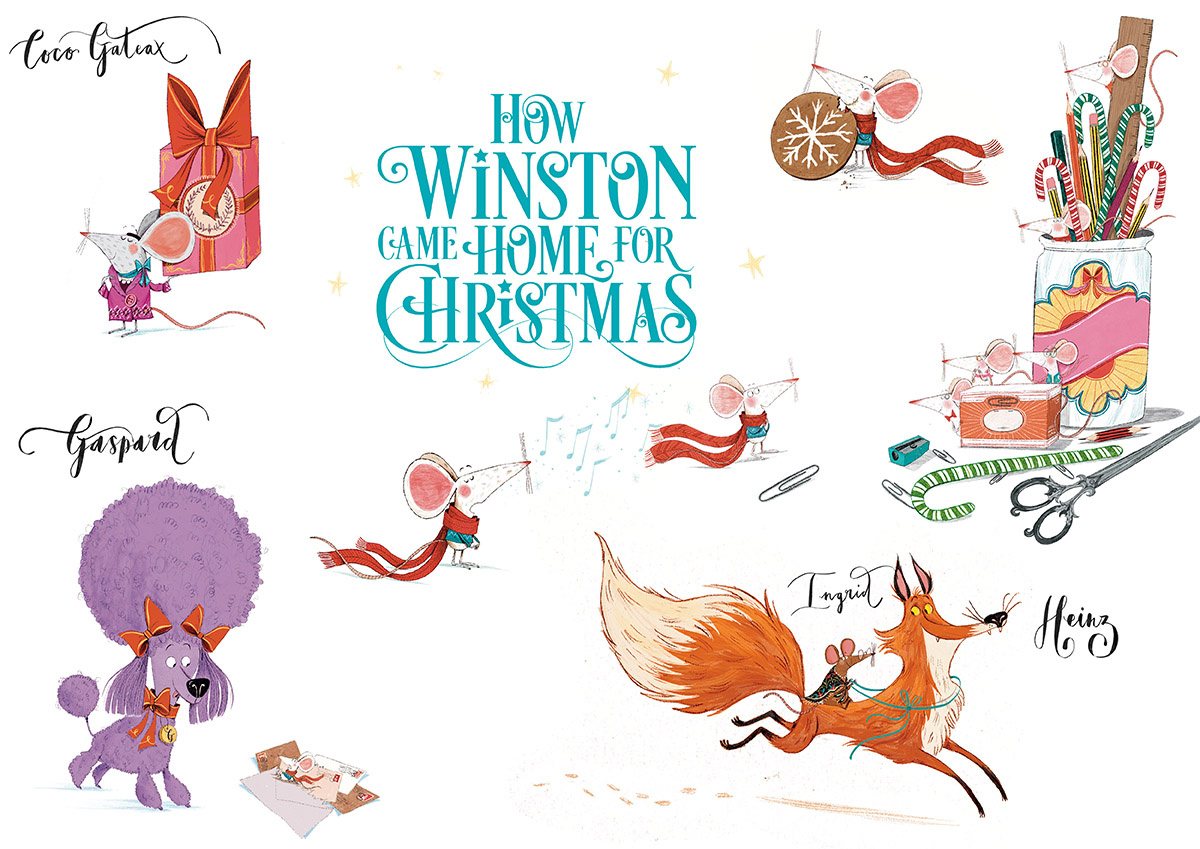 We asked Alex, what do you love most about writing for children at Christmas time?
" I think what's so lovely about writing for children at Christmas time is being allowed to share in their wide-eyed magic. For most children the season fizzes with excitement so being able to share in and create an adventure for them to enjoy during that fizzy time of year is a real honour. Anything is possible in books, and I think that is heightened in a book that is written to be enjoyed at Christmas time."
Which books do you remember receiving for Christmas as a child?
"I remember being given a copy of The Jolly Christmas Postman when I was a child and the well thumbed, slightly threadbare copy sits on my studio shelf all these years later. To me it was thrill after thrill turning the pages and finding a lovely story, beautiful illustrations and magical novelties that kept the book going and going and going. Such a brilliant book. Pure magic!"
You can see more of Alex's glorious illustrations for the book over on his portfolio
How Winston Came Home for Christmas is Published in hardback on 28th October 2021 by Macmillan Children's Books