As a new season approaches, we have been busily updating our illustrators' online portfolios and this week we would like to shine a spotlight on Yorkshire based artist Kristyna Litten. It is always so thrilling for us to reveal new work and this update doesn't disappoint, Kristyna has been with Arena Illustration for many years and in that time has worked for a wide variety of clients including Gucci, Aardman Animations and many more. Her finely honed observational skills mean she has quickly become a go-to artist for numerous campaigns requiring strong intuitive character design skills. Equally comfortable creating relatable and familiar human characters as she is designing adorable, quirky, animals and iconic typography, Kristyna's illustrations are only matched by her unique and charming storytelling skills.
In this portfolio update you will find festive canines of all shapes and sizes, book worms with heads buried firmly in story books, a whole gang of inspiring women, a fantastic fox, an inquisitive elephant and of course a Thingity-Jig, to name just a few of Kristyna's new projects.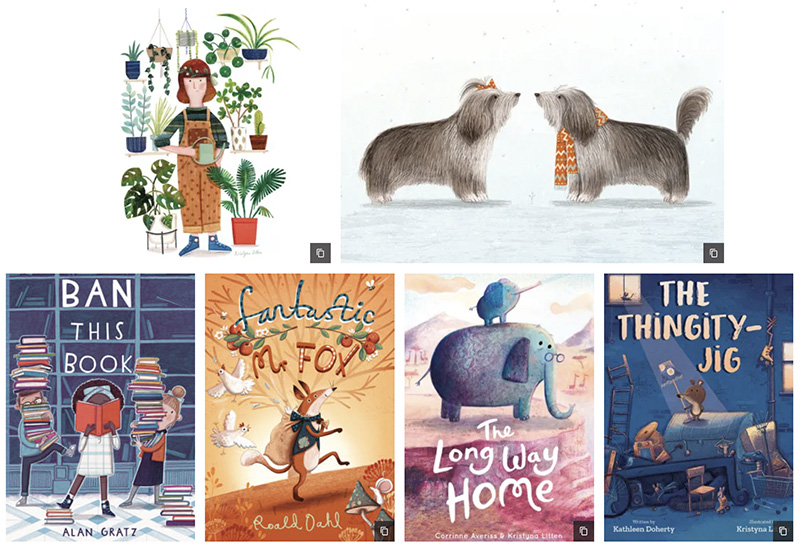 We are so excited to see where Kristyna's illustrative journey ventures next, from television, to advertising, publishing collaborations and stand-alone solo picture book projects, her versatility and imagination knows no bounds and we can't wait to share more of her fabulous work with you in the coming months.
You can find Kristyna and her adorable house rabbit on Instagram and Twitter and you can view her newly updated digital portfolio HERE.