We are pleased to introduce our newest Arena illustrator Natalie Smillie. Based in picturesque Devon where she lives with her husband, son and beloved dog Maggie. Natalie is a newly established illustrator specialising in children's publishing. She has already worked for a number of high profile clients including Hachette, Oxford University Press and Penguin and we are so excited to be working with her at the start of her career.
Natalie kindly took a moment away from her drawing board to answer a few questions for us.
Had you always wanted to become a children's books illustrator?
I actually didn't want to be a children's book illustrator when I was younger. I always wanted to be in the police. When I was younger I think there were minimum height requirements which I didn't meet (I'm really short) so I sort of went off the idea. In the end I went to art college after school, picked the wrong course for me at the time and joined the RAF on a spur of the moment decision when I was walking past the recruiting office one day. It was wonderfully impulsive, which I think you can do when you're 17 and don't have any responsibilities.
Tell us a bit about your illustrative process?
When I decide I want to draw something I spend quite a lot of time looking for references. Depending on what it is, I might need body references or foliage, or trees or any number of things really. I usually start a Pinterest board and stick everything in there so I can refer to it easily. I start sketching things out on my ipad (I work in Procreate a lot these days - for finished work and sketching), and when I've got the sketch right I'll start to think about a colour scheme. Although a lot of the time the colours and the sketch sort of happen at the same time because you have to think about colours while you're sketching so the finished image makes sense.
I have an app called Coolors which is a colour palette generator - I love it because sometimes it spits out colour combinations that I wouldn't think of using so it can challenge me that way. When I've found my palette I will roughly block in the colours and then start to paint when I'm happy. The colours might change as I paint though, sometimes they need a little tweak.
Do you have any Procreate pro tips?
Goodness me, I love Procreate with a passion. I think one of the best things that I only recently started using a lot was the gestures - I undo a lot so a double finger tap is a quick way of doing it. I'm not sure if it's pro but I didn't know about it until a few weeks back so hopefully it helps someone!
Does the place that you live inspire your work? and do you find time to illustrate in your spare time?
I LOVE Devon - I live just on the Devon/Cornwall border, and about 20 minutes drive away from the south of Dartmoor. We regularly take the dog for walks on Dartmoor and we're always on the lookout for a lovely new walk. It's such an inspiring place to live - the landscape is so beautiful and wild. There are always Dartmoor ponies or cows or sheep wandering around up there and even though we see them every time it's always a thrill to have a pony try and steal your sandwiches (although you mustn't let them, even if some of them are VERY insistent). The moors and the woods around my house find their way into my work quite a lot - I paint a lot of foliage and plants and nature scenes and I've long ago given up trying to stop doing it and now I just let it happen.
I was saying to someone the other day that I don't really have much of a life outside my family and work at the moment, but I'm fine with that because it means my evening time is spent drawing and painting, which is what I really love to do. I tend to work on client work in the day and then illustrate for my own portfolio in the evening.
Who would be your dream author to collaborate with?
I've always loved Philip Pullman's work, so I think it might have to be him. I remember when I was younger and I was looking for something to read in the library - I picked up the Subtle Knife. I was 11 and didn't realise that it was the second one in a series. I devoured it and then when I realised that Northern Lights was the first one, I went and devoured that too. A lot more things made sense when I re-read the Subtle Knife after that! The Amber Spyglass was the first book that ever made me cry like an absolute baby. I won't spoil it for anyone that hasn't read it (go and read it!) but the ending did a number on me for years.
Which children's classic would you most like to illustrate?
I haven't read a classic for a long time but I do remember feeling a strong pull to The Secret Garden. I've always loved gardening and growing things - I think I got the bug from my Grandad - and that book always resonated with me. It's probably why I'm always drawing plants and trees.
Which one piece of advice would you give a newly graduated illustrator?
I would say to not worry about a style - I think that's probably quite controversial actually. My friend Steph Fizer-Coleman recently described style to me as 'visual voice' which is much more forgiving. I know that I got hung up on having one when I started working because I thought you had to have one but it's not one of those things you can force - which I realise now when I look back at my earlier work. That's ok though, either one will appear (great!) or one won't which is fine because that just makes you a versatile artist. Also don't get hung up on one industry - if your art is not suited to editorial - try children's. If it's not suited to children's, try pattern design. There are so many avenues for you to explore, don't force it and be true to your own work.
Illustration can be quite a solitary profession, do you find being connected to fellow illustrators on social media is a good support?
Absolutely! I have a couple of friends that I talk to regularly, and lots of people that I chat to on twitter. I think the twitter chats are slightly more fleeting and more shallow in nature because it moves so quickly but it's really important to try and keep up with what people are doing. It can be quite lonely - especially when you have deadlines and need to keep your nose to the gridstone. Sometimes I ring someone and we just chat while we work. Like a live audiobook!
If it's not top secret could you tell us a bit about what you are working on at the moment?
At the moment I can tell you I'm working on the second book with Vashti Hardy and Barrington Stoke - it's called the Puffin Portal. And I'm working on a couple of other things I can't talk about!
Here is a sneak peek at some of Natalie's wonderful work.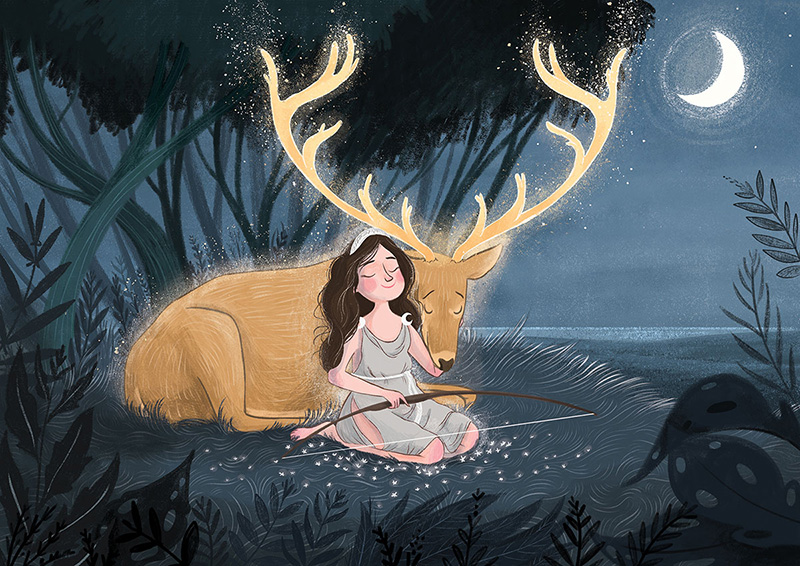 A huge thank you to Natalie for spending some time with us, we can't wait to see what the future holds. You can find Natalie on Instagram and Twitter but in the mean time please take a moment to view her fabulous online portfolio HERE.
For more information regarding working with Natalie please email info@arenaillustration.com