Get ready for a brilliantly inspiring new heroine from the pen of debut author and actress Holly Rivers with this fantastic cover illustration by Alex T. Smith… Appearing mysteriously like a spook from the other side we present Demelza and the Spectre Detectors published by Chicken House Books.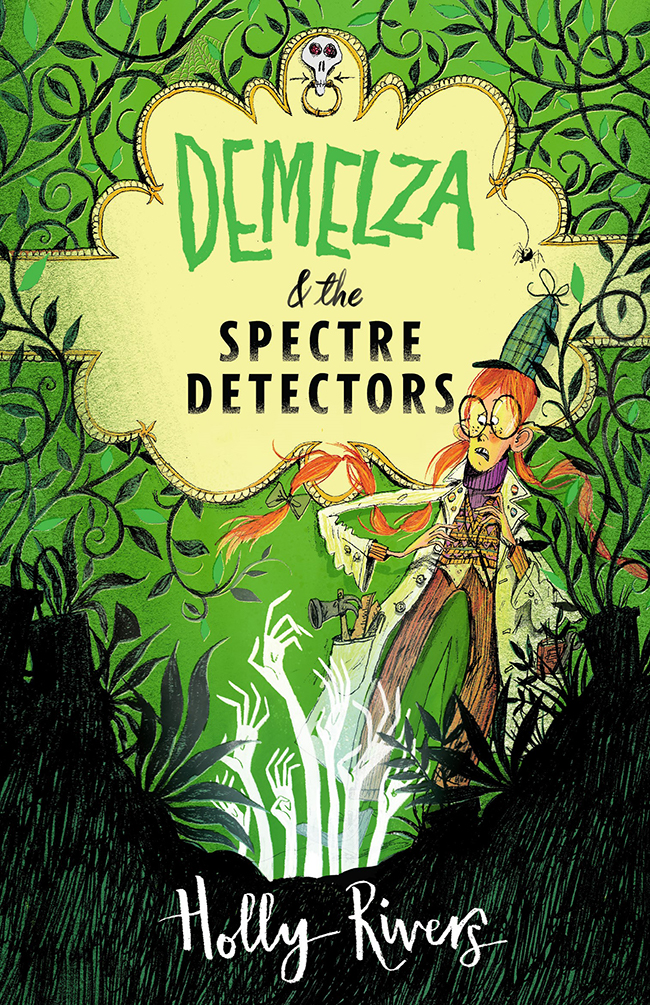 Screwdrivers and soldering irons at the ready you are about to meet Demelza Clock, a kid with a passion for inventing. In fact, she loves it so much that she stays up late to work on her inventions, fuelled by nothing but enthusiasm and cheese and peanut butter sandwiches.
'Lights out, Demelza!' called Grandma Maeve from the bottom of the attic stairs. 'And no sneakin' out of bed to work on your inventions again tonight, d'ya hear me?'
Under her patchwork quilt, with soldering iron in hand and fully dressed in her lab coat, Demelza grinned. 'Yes Grandma!' she called back. 'I promise!'
We join Demelza at a very interesting time, as she's about to discover she has inherited a distinctly unscientific skill from her grandmother: Spectre Detecting. When Grandma Meave is kidnapped these newfound talents prove very handy in summoning the dead and with the help of her pasty-faced best friend Percy they attempt to crack this deadly mystery.
Read a longer extract HERE … if you dare…
This highly entertaining debut novel features page embellishments and a stunning eye-catching cover illustrated by Alex T Smith
After many years spent honing his world-class skills in people-watching, Alex T. Smith turned his hand to illustration, graduating from Coventry University in 2006 with a 1st Class Honours Degree. His passion for gazing out of windows has strongly influenced the eclectic, diverse and fun-filled characters that inhabit the pages of his books.
As a true master of both storytelling and illustration, Alex has created a clutch of best-selling and award-winning books for children. His skill for bringing characters to life makes Alex the perfect choice for action-packed publishing projects, we think you'll agree that the cover for Demelza and the Spectre Detectors makes the book leap off the shelf and straight into the hands of eager adventure seekers.
With Alex's portly pooch Claude becoming a huge hit stealing the limelight in his very own animated TV series on Disney Junior and ITV Be, we look forward to seeing more wonderful book to screen transitions from Alex's cast of characters very soon.
You can find out more about Alex T. Smith and his work on his online portfolio HERE or follow him on Twitter for a daily dose of hilarity.