A cast of outlandish space-age characters designed by Arena Illustrator Adam Stower became the face of the 2019 Summer Reading Challenge. With statistics now in, Space Chase has proven to be a record-breaking intergalactic success with 722,731 children taking part in libraries across the UK and 21 countries internationally.
The Space Chase campaign launched across the nation in July, encouraging young readers from 4 to 11 to read, borrow and enjoy 6 books over the summer holidays. With a clever inclusive and fun rewards system, engaging activity packs and a cornucopia of eye-catching display material the 2019 challenge was a blast off success from the start. There was even a SPACE BLAST game for children to zap asteroids!
We made a video of Adam talking all about his work on the challenge and his own love of books and libraries.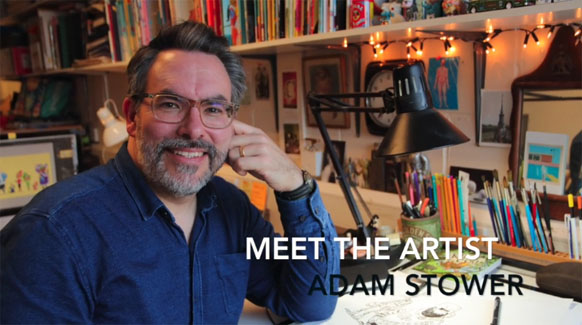 So let's do a bit of mind-boggling number crunching and see just how successful this year's challenge was… Over 2.5 million library books were read as part of this year's Summer Reading Challenge, encouraging over 94,000 children to join the library as new members. An impressive 45% of the participants were boys, despite research suggesting that boys engage less with reading.
The Reading Agency recorded 8,283 downloads of Adam's Space Chase resources, logos and display material.
"The downloadable resources were absolutely brilliant! Lots of images and resources to help us promote the challenge. The artwork was particularly good this year and helped us to create very eye-catching publicity such as leaflets and even a bus shelter/town centre" A Summer Reading Challenge Librarian.
Adam's online videos were a huge hit being viewed 4,146 times and the online content featured on Twitter, Facebook and Instagram were seen by an impressive 45,651 users. The 'How to Draw an Alien Friend' video received a whopping 1,056 entries, alongside the main competition the Reading Agency ran a top secret competition accessed via a secret code featured on the promotional stickers.
"Choosing my favourite thing about this year's summer reading challenge has been really hard because I've enjoyed all of it. But if I had to choose my favourite part has been learning how to draw an alien with Adam Stower. I love reading books and all of the stickers and rewards were a bonus." Elliot – Summer Reading Challenge Participant Age 8.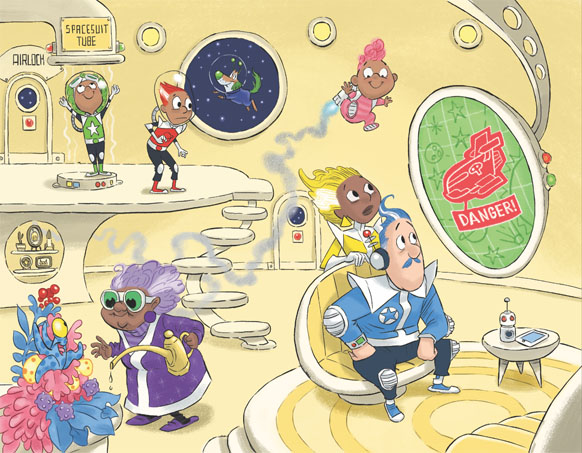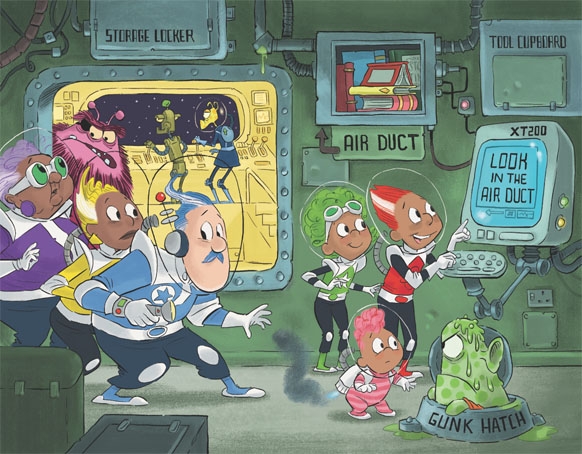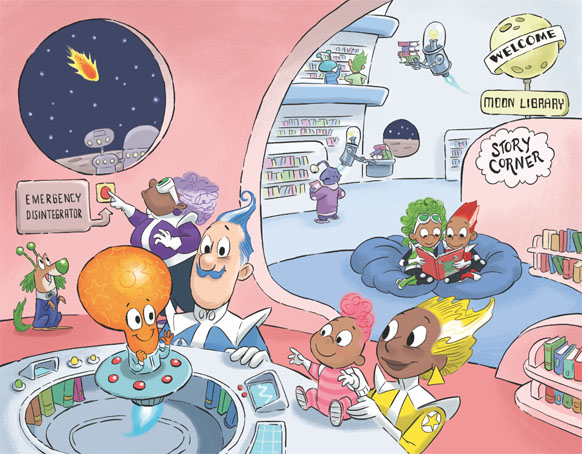 "The Summer Reading Challenge is about reading for the pleasure of reading. Stories are important because they nourish us and broaden our thinking. Librarians and all those involved in the huge success of the Summer Reading Challenge know how important this is and seek to change lives one book at a time." – Lauren Child, Children's Laureate
We are so proud of Adam's imaginative take on this brilliant brief and hope these characters find a home in a book of their own in the future. The Summer Reading Challenge is an essential initiative, continuing to stoke young book worms and their passion for reading. Hoping to encourage those who perhaps haven't visited their own local library and support these essential community hubs, long may the Summer Reading Challenge go from strength to strength.
For more information about working with Adam please email info@arenaillustration.com alternatively you can follow him on Twitter and Instagram.