In a pre-Christmas snow flurry of excitement we are thrilled to show you a sneak peek inside Emily Brown and Father Christmas the fifth Emily Brown adventure written by Cressida Cowell and illustrated by Neal Layton published by Hodder Children's Books.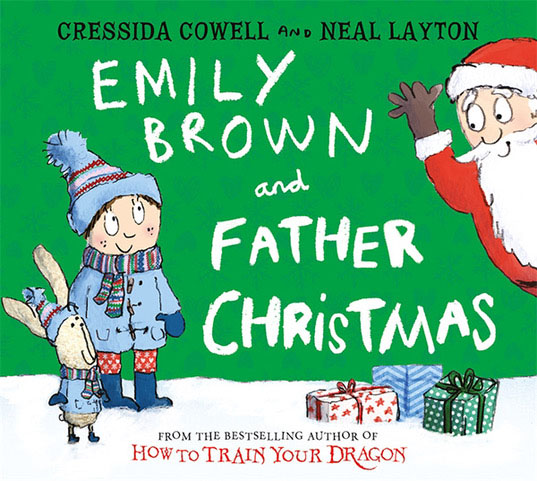 With an eye-catching cover in gorgeous festive green this jolly picture book features feisty Emily Brown and her trusty grey rabbit companion Stanley as they take on a Christmassy challenge of grave importance. Father Christmas is in trouble, he needs some Ho-Ho-Help and fast.
In a bid to cut corners and save a little time on the big night Father Christmas has adopted some modern methods of present distribution and delivery. Technology isn't always the best solution so Emily and Stanley take the situation in hand and add a sprinkle of magic in order that Christmas might not end up a complete unmitigated disaster and that stockings carefully hung at the foot of all the children's beds don't remain empty.
Neal's lively illustrations with their bright eye's and beaming faces combined with the photo college style backdrops perfectly setting the scene for one very magical never to be forgotten Christmas.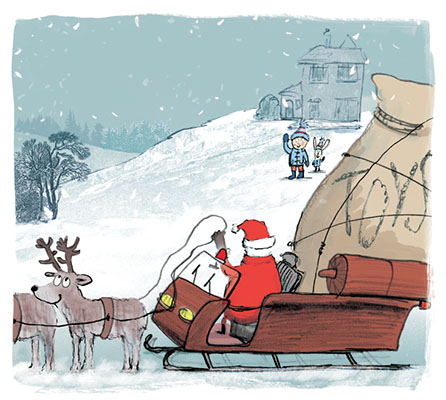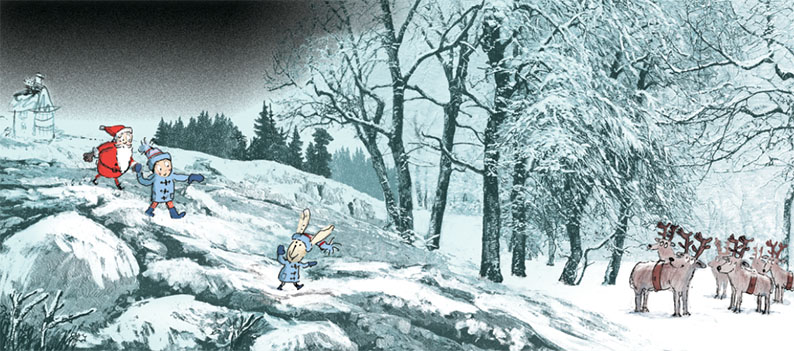 Cowell said in the Bookseller: "I'm so pleased that the intrepid Emily is going on another adventure. I adore Neal's illustrations: what he does so brilliantly is show emotion in combination with movement and action. I see so many families who started their reading journey together with Emily Brown."
Layton said in The Bookseller : "It's a real joy to work with Cressida, and I'm delighted to have illustrated another Emily Brown story. Her witty, heart-warming text gives brilliant scope for a wide range of media and techniques – I always have great fun with them."
"Emily and her trusty companion Stanley must take the reigns if they are going to get Santa out of a pickle which might just ruin Christmas. Wonderful storytelling with a huge sprinkling of fun." – BABY Magazine 2018 Best Books for Christmas
Emily Brown and Father Christmas is OUT NOW – Order a copy HERE
View Neal's portfolio HERE or follow him on social media Twitter / Instagram, Read our archive of Emily Brown blog posts HERE