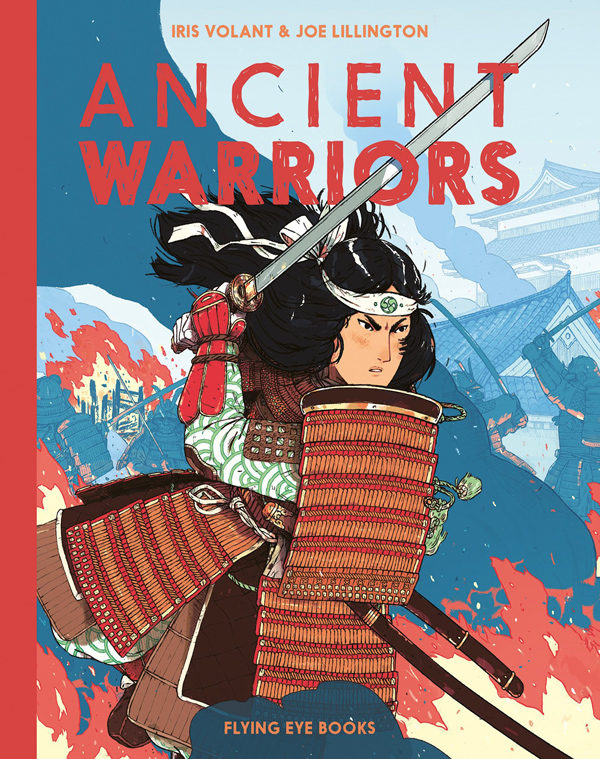 Throughout history, timelines have been punctuated with epic battles, for control of land, resources and communities. Flying Eye Books in association with author Iris Volant and Arena Illustrator Joe Lillington have chosen this aspect of History to form the basis for Ancient Warriors, a collection of studies exploring incredible weaponry, fierce and formidable soldiers and the strategic origins of some of the most famous battles in history.
From the battle for survival and the evolution of flint weaponry during the Stone Age to the Crusades, fascinating facts and insights into tactics from the battlefield are revealed alongside Joe's stunning atmospheric illustrations.
Delve into the lives of Alexander the Great, Joan of Arc, and Genghis Kahn. Follow the stories of Celtic warriors, Shaolin Monks, Vikings, Knights, and Samurai, all while learning about weaponry, sword fighting, bow and arrows, martial arts and even poisonous beetles!
Joe's detailed illustrations created digitally bring these historical moments to life with a powerful sense of strength and confidence, the movement depicted in his battle scenes will draw young readers into the stories encouraging a life long love of history.
Check out these amazing reviews…
"The illustrations have a depth and energy, giving an insight into the era and environment described by Volant's succinct text, resulting in harmonious page design" – Read the full review HERE – AOI
"In the beginning, we were all warriors," begins Ancient Warriors. Charting the world's greatest military minds and introducing the battles they were famous for, this is a very well compiled, explained and illustrated book. From Queen Boadicea to the Shaolin Monks, who treated fighting as an art, Joe Lillington traces the evolution of warriors in rich detail." i NEWS
Grab your very own copy of this fascinating and beautiful book over on the Flying Eye Books Website
Read our recent interview with Joe where we discuss his process and inspirations HERE, check out Joe's portfolio HERE
Here is a sneak peek at some of our favourite illustrations from the book.