Anyone who has seen the work of Alex T Smith can see his obvious talent and skill. Finally we can tell you the exciting journey we have been on for the last three years  with Sixteen South and now Disney Junior, all working with Claude to be produced as an animated TV series. Shortlisted for the Waterstones Children's Book Prize with Claude in the City, winning the  Red House Children's Book Award (now the FCBG Award,) in 2014 with Claude in the Country and nominated for the CILIP Kate Greenaway Medal in 2014 with Claude in the Spotlight, Claude was destined for success. Alex already has nine books published by Hachette, with more on the way this year.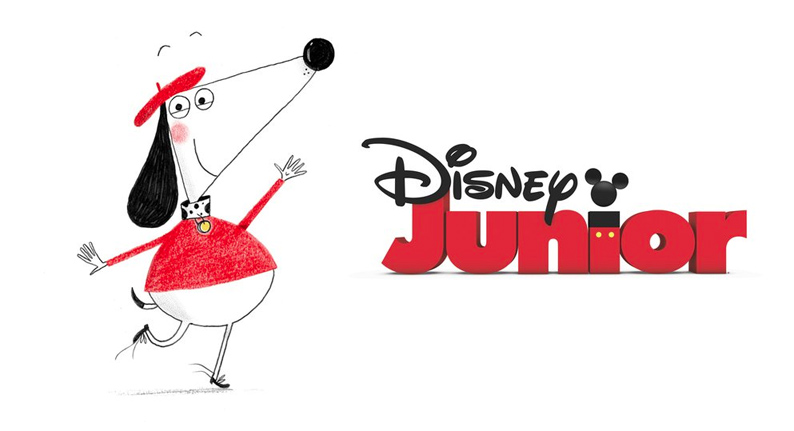 Colin Williams, Creative Director of Sixteen South, said: 'We fell in love with Claude when we first saw the books and we're thrilled that Disney have fallen in love with him too. We're delighted that our little four-legged hero will be popping up on Disney Junior all across the world and we know that his fun stories and silly humour will appeal to children everywhere!'
Author-illustrator Alex T. Smith added: 'I'm thrilled to be working and writing with Sixteen South on this very special project, and can't wait for everyone across Europe, the Middle East, Africa and Australia to join Claude and Sir Bobblysock as their adventures move to the small screen.'
Karen Lawler, Executive Manager of Licensing at the Hachette Children's Group, said: 'We've had a fantastic experience working with Sixteen South who really understand Claude's humour and charm. We're absolutely delighted the series will be seen on Disney EMEA: having such high-calibre partners on board is a huge component of the Hachette Children's Group's vision for the future.'
Claude was developed for television by Sixteen South's Colin Williams and Michelle Forde. It is produced by Colin Williams, directed by Tim Harper with music by Mark Gordon. The series is Sixteen South's sixth major children's television project, joining established series such as Lily's Driftwood Bay, Pajanimals, Big & Small, Sesame Tree and Big City Park, on the company's award-winning slate.
Save
Save
Save
Save
Save
Save