Euan Cook captures the spirit of adventure with two stunning cover designs for the Crookhaven series by J.J. Arcanjo.
Awarded the accolade of one of The Sunday Times best books for children in 2023 - Crookhaven, The School for Thieves has quickly become a firm favourite with fans of high jinks, and school-themed adventure - but with a twist! Crookhaven is a secret school where... "we will teach you to do wrong, but only so that one day you will put the world right."
Book one in the series Crookhaven -The School For Thieves published in March and centres on talented young pickpocket Gabriel, a skill which he uses to keep his often-empty belly not quite so empty. Then one day he is caught... But instead of being arrested he is recruited to the Crookhaven school which trains its students in classes like Forgery, Deception and Crimnastics. On the first day, the mysterious headmaster Caspian announces the infamous Crooked Cup competition. Determined to win and be crowned Top Crook, Gabriel soon realises his best chance will be to assemble a multi-talented crew of misfits, except that's not exactly playing by the book, but when has breaking the rules ever stopped a crook?
With Euan's strong track record for creating high impact fiction covers for teens he was the perfect match for this project. Quickly embracing the atmosphere and essence of the fast-paced manuscript, Euan created a visually arresting cover treatment in hues of purple and gold. Clever text placement and a bold use of light and shape resulted in a striking cover design.
Hachette Children's Books have now published the sequel to book 1, Crookhaven and The Forgotten Maze and it follows Gabriel's second year at Crookhaven School for Thieves. With a tricky Break-In challenge to the teacher's section of the library to attempt, plus a new class called Reclamation, his Miscreant year is already off to a busy start. Then Gabriel and his friends learn about Maravel's Maze - a labyrinth of obstacles hidden deep beneath the lake and long forgotten by the school. Each obstacle tests a crook-related skill and all are nearly impossible... but that's never stopped Gabriel's crew before, especially as there's something at the heart of the maze that they desperately want...
Featuring a cast of well-loved characters from book one, Euan chose a similar design approach for book two, using a subtle pallet of teals, golds and coral pink, the reader is instantly transported into what appears to be an underwater world.
Utilising light and space to convey action, adventure and intrigue, once again Euan has created magical and enticing cover illustrations which are sure to draw in even the most reluctant of readers.
Alongside the cover designs Euan also created black and white chapter head illustrations and an illustrated map of Crookhaven. Map drawing is certainly not a skill for the faint hearted, with a level of detail which truly enhances the storytelling experience for the reader they can be both challenging and satisfying artworks to create and Euan has certainly risen to the challenge.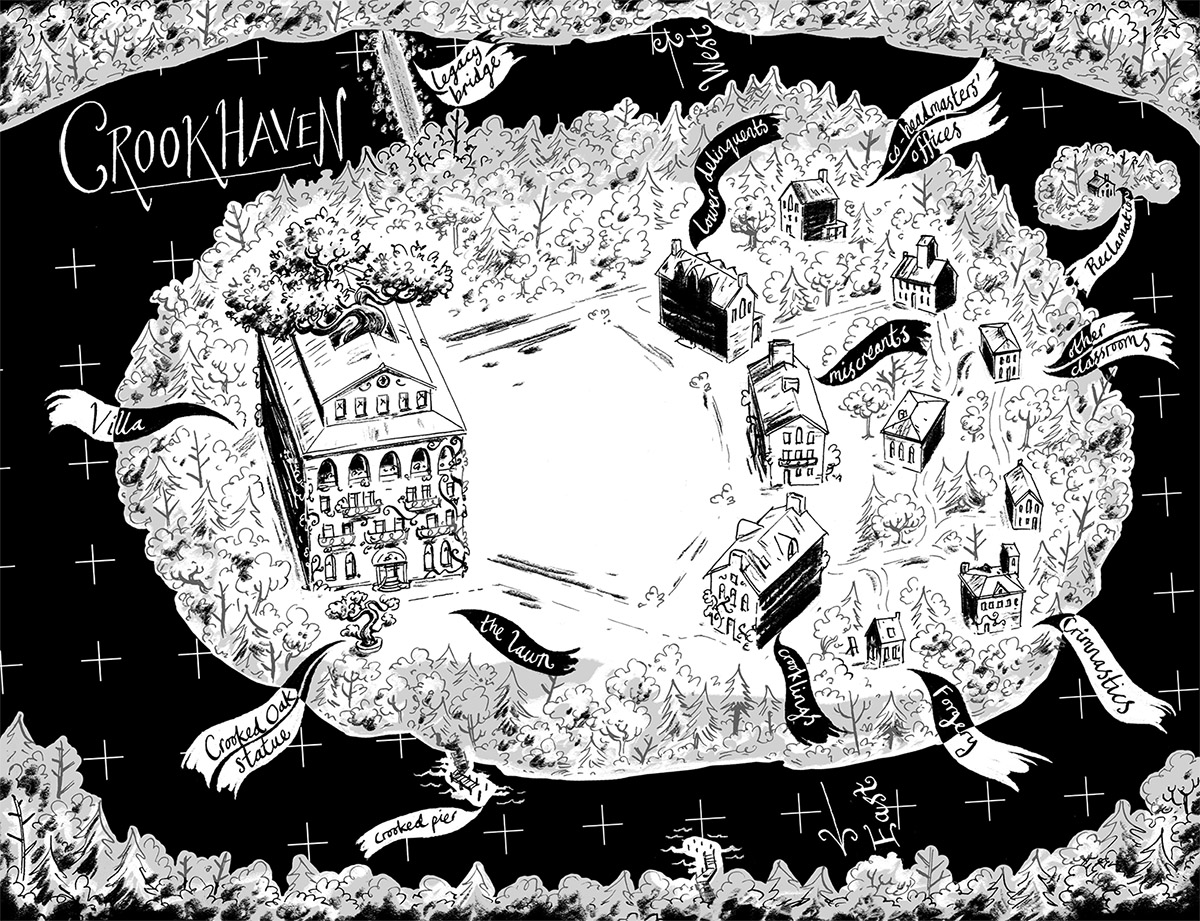 Euan has worked on best-selling series including Suzanne Collins' The Underland Chronicles series, a hugely talented artist and designer Euan is also highly skilled at hand-lettering, and currently working on his own graphic stories.
Grab your copies of the Crookhaven series HERE.
You can view Euan Cook's online portfolio HERE, and for more information regarding collaborating with Euan please email info@arenaillustration.com