What's New, Harper Drew? Illustrated with drama …and Llamas by Aleksei Bitskoff
Pack your bags and your passport and get ready for the adventure of a lifetime with the Drew family. Created by accomplished author Kathy Weeks and illustrated by formidable illustrative talent Aleksei Bitskoff, this exciting brand new series published by Hachette Children's Books is set to be a sure fire hit.
Welcome to the hilarious WORLD of Harper Drew… there's a whole lot of DRAMA, but luckily she has tried and tested methods to deal with it!

"My name is Harper Drew. I'm using my new journal to take note of all the totally ridiculous things that seem to go on around me with my family and friends. I seem to be the ONLY ONE who sees this all of this stuff for what it is. Completely BEYOND normal.

Recently I've been logging Drew Dial Ratings for all the mayhem. On a scale of 0 to 10, how likely is someone to SAY or DO something that would be less sensible than (for example) … a demented camel?

First up is the annual Drew trip to France… and while there might not be camels, there are BATS and Llamas – and my brother Troy who is so obsessed with his hairstyle, he won't even go swimming… that's a whole lot of ratings. I'm just hoping I land an invite to Maisie Felix's party when I'm back to distract me from the Drews… for one whole evening!"
Here are a few of our favourite illustrative pieces by Aleksei from this brilliantly funny project.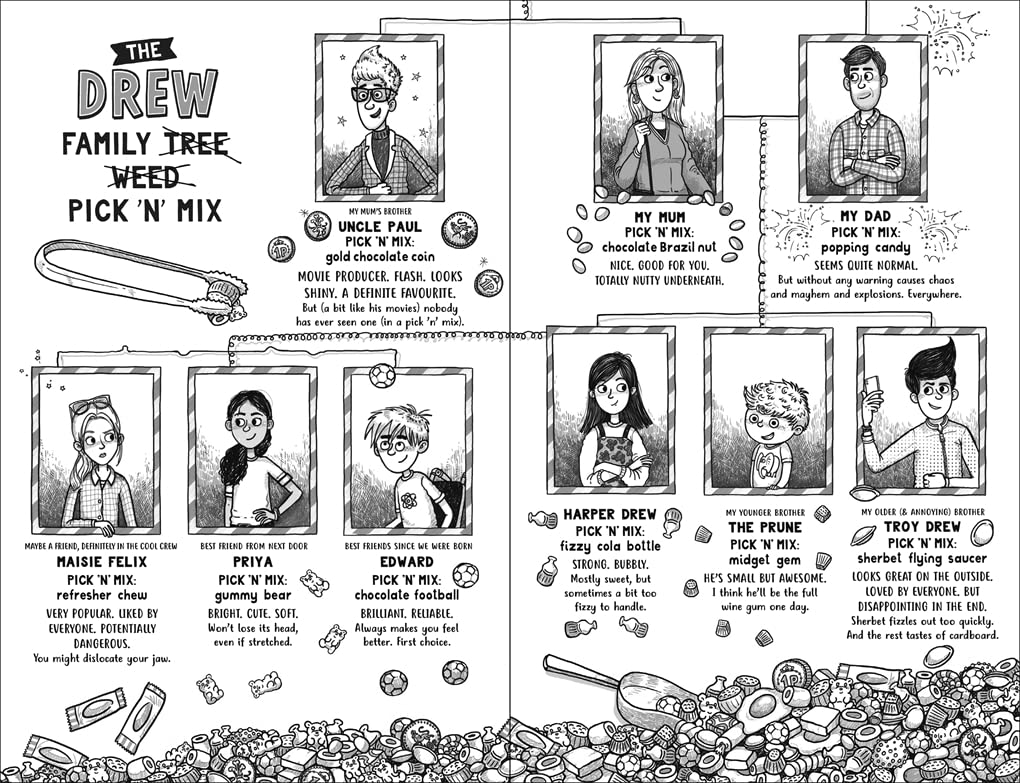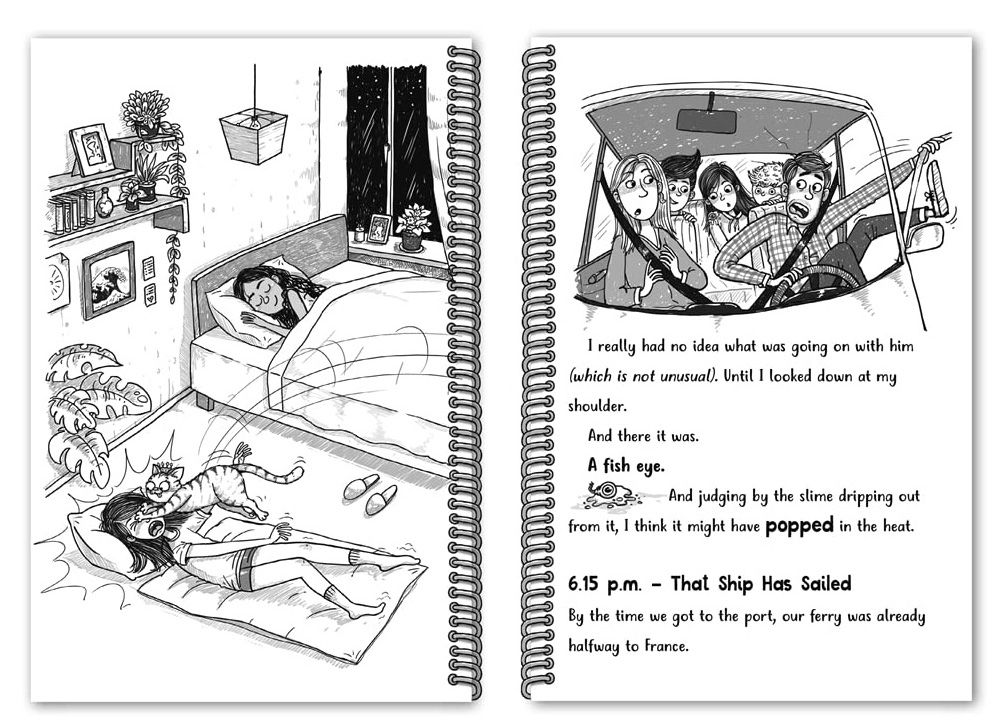 Aleksei's fantastically witty and well observed characters really bring this story to life with a dash of charm and a sprinkling of humour this dynamic team are set to go from strength to strength. Carefully constructed black and white line illustrations throughout make this an engaging and moreish read.
Here's what the press say!
"Fizzing with fun. From friendship dramas to family catastrophes, it's a perfect choice for fans of funny!" – Jen Carney, author of The Accidental Diary of B.U.G.
Perfect for fans of Dork Diaries, Grab your own chaotic copy of What's New, Harper Drew? HERE.
You can find Aleksei and his crazy creations on Instagram and Twitter, you can also view more of his amazing Harper Drew illustrations HERE.
For more information about projects and collaborations with Aleksei, please email info@arenaillustration.com