Pack your maps and compasses it's time to embark on a piratical quest with Alex Bell and Tomislav Tomic, Explorers at Pirate Island is the fifth thrilling adventure in this best-selling series, published by Faber and Faber. Fast-paced, magical storytelling in a breath-taking underwater world make these reads utterly compelling. Tomislav has really pushed the boat out with his latest cover creation, exotic swooping parrots survey the glimmering sea which crashes against death-defying craggy cliff tops, a mysterious fort crowns the island, and, in the distance, a majestic ship can be seen sails hoisted.
Tomislav's intricate pen work and minute attention to detail make him the perfect illustrator for this collaboration. His natural skill for projecting action and adventure through illustrations and his map-like illustrative style provide an instantly eye-catching and recognisable brand look for this series. Each story also features a number of captivating internal illustrations perfectly complimenting Alex's action-packed story.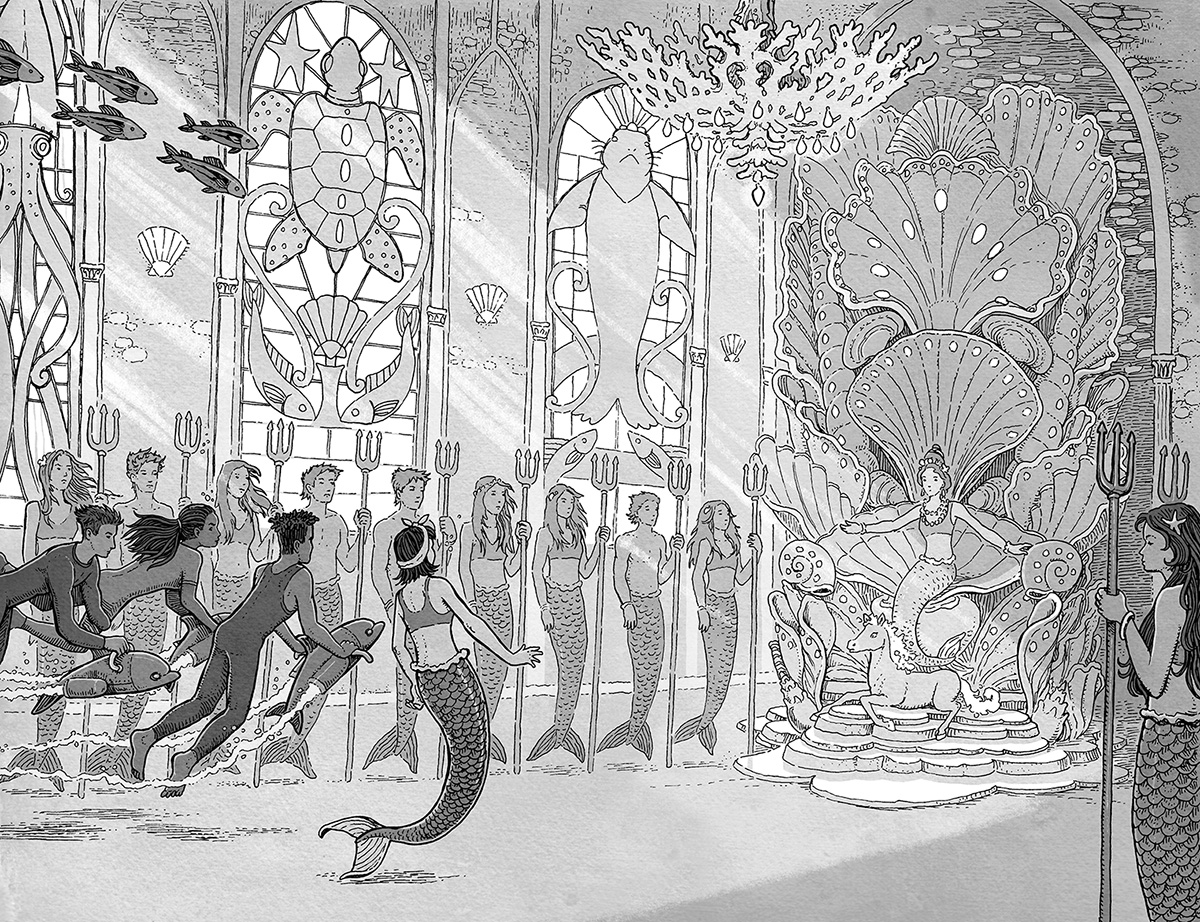 In this latest escapade we discover that The Poison Tentacle Sea was home to the powerful Bone Current. Half-mermaid Ursula Jellyfin has always longed for adventure, and this time the stakes are higher than ever. The Collector is holding a group of children prisoner on Pirate Island, and it's up to Ursula and her friends Jai, Max and Genie to set them free. Armed with a magical mermaid trident, and with new recruit Zara the pirate fairy on board, their mission is filled with danger. The explorers must face zombie skeletons, make a daring rescue from a whirlpool and travel through a dinosaur graveyard. But even if they do make it to Pirate Island, can they fool the Collector and get into an impenetrable fort? The perfect Christmas gift for young thrill seekers and adventurers, you can grab your very own copy of this thrilling read HERE.
See more of Tomislav's illustrations from Explorers at Pirate Island in his portfolio. Read more about the previous titles in this collection over on the News page on our blog.
Rave reviews for the series.
'A magical adventure of friendship, bravery and derring-do in a richly imagined world.' The Bookseller

'A fantastic frosty adventure.' Sunday Express
'Wintry, atmospheric, highly imaginative fantasy.' Metro
'The most huggable book of the year . . . An (iced) gem.' SFX
You can view Tomislav's stunning digital portfolio HERE and for more information regarding collaborating with him simply email info@arenaillustration.com