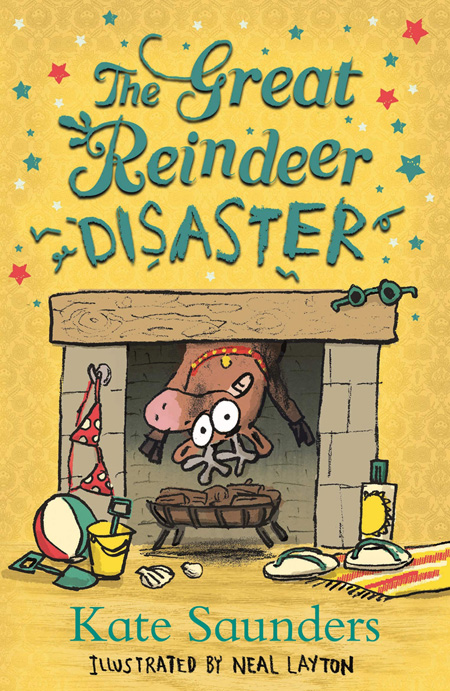 Jingle bells, Jingle bells, smelly poo and bum!
You can wait for Christmas but it's never going to come!
Yes, Christmas has come early and it's not like any Christmas you have known before. Nestling in your stocking this year like the gift you've always wished for (that wasn't a pony!) a fabulous bright yellow copy of The Great Reindeer Disaster written by Kate Saunders, illustrated by our very own Neal Layton and published by Faber Children's Books. So buckle up and get ready for some slightly uncouth seasonal Yuletide mayhem!
When a delightful miniature reindeer named Percy falls down the chimney of the Trubshaws' holiday cottage, the last thing they expect is to be whisked away to the distant planet of Yule-1 – the REAL home of Father Christmas, the elves, and his intrepid reindeer delivery teams. And what an amazing place it is – nobody minds being stuck there until the computer system has been mended. But the festive season is in danger! One rogue reindeer has teamed up with the evil Krampus King of the naughty list to sabotage everything. Unless Percy and his new friends can track them down, there will be no Christmas this year – or EVER AGAIN!
With an abundance of Neal's wonderful line illustrations adorning the pages throughout The Great Reindeer Disaster will be the perfect gift for newly independent readers to enjoy in the run-up to the big day and is set to quickly become a seasonal favourite.
Here is a selection of Neal's hilarious illustrations, including what must be the first-ever illustration of a reindeer on a space hopper!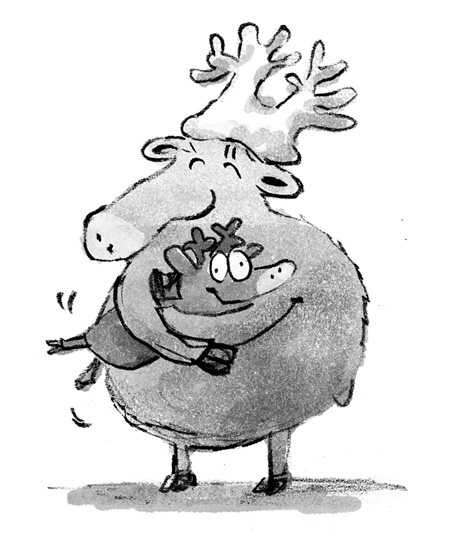 Whether you are on the naughty list or nice list, grab a copy of The Great Reindeer Disaster  HERE
You can find more of Neal's work on Twitter and Instagram and you simply MUST check out his fabulous online portfolio HERE. Please contact us via email at info@arenaillustration.com for more information about working with Neal or any of our other fabulous illustrators.