Get ready for the next Jolley-Rogers family adventure by Jonny Duddle with The Pirate Piper (Published by Templar Publishing)…
…By the cover of night a battered ship arrives through a thick veil of fog, it is The Black Death.
The next morning the townsfolk of Dull-on-Sea wake to find that their town is overrun with rats, hundreds of rats, it is an infestation! Just when everyone is at their wit's end, a strange nautical pirate, a raggedy figure in a tattered tailcoat, Captain Horatio Rattus turns up with his flute and offers to get rid of the rodent problem – for a fee.
Once that rats have gone, the greedy mayor refuses to pay his fee – so the Pirate Piper plays an enchanted tune and leads all the children away. It's up to Matilda and Jim to save their friends. With the help of Nugget and her magical fiddle playing they hatch a plan to get the children back safely to their parents and rid the town on the evil Pirate Piper for good. Nugget's only request for saving the day is payment in ice-cream, as much as she can eat – oh and a statue in her honour.
Illustrated throughout with Jonny Duddle's  characterful creations, these adventure packed bite sized reads will deliver a punch of hilarity and a good smattering of mischief, for all of yer little wannabe pirates – Aar!
Order a copy of The Jolley-Rogers and the Pirate Piper HERE…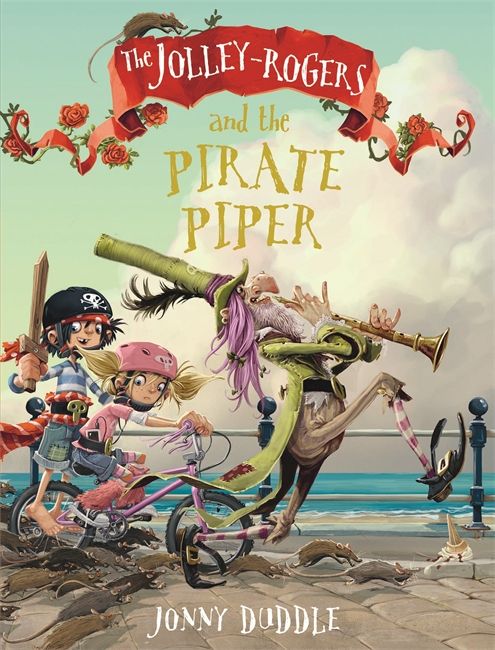 View Jonny Duddle's Online Portfolio or follow him on Twitter for more piratical japes.