We interviewed Adam Stower on his secret super power - character design - on the release of his new picture book with David Walliams, Little Monsters Rule! the sequel to Little Monsters which was their first collaboration in 2020.
Which elements of a text do you use to pick out the individual characteristics?

When designing the main character in Little Monsters Rule! we know from the text that he is a yeti, he is described as the littlest, cutest one who looks more like a cuddly toy than a monster and he is called Furball. So I made him small, round, fluffy, cute and friendly. There are less direct clues as well, we also know from the text that it is Furball's first day at school, so he is obviously young, excited and slightly over-awed, so I try to bring all these elements in to play when designing his character. I gave him a big head and eyes and a smaller body. Shifting the proportions of a body can quickly alter the age and demeanour of a character. I gave him a big red backpack for all his new school kit, and as it is snowing in the story, I dressed him in a pink bobble hat, to keep him warm and to add to his personality.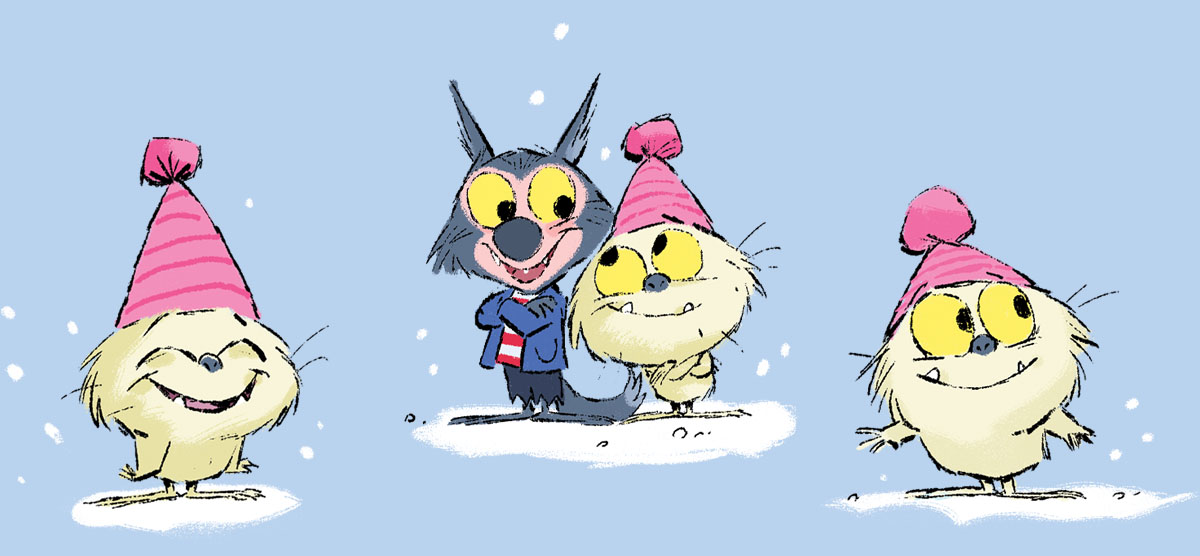 Which character from Little Monsters was your favourite to draw and why?

I love Furball because it was a fun challenge illustrating his personal journey from being excited at the start, downcast in the middle and happy and confident at the end. But I have extra favourites too - The Ghost, because he is most like me as I was at school - slightly on the fringes, not very confident and clutching a big new briefcase on his first day :) And last but not least, Mr Kraken - I tried to make him the PE teacher we all knew from school - right the way down to his whistle!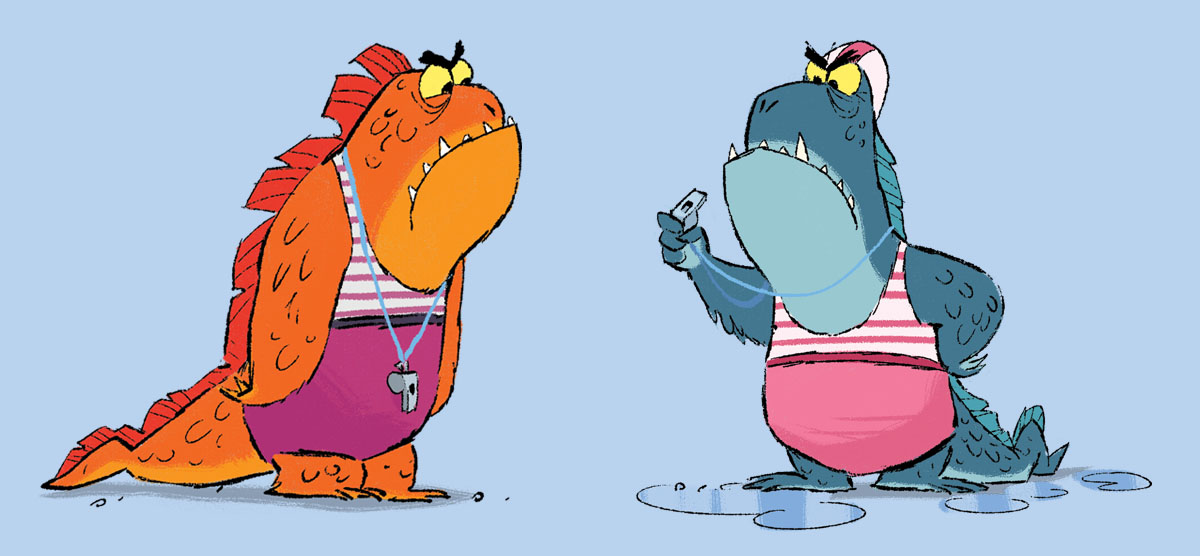 How do you decide what each character will wear?
I gave the dragon a leather jacket because he is a bit tough. With a story like Little Monsters Rule, there are about twenty characters in the story so I make sure each one can be easily identified in a crowd scene. I do this by carefully choosing the colour and pattern of their clothing. I try to avoid too many characters wearing the same colour otherwise they will all blend in to a blob in a later crowd scene. I love a fiddly detail, so I have to restrain myself, but it is important to keep in mind every scene in the story you are illustrating and it helps to keep the details to a minimum to avoid cluttering up the big complex scenes.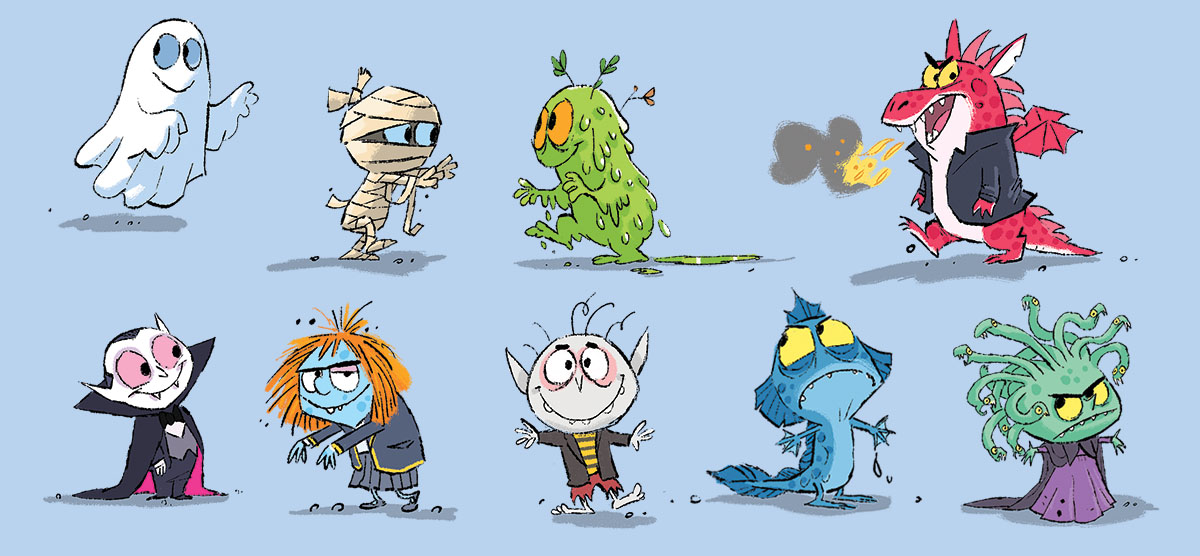 Can you tell us a little about your illustrative process?

The first job is character design( my favourite bit…) I am sent descriptions of the characters and I will submit sketches of the characters in a variety of poses and expressing a variety of emotions. I use reference if the characters are animals, or if they are wearing period costume or something like that, but otherwise I draw from my imagination entirely. Once the character designs have made it through this casting process, I am sent a page layout by the designer of the book. Gaps will be left in amongst the text layout for the illustrations to fill. I sketch out rough drawings, dropping in tone to give a sense of atmosphere too. All the drawings at this stage are black white and grey. Once these have been approved I launch in to the full colour final artwork. I work chronologically through the book, making sure I do enough work each day to complete the whole thing by the deadline. Little Monsters Rule! was illustrated digitally which allows me to work in layers, keeping the layout visible to ensure that the artwork fits comfortably with the text.
How different is it visualising characters you've created as opposed to characters created by other people?
Characters of my own will mostly have existed in my mind long before my story takes shape in words. Their evolution is much more organic. And when they appear in my stories I rarely describe how they look in the text, preferring to let my illustrations do that for me. Authors who don't illustrate their own work will naturally describe their characters with words, so when I illustrate for other people, the characters are pretty much fully formed in my mind as soon as I read the text.

Do you have three top tips or hints for designing engaging and relatable characters?
1. Make your character fit for purpose and can perform and express everything that your story demands of them.
2. Accessorise! Carefully consider how your character's clothing, belongings, home etc. reflects them. Additional details like these can help flesh out your character and give them depth, warmth and humour.
3. Body language - use everything your character has when expressing its feelings. Depending on your story , your character may have big ears, a long scarf, eyes that light up - whatever they have, think about how you can use it to help your character express itself.

You can see more of Adam's gorgeous artwork for Little Monsters Rule! on his portfolio
You can buy your very own Little Monsters T-Shirt featuring Howler over on the World of David Walliams website
Keep up-to-date with Arena Illustration's talented artists by subscribing to our weekly news.