It's the autumn of 1938 and twelve year old Berliner Max and his family are desperately trying to find a way out of Nazi Germany. When a chance comes up for Max to travel to Britain on the Kindertransport, he has no choice but to leave his parents and take a dangerous train journey across Europe alone...
This is the second chapter of Frances Castle's atmospheric and visually arresting graphic novel series that links two children across a generation, both outsiders. Stagdale Part 1, released in 2019, is set in the summer of 1975 and follows twelve year old Londoner Kathy's story when she moves to the remote village of Stagdale after her parent's painful separation. At the end of Part 1 we discover what links Kathy with Max across the expanse of 37 years.

Review by Karl Andy Foster

"Writing in a diary is a really strange experience for someone like me. Not only because I've never written anything before, but also because it seems to me that later on neither I nor anyone else will be interested in the musings of a thirteen-year old school girl. Oh well, it doesn't matter. I feel like writing."
From - The Diary of Anne Frank.


What comes to one's mind when one is reminded of things remembered past?

In the second part of Frances Castle's graphic novel Stagdale, the setting is the bitter cold autumn of 1938. The air is still, apart from the noise of a burning city just beyond the doors of our protagonist Max's home. Max with his family face an impossible situation, all is not well. It is Kristallnacht, a time of grave danger in Germany for many peoples.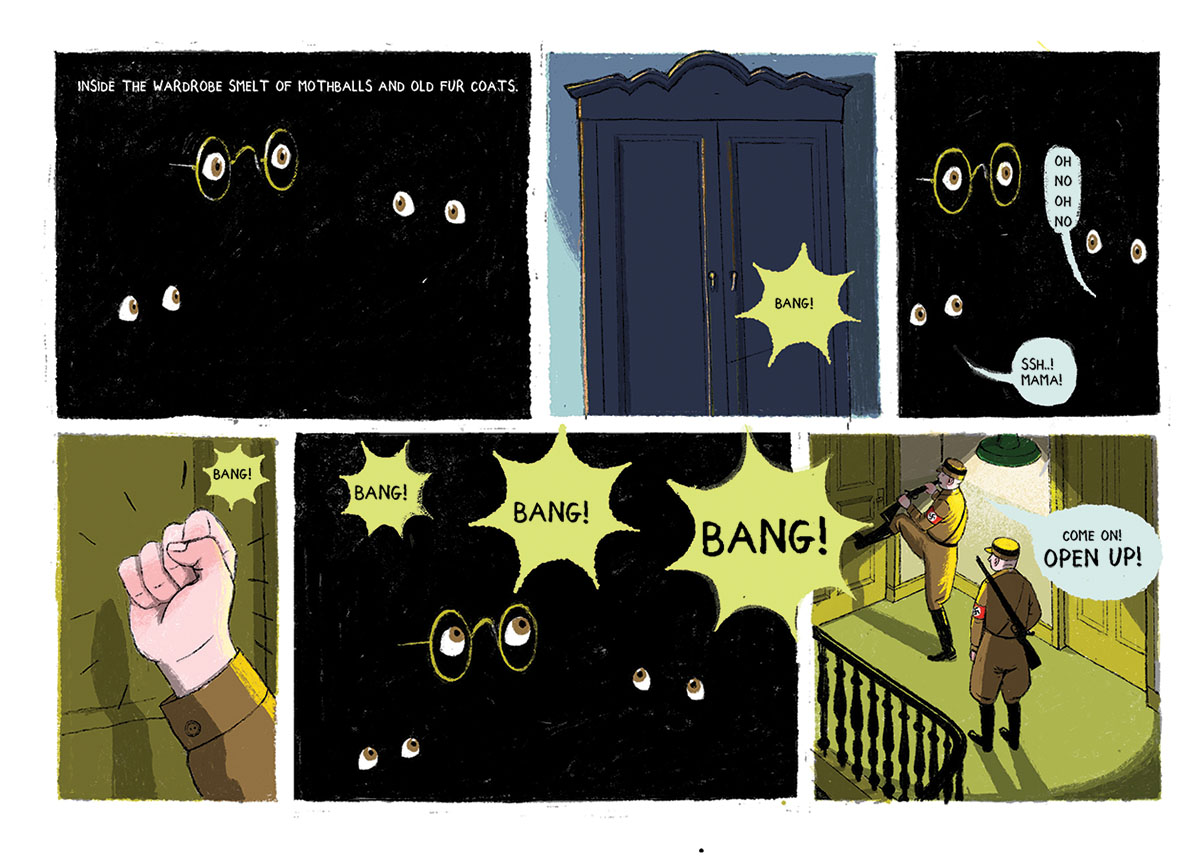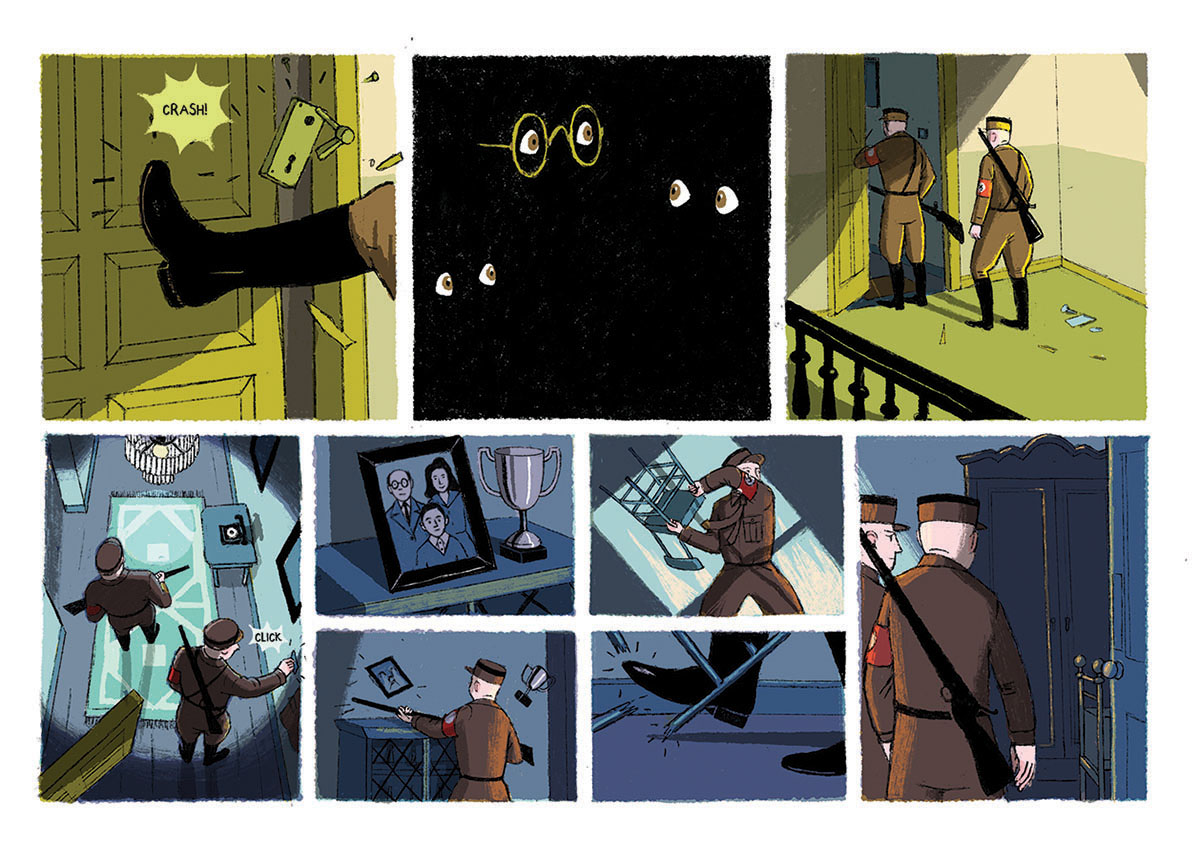 The days after Kristallnacht Max and his family try to remain calm as they are imprisoned in their home apart from fraught trips to gather essential supplies. While his mother concentrates on making a home for them, Max watches a world outside that he no longer understands. We know how he is feeling because he writes about it in his diary that he has been asked to keep in order to practice the English language.

Max is uprooted from Berlin due to the rise of the Nazi party and its followers in Germany. We are witness to his gruelling journey across national borders during a period of extreme nationalism that will bring the world to its knees. Max is on his way to Stagdale, England though he doesn't know it yet.

I think that the A5 landscape format works even better in Part 2 of the series as it reminds me of old photographs spread out in front of me as you try to knit together the stories of family and friends. Again Castle's illustrations are a treat for the eyes and it's the beautifully crafted details that evoke a time long gone by, but they are still modern and prescient. The drawing style and character design of this complex world includes modulated lines and delicate textures that are juxtaposed with the faded colours and sombre earthy tones of a world in tumult.

Two scenes in particular leave me with unease in my chest when the Soldiers come to take Max and his parents away at the start of the story. You wonder if things will be over before we start. Then a lump in my throat when Max says goodbye to his parents at the train station before embarking on the Kindertransport. Max's train journey fills one with a sense of the danger as our youngster leaves the bosom of the family for the truly unknown. Border guards are genuinely scary and unpleasant. Max has to learn how to survive fast as he realises that his wits are all that stand between him and calamity.

If you lived in Europe in the 1930's, through the politics, racial hatred and the loss of innocence then Max's story may resonate with you more than those born in the 21st Century. However what Castle is able to do with her art is to frame a period in history that is chilling relatable even today. The matter-of-fact banality of the brutality on show conveys how people are caught up in waves of oppression that pay scant regard to one's worth and place in the human family. What will happen to Max as a stranger in a strange land. Will Stagdale be his salvation or his undoing? I really want to know, and so will you!
Take a look inside Stagdale Part 2 over on Frances' portfolio HERE.
You can purchase a copy of Stagdale Part 2 on the Clay Pipe Music record label. Frances also released a flexi-disc and digital EP, by her musical alter ego 'The Hardy Tree' that soundtracks the graphic novel. Here's the trailer:
Frances is based in North London and can be found on Instagram and Twitter, or on her allotment. If you're interested in working with Frances, please email info@arenaillustration.com