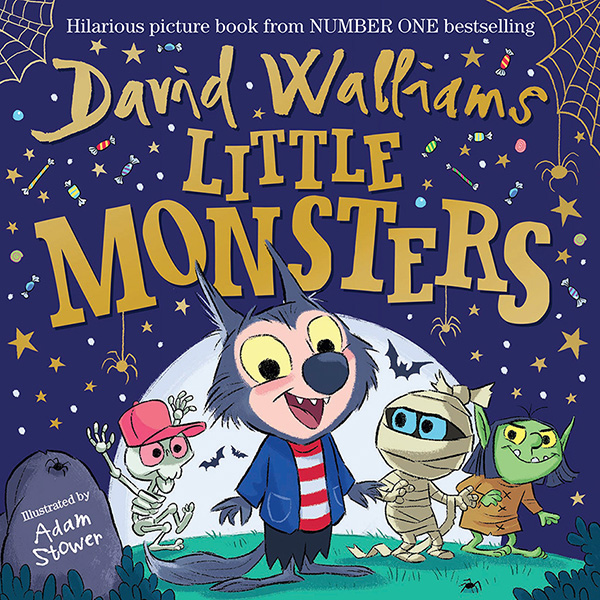 We are delighted to announce the publication of a new picture book from Britain's bestselling children's author, David Walliams. LITTLE MONSTERS introduces our very own illustrator – Adam Stower – to the Walliam's picture-book portfolio, joining legendary illustrators Sir Quentin Blake and Tony Ross. Little Monsters is the seventh picture book by David Walliams. His stories for the very young have collectively sold over 1.1 million copies in the UK and have sold in over 20 territories around the globe.
Little Monsters invites children to meet Howler, a small werewolf with a big problem. He is just not scary! And that makes him the odd one out at Monster School . . . But then Howler finds some new friends, and in a lovely and unexpected twist at the end, he discovers that being the odd one out might just make him the coolest one of all . . . Children will howl with laughter in reading this monstrously funny picture book which celebrates individuality and finding your own voice.
Adam Stower said, "I am thrilled to join The World of David Walliams. Little Monsters is packed with humour, warmth, and wonderful characters and has been an absolute pleasure to illustrate."
David Walliams said, "I hope this book will be the perfect treat for little ones this Halloween and beyond."
HarperCollins Children's Books Executive Publisher, Ann-Janine Murtagh said, "We are excited to welcome Adam Stower to the list in his debut as an illustrator for David. Adam's fresh and playful style is the perfect partner to David's glorious storytelling. Little Monsters guarantees much needed family fun and laughter this Halloween, and will be the perfect gift for the season and beyond."
David's first picture book for younger readers, The Slightly Annoying Elephant, was published in 2013. He then went on to write a further six picture books with Tony Ross, of which The Slightly Annoying Elephant, The First Hippo on the Moon, and The Bear that Went Boo were all number-one bestsellers.
For more information on David's children's books, news and events please visit:
You can buy your copy of Little Monsters HERE.
Check out Adam on Instagram and Twitter or view his new updated online portfolio HERE, for more information about working with Adam please email info@arenaillustration.com