Deploy your armbands and rubber rings we are taking a trip to Lizard Lake with the one and only Fabio..
Laura James and Emily Fox have come up trumps with a brand new crime-fighting adventure, Fabio the Worlds Greatest Flamingo Detective; Peril at Lizard Lake published by Bloomsbury Publishing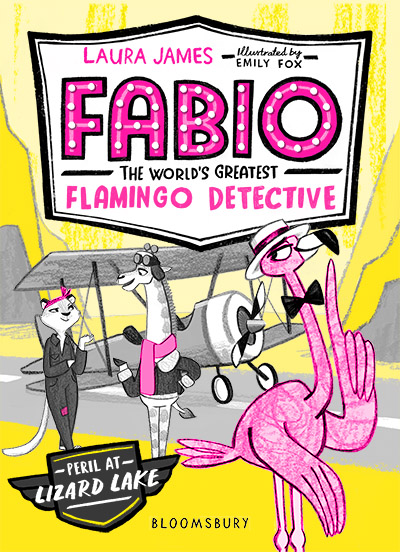 This is Fabio's third adventure and you'll definitely need to pour yourself a pink lemonade, this is his most perilous case yet.
In a small town on the banks of Lake Laloozee lives Fabio, the world's greatest flamingo detective. He's not tall or strong, but slight and pink. And he's very, very clever … Most of the time. But when an unusual lapse of judgement leads Fabio to accept a ride in his associate Gilbert's plane, little does he know he'll be nose-diving into a new mystery!
When the tiny plane crash-lands near a remote village in the savannah, all Fabio wants is a pink lemonade to calm his nerves. But the town well has dried up, and the water didn't just disappear on its own! Fabio's on the case, and it's going to take a daring sting operation to set things right.
Grab a copy HERE
Here is a neon-tastic selection of some of our favourite Fabio illustrations.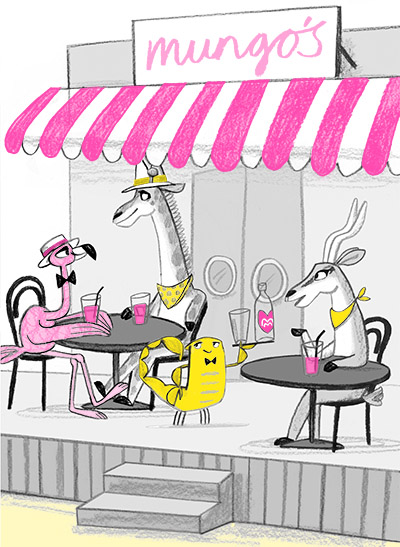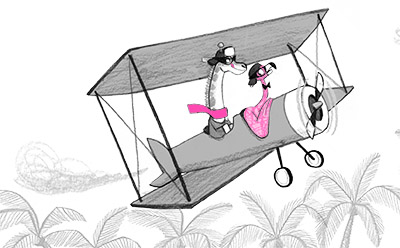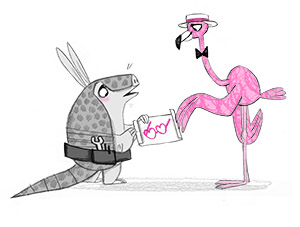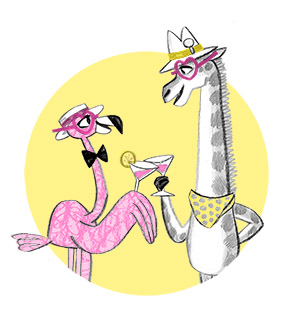 It's not just us that are Fabio Fans, check out these lovely reviews…..
"Oodles to appeal to animal fans and young crime lovers alike" – Bookseller
"A welcome addition to the bookshelf" – Carousel Magazine
"Fab illustrations and neon-coloured pages" – Angels and Urchins
"Even reluctant readers will have a blast" – Irish Times
Brimming with delightful neon highlighted illustrations this jazzy stylish series will have huge appeal to readers of all ages eager to crack the case. Emily's cast of critters will charm and delight Fabio fans leading readers ripping through these books keen for the next adventure.
You can see more of Emily's work by visiting her online portfolio HERE or following her on Twitter.
Read an extract HERE