The dynamic duo that is Guy Bass and Steve May are back with their latest fiction collaboration…
Anna Gain and the Same 60 Seconds.. OUT NOW and published by Barrington Stoke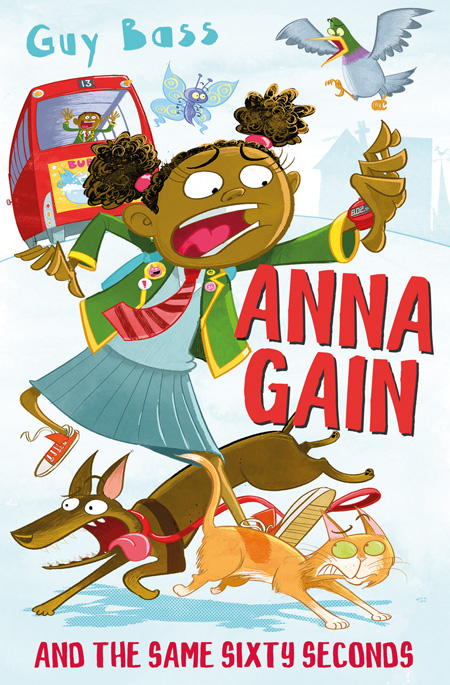 Ever-punctual Anna Gain is never late, and she's certainly never late for the school bus. Every day she catches it in perfect time. But not today. After a series of absurd events cause Anna to miss the bus, she's transported one minute back in time – only to be stuck re-living the same sixty seconds again … and again … and again … Is fate trying to teach Anna a lesson? And will she ever escape? A laugh-out-loud and punny take on 'Groundhog Day' from a top-notch author-illustrator pairing, particularly suitable for struggling, reluctant or dyslexic readers aged 8+
Grab a copy of this and their previous titles HERE 
With a gaggle of illustrated fiction titles under their belts this brilliantly matched author illustrator team go from strength to strength. Steve's anarchic scratchy illustrations leap off the page and his skill for creating highly animated  human and animal characters bring a new layer of dynamic life to Guys brilliantly funny stories. Illustrated throughout these books have been specially developed by Barrington Stoke to provide accessible and entertaining reads for reluctant and dyslexic readers and the balance of illustrations alongside text on each page is carefully balanced to provide a non intimidating reading experience.
A dare devil from the beginning Steve May spent his formative years in Hastings doodling, causing mayhem and injuring himself in interesting ways. From the sunny south coast Steve was drawn to the more temperate climbs of Nottingham where he studied fine art and filmmaking.
After a brief career break in an unsuccessful pop band Steve embarked on an MA in animation at the Royal College of Art, bringing him to the vibrant streets of London where he has worked and resided ever since. You can view Steve's online portfolio HERE or for more crazy banter than you can shake a stick at follow him in Instagram and Twitter.
Here are a selection of our favourite illustrations from Anna Gain and the Same 60 Seconds , we think you'll agree they are pretty chuckle inducing.