PINKY MALINKY, the long awaited animated TV series co-created by Chris Garbutt and Rikke Asbjoern is now streaming on Netflix! Pinky Malinky is a positive-thinking wiener (hot-dog) who lives in the human world, goes to school, sings, dances, inflates like a balloon, and makes hilarious social media videos with his best buddies Babs and JJ. His enthusiasm is totally infectious and although sometimes this positivity becomes his own downfall as he struggles with negative emotions – it really makes for some very funny scenarios.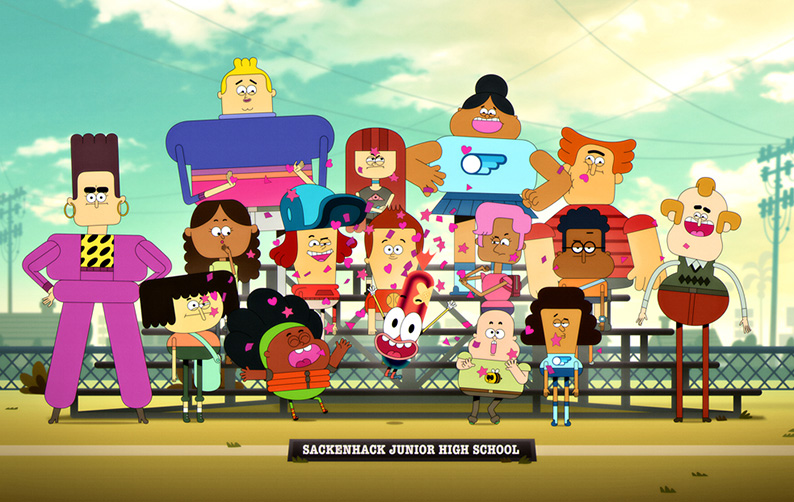 Chris grew up on a diet of Tex Avery and Hanna Barbera cartoons such as Wacky Races, Tom and Jerry and Bugs Bunny as well as He-Man and the Masters of the Universe. He was also an avid reader of The Beano which would inspire him and his brother to draw their own comics. It's this love of silly and fun cartoons that has led to the creation of Pinky Malinky.
This is a kids show that really reflects the social media age that we live in. Shooting the series in a mock-documentary format was quite a challenge but it gives it that reality TV feel which kids will love. The characters talk directly to the camera and the audience to share their absurd and silly take on real life. At times, all children feel like they don't fit in and this is Pinky's unique advantage – as a literal wiener amongst humans he allows kids to laugh at their own struggles and challenges of being a school-aged kid. Pinky Malinky is not only FUNNY, it also has a real warmth to it and the cast of characters is refreshingly diverse.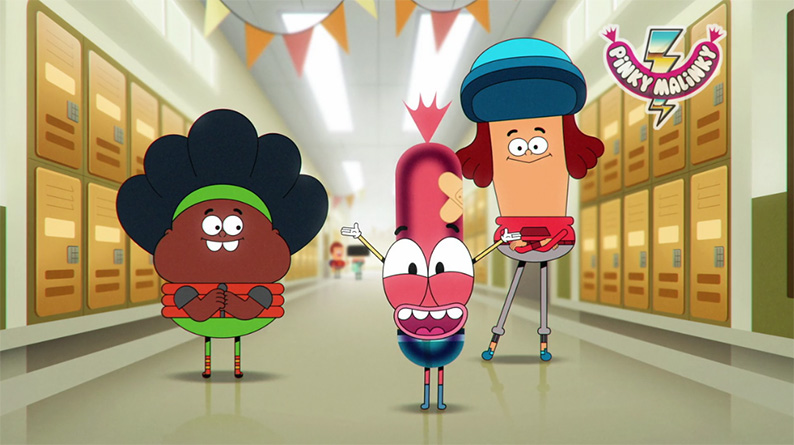 Originally developed when Chris and Rikke worked at Cartoon Network, the name "Pinky Malinky" came first followed by Chris' doodle of a hot-dog with eyes on a post-it note. At that point, Pinky's best friend was an onion actual and the story was about them moving from the countryside to the Big City! That was the start many different characters and narratives over the years. The next story line was set at school where Pinky wakes up on the first day of high school to find out that he's a sausage and spends his time trying to become a boy again. From this short, a pilot was commissioned and it became a rock musical – still set at school but the onion became a goblin! Then a teaser trailer was made, giving Pinky Malinky a mocumentary style format and a new positive hot-dog was born, along with the catch phrase: "wiener" is just one letter away from WINNER". This was a turning point and it wasn't long before Nickelodeon picked up the trailer and Pinky Malinky went into development. The goblin turned into a boy and finally, it was decided that they needed a strong and funny, no-nonsense female lead and Babs was created! JJ was a fairly late addition to the cast, he's a cool-dude but more self-conscious than his buddies. Pinky's mom, Mrs. Malinky is the outspoken owner of "Crumbells" a half bakery, half gym and and his dad is a stay-at-home father and perfectionist.
Join Pinky Malinky and his best friends, Babs and JJ, as they make movies, drop sick beats, and explore their hometown of Sackenhack!
Watch the first series of 28 x 13 minute episodes Pinky Malinky on Netflix NOW!
SUBSCRIBE on YouTube: http://bit.ly/29qBUt7
Read more over HERE on our blog.