We are very proud to congratulate Adam Stower on the publication of his first novel for children, King Coo by David Fickling Books this week.
"If Peter Pan had been a girl… with a beard… then she'd have probably been called King Coo"
Meet the very ordinary Ben Pole, or Bean Pole as he is cruelly nicknamed by bullies at school. And follow him on a forest adventure with wombats, tree-houses and, of course, the mysterious and hilarious King Coo. Adam has created a wonderful new world where laughter and high jinks are two-a-penny and his cracking illustrations bring everything to life. Adam's debut novel is everything the world of middle-grade fiction has been shouting for.
"A glorious romp of a story full of confusion and chaos but with a strong message about trusting yourself and standing up to bullies….Told in words and pictures, Adam Stower's hilarious story is beautifully presented in this hugely attractive hardback". ~ Julia Eccleshare Love Reading 4 Kids
… Book of the Month for May 2017
We'd like to share a few secrets of the appearance of King Coo – where she started, how she developed and what she became.
Just over three years ago in a small sketchbook, Coo appeared, sitting on a branch surrounded by pigeons.
Adam has had many years of experience writing and illustrating picture books and has illustrated many fiction titles written by some fabulous authors but nudged by an editor to try to write for an older audience he set pen to paper in 2014. Here's a short synopsis for the first draft of King Coo.
Cast of characters:
Ben is a quiet boy. He likes things to be neat and tidy. He's not fond of adventure. He would rather just keep himself to himself. Life would be pretty good for Ben if it wasn't for his one big problem, namely Monty Fearsom.
Monty is the school bully. He demands to be the centre of everybody's attention. Ben's indifference infuriates him and it has put Ben squarely in Monty's sights. Monty has a gang of which he is the leader.
King Coo is a girl about the same age as Ben. She lives wild in a hidden forest, in a fantastic tree house she has built for herself. She loves her woods and the creatures within it, especially her beloved wombats. She uses her ingenuity to devise traps and contraptions to help protect her kingdom from intruders and from the city beyond her forest.
Ted Dedleigh is a sinister figure. He is a loner and he is sneaky. He is well suited to his job as a Pest Control trouble-shooter. His motto is: "Investigation, identification, annihilation" He lives by himself in a caravan with only his pet rat Treacle for company. He is not to be trusted.
Synopsis:
One day while fleeing from Monty and his gang, Ben discovers a hidden forest inhabited by King Coo, a girl living wild in a fantastic tree house she has built among the treetops.
King Coo captures Ben. At first she is suspicious of him, but before she can decide what to do with him, she and Ben are attacked. It's Monty and his gang! They have discovered Coo's secret home.
Coo and Ben are forced to team up and they repel Monty's attack using an array of fantastic contraptions devised by the ever-inventive Coo. Monty retreats, swearing vengeance.
Ben feels responsible for leading Monty to Coo's tree house and tries to make amends. Grudgingly, Coo starts to trust Ben and a friendship begins to grow between them.
Coo confides in Ben that she has problems of her own. Her beloved wombat, Herbert has, been burrowing beyond the wood. The resulting cave-ins of the tunnels across the city risk unwanted attention.
Little does Coo know, but her fears are already well founded. The city council has assigned the sinister Ted Dedleigh, a trouble-shooter for the pest control department, to discover the truth behind the mysterious sinkholes and eliminate the cause. Ted has already begun his investigation by posting a reward for information.
Meanwhile, Monty is still seething from his defeat when he spots one of Dedleigh's posters appealing for information. Monty remembers seeing the wombat during the attack on Coo's tree house, and how he fell when one of the tunnels collapsed underfoot. He puts two and two together and realizes that he holds the key to his revenge. Monty contacts Dedleigh and offers to tell him all he needs to know, so long as Ted takes Monty with him when Ted takes action so he can revel in the downfall of Ben and his new friend.
Back at school Ben discovers what Monty has done and rushes to the forest to warn King Coo.
The woods are under threat!
Something must be done!
Can Coo and Ben hatch an ingenious plan to rid themselves of Ted and Monty in one fell swoop?
And can they do it before it's too late?
Time is running out.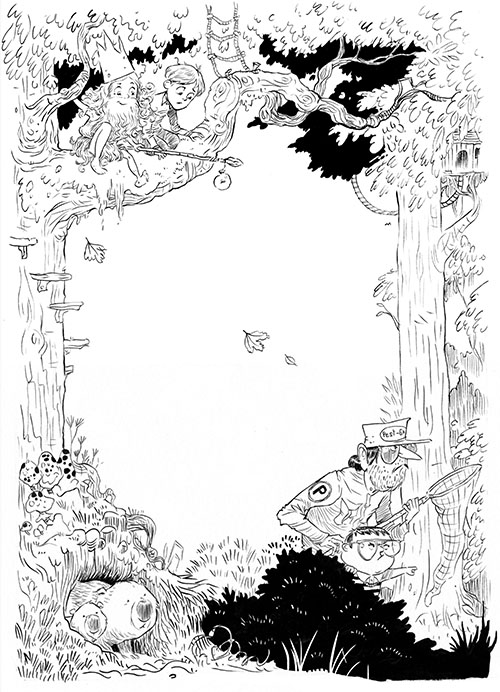 Some of these details changed, the characters developed in the writing of the story and after several drafts, King Coo was ready to be made into a book, Adam always wanted lots of illustrations, letting them tell the story in more detail and allowing his his own imagination run wild he started to sketch out the roughs.
The artwork style was very important using a mix of annotated diagrams, vignettes, fully bled double page spreads and even a comic book style section, Adam created some glorious artworks, which added to the humour and pace of the book.
The last spread shows Ben and Coo heading off for new adventures together.