[one_third]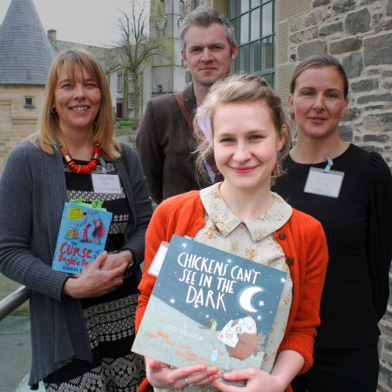 [/one_third] [two_third_last]
Since Kristyna Litten graduated in 2010, she has collected an impressive and varied list of clients from book publishers to the fashion industry. We're constantly amazed at the way she tackles each project with unabated enthusiasm and delighted with the freshness and originality she achieves in her work. Here, she explains her work ethos and how her background influences the way she sees the world.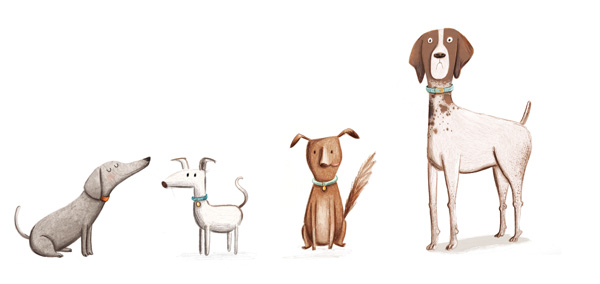 You have illustrated an app for And So We Begin – How did this differ from your usual work process and how did it feel to see your work animated? Do you see a future in digital publishing?
I starting working with And So We Begin on their first App, Angel's Great Escape, in early 2012 and it was the first project where I really had to consider the pieces of artwork as a collection of separate elements. I had always worked in a layered fashion to give myself flexibility when working out and composing a layout but never to the extent needed to allow all the elements to move, and be adjusted.
As this was mine and And So We Begin's first app, it was a learning curve for us both, so before the whole project started we had to come up with a list which we named "a kit of parts" consisting of the all the alternative arm/ leg positions and expressions etc that all the characters needed, based on the narrative. So when I eventually supplied the artwork it looked much like a deconstructed puzzle, then we arranged the parts as we needed them.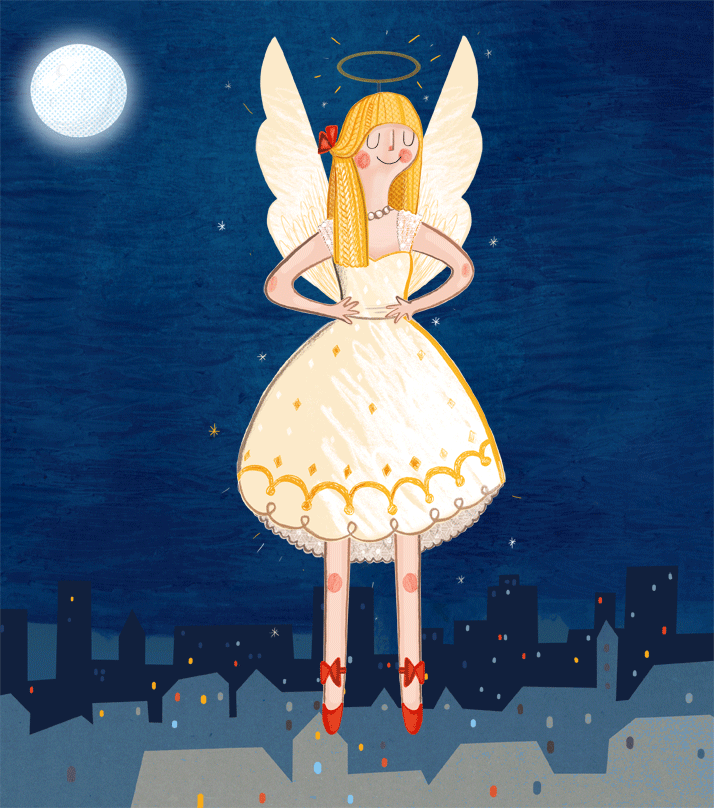 At the same time I was also asked to illustrate Michael Rosen's poem for the cultural Olympiad project Storycloud for Discover Children's Story Centre was one of twelve artists who were asked to illustrate a piece of writing in one interactive image. My work on Angel's Great Escape really equipped me with the knowledge of how to begin and work my way through the project. And since then it seems that I have supplied artwork in a similar fashion for many other projects. As more and more clients see potential other uses after and along side print, such as apps based on books.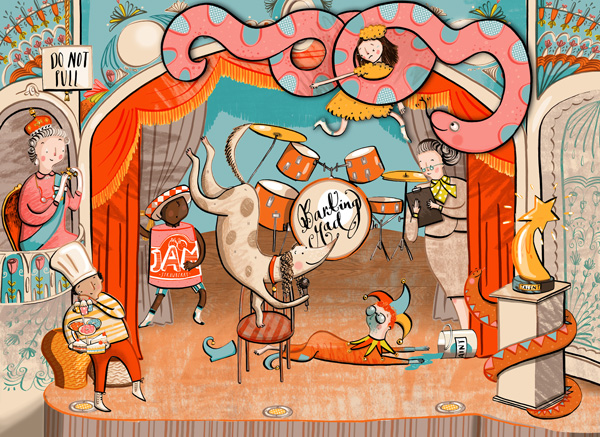 Storycloud: The Talent Show
In fact by first published book Chickens Can't See In The Dark was later turned in to an enhanced ebook by Me Books.
That was so fun to do because it gave me the opportunity to give the other characters in the book a voice and alternative narrative. There's definitely a positive future in things like this, and it can really enhance the reading experience alone or especially alongside a physical book. But I think some people realise that digital books will not replace printed books and that in fact not all books work in that context.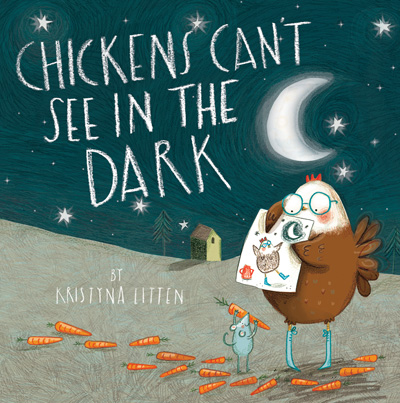 Chicken's Can't See In The Dark, published by Oxford University Press
What has been your career highlight thus far?
I think it has to be when my first book was published. I still get a buzz when I see it in a bookshop or on someone's shelf. But really I tend not to get too over excited about projects I've done in the past. It's not that I'm not proud of them but I'm quite the self-critic and get more excited about developing as an illustrator and looking forward to the next challenge.
If you could collaborate with any other person from film, fashion or music industries who would you choose and why?
Wow, I would love to try a bit of everything really. And I think the great thing about illustration is that it is so adaptable it's possible that one week you could work on concept art for a film and then work for a fashion brand the next. I think that's why I enjoy it so much because I learn something new and take something away from each job I do, which is great for me because I love doing a range of creative things. When I was younger I wanted to be either an interior designer or fashion designer and I used to collect vogue magazines (which I still have) and draw from. But in hindsight, I think if I had gone down one of those routes I would have found myself a bit restricted.

Which piece of advice given to you while training as an illustrator did you find most valuable?
There are a couple of pieces of advice our class was given by one of our tutors Jill Calder. The first is less a piece of advice but more about the high standard Jill seemed to expect from our work. I learned from that to present my work not only in a well presented fashion but in a way that is individual to me. And that is always something I tell other students to do now. Secondly, (and something I'm still working on) is to treat it like a job, "shut the door at the end of the day", because at the end of the day that's what it is. Although it's something I love doing it can be hard work and finding that balance been work and my personal time is something I struggle with.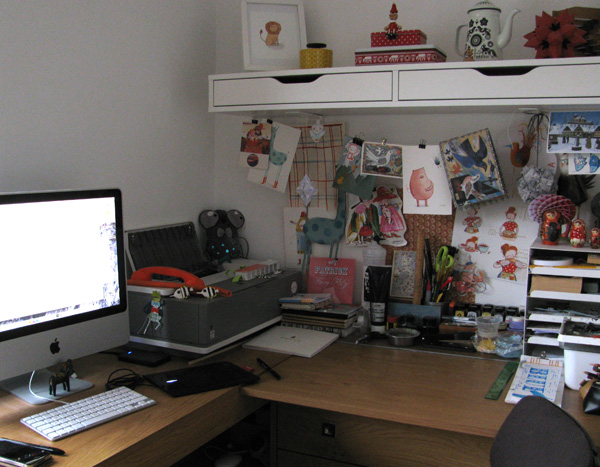 Kristyna's studio
Tell us a bit about the tools of your trade and how you like to experiment with various techniques?
Every time I do a new project I find a new way of mark making that I follow up on in my next project. That's what I enjoy about creating my work. And if it isn't physical artwork I'm working on I tend to make sheets of textures usually with a soft black pencil crayon or inks, that I scan in and use when putting my artwork together.
Which books that you enjoyed as a child most influenced your decision to become an illustrator?
With a Czech mother I had abundance of great stories and characters I thought were really cool because none of my friends knew them. I still go back and look at them quite a lot. As well as those memorable characters, I also remember being really distracted and drawn to books that were a bit different in design. Ones that had cut outs or ones where there was something to do or find. So once I have a genius idea I'd love to do something a bit more novelty or with a hint of paper engineering maybe.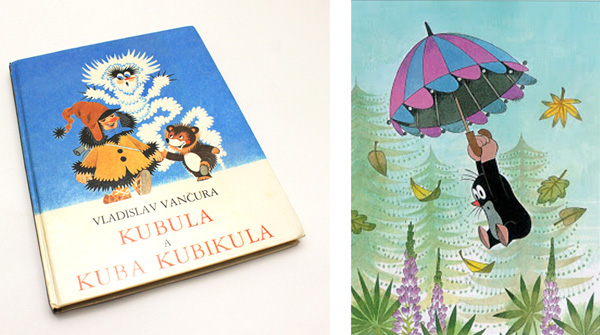 Kubula a Kuba Kaubikula by Vladislav Vancura & Krtek by Zdenek Miler
How important do you find social media platforms are in promoting you and your work?
Other than promoting it's nice to feel like a there is a community. It's nice to see what other illustrators are up to and share experiences and as I don't work in a shared studio it can be quite solitary. I also use Pinterest a lot as a tool to share my own work as well as gather reference for present and future projects.
What are you working on next and can we have a sneak peek?
For a while now I've been developing a couple of giraffe characters and last year I began working on the ideas with Simon and Schuster. So I'm well on the way with that at the moment and can't wait to see it all come together.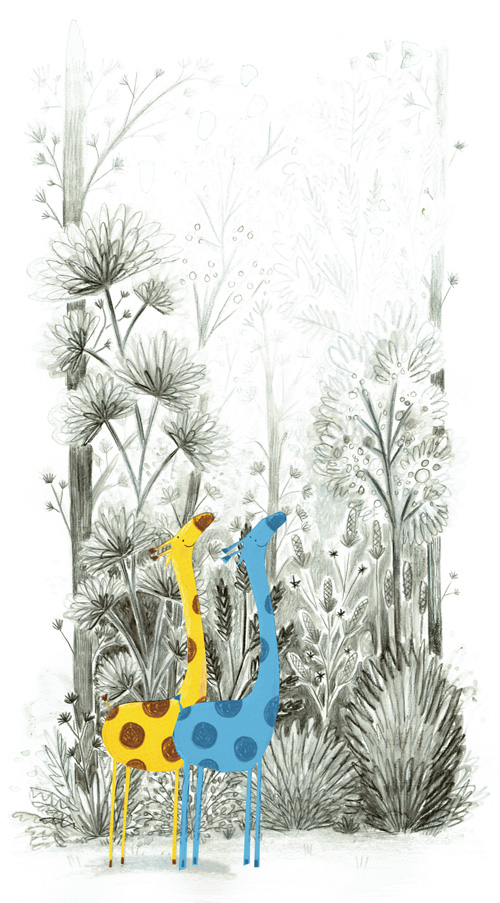 Blue and Bertie Concept Sketch
Take a look at recent work from Kristyna's first US picture book, Snoozefest and you can see more on her website and blog.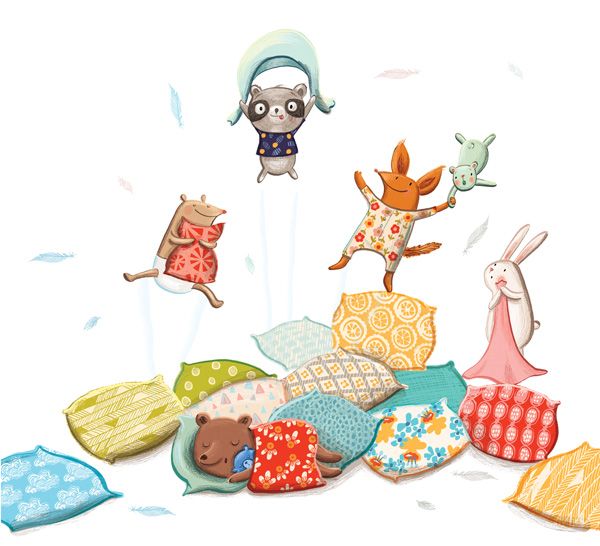 Snoozefest – Published by Dial [/two_third_last]