Happy Publication Day to Kristyna Litten and her wonderful new picture book, Norton and Alpha. Norton is an industrious robot, collecting all the detritus around him and testing and experimenting on all the rusty cogs and bits and bobs. But it's a lonely life and Norton makes himself a companion, Alpha, who looks a little bit like a robot dog, helps Norton on his collecting rounds and one day they find a mysterious thing, an 'it' what is it and what does it do, why is it here? Kristyna tells her story with a palette of orange and blue until the spectacular double gatefold spread which erupts with colour and life and is Beautiful! to behold, showing the natural world in all it's glory.
Already published in many different languages, Norton and Alpha is set to be a hit with some great reviews and a warm welcome on booksellers bookshelves. Wonderfully designed by Mike Jolley and published by Simon and Schuster, tended with love and now out in the world.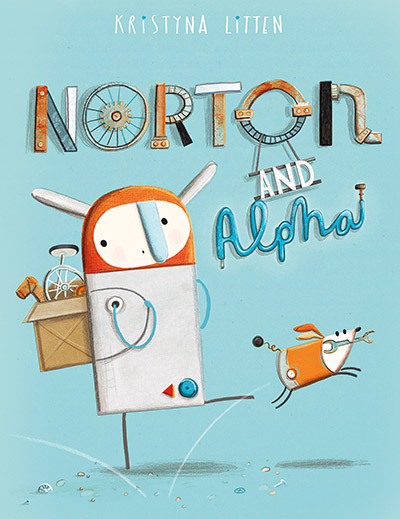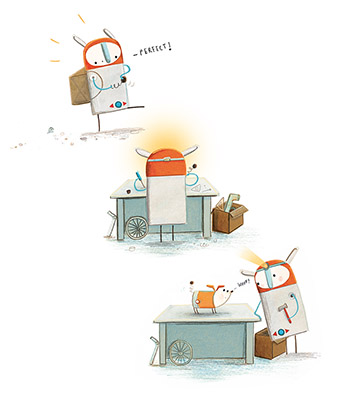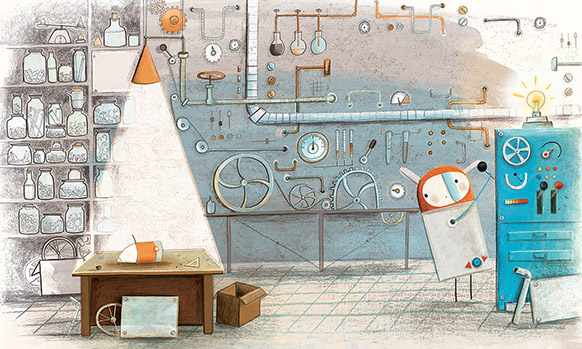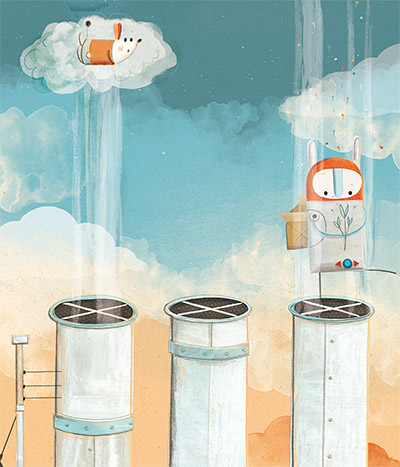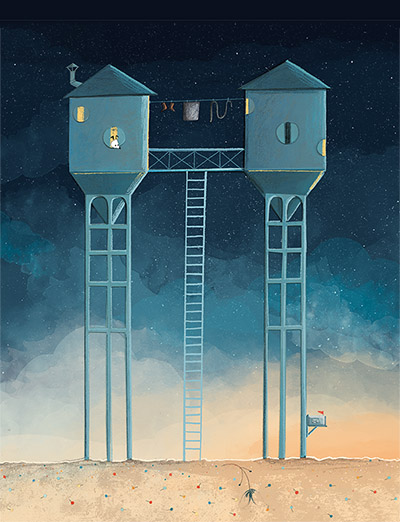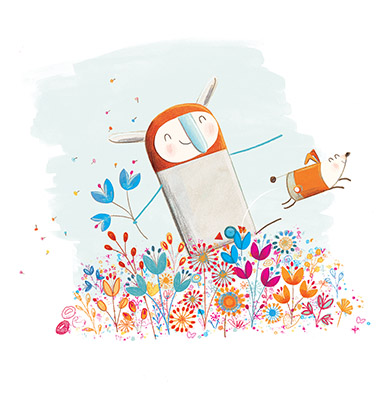 Reviews:
February 2017 Book of the Month A sweet, comical tale about little robots, Norton and Alpha will make children look at the world around them with new eyes. Norton lives in a desolate place surrounded by derelict factories and heaps of rusting machinery. He collects things that catch his eye – battered wheels, rusty cogs and broken springs, and out of these he creates Alpha, a little robot dog and companion to help with his collecting. Out together they discover something Norton has never seen before, which resists all his experiments. Children will recognise that the mysterious 'It' is a flower and be just as delighted as Norton and Alpha when it grows into a field of colourful 'Its'. A story of friendship, ingenuity and the indomitable beauty of the natural world.
"Norton and Alpha" is the story of a lonely trashbot who spends his days wandering the wastelands filled with rubbish.He's an extremely clever 'bot though, turning his hand to making amazing things out of the rubbish he finds. One day he manages to create something ultra-cool – a robot dog to act as his companion, and come scavenging with him.Norton and Alpha are the best of friends but when they find something that even Norton doesn't understand or recognise, it's a whole new challenge. What is this odd object with petals and leaves? It's beautiful so the two take it back to the workshop. Sadly the new object resists all attempts to fix it, and it seems to have lost a lot of its colour and lustre too, so Norton throws it out of the window! But that's just the start of something amazing…for what happens to a flower full of seeds when it's discarded? A joyous tale very much in the same mould as "Wall-E" and "The Flower" but with lots of brilliant characterful fun for Norton and his robot dog chum.
We are used to the world around us and every day take amazing things for granted; a sunset, or that cold bite in the air that makes you want to go and walk the dog. To a robot, our world would look pretty strange as everything would be new. What would you think the first time that you happened upon a flower?Robots are cool, but robots that build other robots are even cooler. Norton is an inventor and one fine day he created his robot pal, Alpha, the robot equivalent of a dog. Together they go outside to gather more materials so that even more things can be built. In a world of scrap they are surprised when they stumble across IT. This strange thing seems to be organic in nature and has a nice smell, what on Earth is IT, and is IT worth keeping?
Norton and Alpha is a deeply charming book that starts with a slightly melancholy soul, but opens up wonderfully towards the end to warm the cockles of one's heart. To begin with Norton is alone, but Alpha soon arrives bringing with him companionship and a partner to go out hunting. The first half of the book is just a joyous trip around an amazing scrap world with two robots. It is not until they stumble across a flower that the plot truly thickens. Litten is able to engage the reader by keeping the character of Norton curious. What would a robot inventor do should they come across a flower? Experiment on it of course! The fact that it does not fit into any known algorithm he has means that the flower appears useless, but is it? It is the surprise at the end of the book that lift the reader.
The wonderful, touching story is helped in no small way by Litten's own illustrations. The planet is painstakingly realised with loads of things to look at. The characters of Norton and Alpha are also very cute and you can imagine them as a children's cartoon series or a set of toys. Litten uses the entire page and has a slight pastille feel to her work. There is also a nice touch with the surprise element of the book as a double spread page opens up even further. Norton and Alpha is a simple story well told that feels like it may be sad, but is actually uplifting. Any child will love it, but a fan of robots will adore it. Adults will appreciate the art and the fact that it has a warm heart. It also teaches an interesting lesson that just because something does not appear to have a practical function does not mean that it should be automatically discarded.