What a year it's been; new artists, new adventures and lots of new work. We've had trolls, foxes, dinosaurs, monsters, naughty schoolboys, pirates, dalmatian puppies, detectives, dragons, dancing frogs and even an unlikely superhero.
We have had the good fortune of working on picture books, colouring books, pop-ups, classic tales, theatre posters, productions, The Big Draw, World Book Day and a fashion look book. Many of our talented artists have been nominated for awards such as the CILIP Greenaway and Carnegie Prize, and one lucky illustrator, Thomas Flintham, picked up a Blue Peter Badge.
We would also like to especially mention Sally Goldsworthy, who will be sadly missed but her legacy lives on in the fabric of the Story Centre at Discover.
This coming year we have exciting new challenges. Our new recruit, Anna Chernyshova has been working on the most delightful artwork and is underway with her first picture book. Jonny Duddle is doodling on his new pirate picture book, Scurvy Sands. Adam Stower has his picture book, Grumbug, publishing in the US by Candlewick, keeping Troll and the Oliver in good company.  Neal Layton has been working on exciting new fiction series about the Invincible Tony Spears, in an epic-galactic-space adventure. There will also be a graphic novel, a new animated TV series, a blue giraffe, more school-boy capers, Claude Olympics, Christmas books, and more of Mindy Hammond's menagerie.
This year has been quite an adventure and we want to say a BIG THANK YOU to all of our excellent illustrators for their tireless work and all of our clients for their continued support. We look forward to working on more exciting projects and producing more fantastic illustration in the year to come!
With warmest wishes and good cheer for the festive season.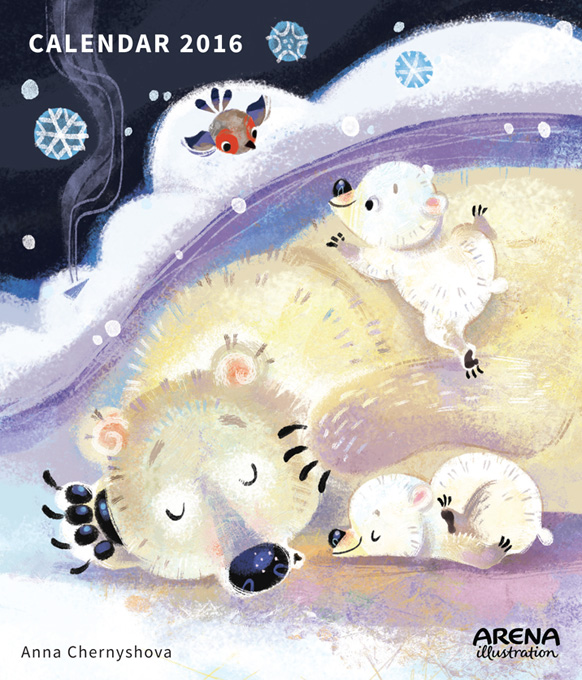 Here's a beautiful illustration by Anna Chernyshova to round off this exciting year. To see more of our new illustrator's adorable work, click here for her portfolio.