[one_third]
[/one_third]
[two_third_last]
Alejandro Colucci is just as comfortable illustrating for horror as he is for crime, science fiction and fantasy. His rich and beautifully crafted images have adorned the book covers of some of the greatest writers of the modern age as well as many of the classics. A consummate draftsman, he now works digitally in a very unique way so we were fascinated to understand his inspirations and aspirations and what he has learned working in Uruguay, Spain and more recently here in London.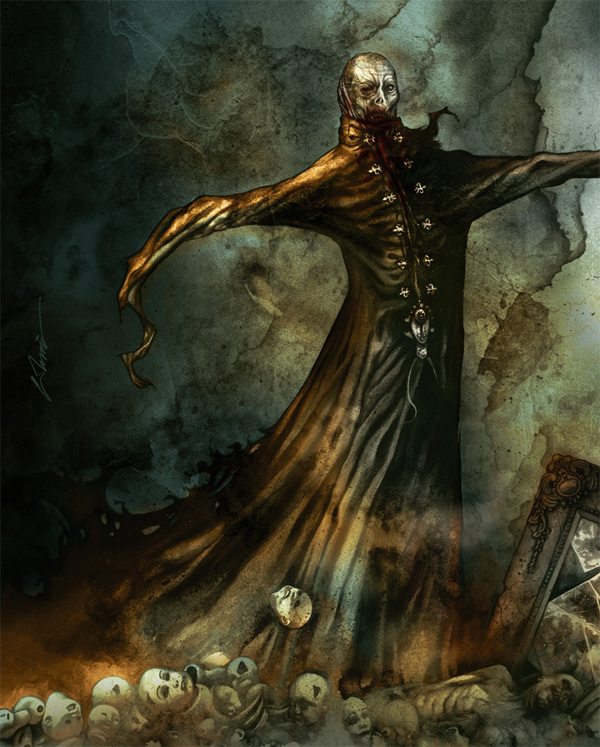 Where do you find your inspiration and can you attribute your desire to become an illustrator to any particular artists or illustrators?
My inspiration, as well as my hobbies, are varied, but at some point related. Since childhood I have been fascinated by the world of comic books and, despite not having worked in that field, I was greatly influenced by its aesthetic and its artists. I also love German Expressionist Cinema, through its wonderful silver movies, the majority of them silent, such as Nosferatu, Faust and The Cabinet of Dr. Caligari as well as the films derived from these, such as the gothic Hammer films. Among others, the literature of Lautréamont and Lovecraft has also been an important source of inspiration for my art. In my everyday work, my main muse is Music: Soundtracks and Rock in general mainly, but particularly the Symphonic Prog of the 70's… (well, Genesis is my all-time favourite, why deny it!).
To be honest, the artist who has had the most impact on my art and that triggered my desire to transform into an illustrator was Frank Frazetta. Others who have also inspired me a lot are: Sergio Toppi, Jorge Zaffino, Jan Saudek, Doré, Alberto Breccia, Alma-Tadema, Dean Cornwell, Giger, and a long etcetera. Of the contemporary artists I love: Justin Sweet, Ashley Wood, Claire Wendling, Jon Foster, Massimo Carnevale, Phil Hale and many more!

Can you tell us a bit about your research process and do you keep sketch books?
My sketchbooks are rubbish, you can see some of them in my own (Spanish) book El Arte de Alejandro Colucci.  For my book covers, I work mainly digitally from photos, so my sketches are very simple and also very small, just understandable by myself! I mean that I don't seek details from them, but aim to get a good composition of the elements involved. So instead of defining the drawing too much, when a clearer image starts to shape in my mind, I jump to Photoshop and start to translate that with photographs. I pick them out from a huge personal photographic archive, and if necessary, I use fragments  of images that I find online, so don't be surprised to find an ear of George Clooney in one of my book covers!
If you could choose any film to illustrate a poster for which would you choose?
I would love to do posters of: Nosferatu, The Cabinet of Dr. Caligari, Blade Runner, The Fearless Vampire Killers, The Exorcist, Alien, Enter the Dragon, Delicatessen and Old Boy.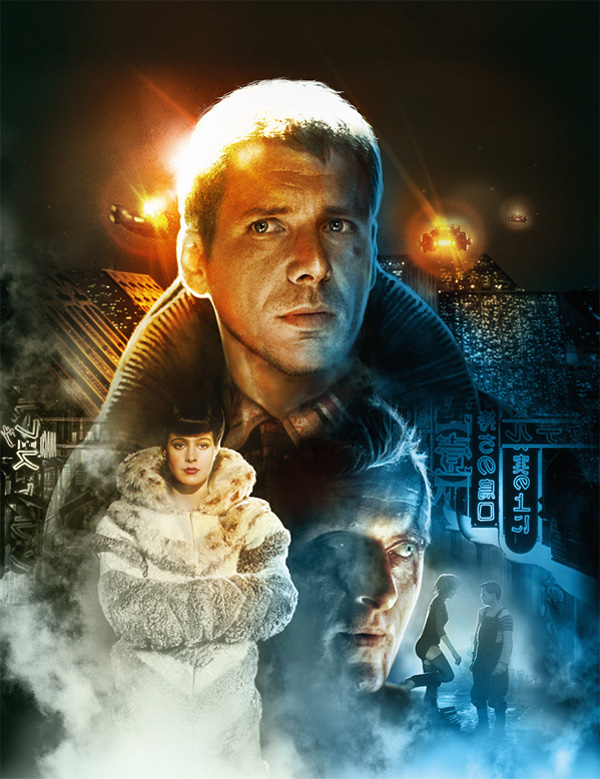 Can you give us three top tips for budding illustrators OR tell us a bit about
 the tools of your trade?
Judging by my own daughter (a future illustrator), I understand that we have to let them make things their own way, through their own experiences. However, there are some things that should be made clear at this stage. The road will be very hard, there is a lot of competition and you have to be prepared for it. It's better to be in love with your profession. Another important point is never to use digital tools before tinkering with traditional ones. And finally, try to be original and always be yourself.
How important is social media and having an online presence in promoting your work?
Since I'm a pretty lonely worker, "locked" in my flat in London, I'm not sure about the influence of social media in my work, but I'm sure an online presence is essential. When I started working as an illustrator in 1990 in the small and faraway country where I was born, we didn't receive cultural or artistic information from abroad and we obviously didn't have internet! This sounds prehistoric nowadays where all the information we need is within reach of a click on a small screen.
With thanks to Alejandro for these insights into his process – to see more of his illustrations you can visit his website. He will also be attending and exhibiting his work with his fellow Arena Illustration artists at Loncon 3, the 72nd World Science Fiction Convention at London ExCel, 14th to 18th August.
[/two_third_last]